There's A Mandalorian Toy Where You Smack Baby Yoda's Head Like Adam Pally's Stormtrooper Did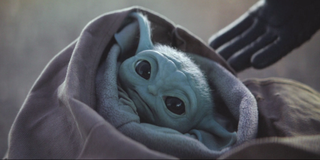 Baby Yoda took the world by storm when he debuted in The Mandalorian on Disney+, but Disney and Lucasfilm were so dedicated to keeping his existence a secret that there were no official toys or merch available straight out of the gate. Well, Hasbro has created a Mandalorian toy that will give fans a Baby Yoda experience, but not like Mando traveling around the stars with his little buddy. No, this toy involves smacking Baby Yoda like Adam Pally's stormtrooper in the Season 1 finale.
Hasbro is releasing a Mandalorian-themed version of the Bop It! game that is designed to model The Child, better known among fans as Baby Yoda. The game will have an intergalactic twist on the Bop It! that consumers may already know and spent their childhoods bopping and twisting the days away.
With the Mandalorian version, the game will command players using the voice of Mando himself, as quickly as possible to avoid elimination. Players can play solo or with friends, using to "Pass-it" option. That said, unless Mando is saying things like "Stop bopping the baby," it might not be too realistic.
In all seriousness, anybody who has played a version of Bop It! can probably understand why a Baby Yoda version is kind of unexpected. Does anybody other than a stormtrooper played by Adam Pally or Jason Sudeikis really want to bop him? Just take a look at the Hasbro version of The Mandalorian's scene-stealer:
Technically, players will only have to press Baby Yoda's Bop It! head to start him, but Bop It! can get pretty intense. There's no way Baby Yoda won't get a rough treatment! Players will hear the sounds of The Child while playing, and I honestly kind of want to get a Mandalorian Bop It! just to find out what kind of sounds Hasbro decided would fit for Baby Yoda being bopped.
Neither I nor anybody else will be able to get their hands on the Baby Yoda version of Bob It! any time too soon, though. The toy is scheduled for a Fall 2020 release. The good news is that the Hasbro game will be a lot less pricy than the version used for The Mandalorian, which cost so much that Adam Pally was nervous about hitting it! The Mandalorian edition of Bop It! will retail for $14.99, and is considered appropriate for ages 8 and up.
If you never played Bop It! or missed the commercials in the late '90s and early 2000s, take a look at why Baby Yoda is in for some rough treatment:
You may not be able to get your hands on the Baby Yoda version of Bop It! courtesy of Hasbro (opens in new tab) until the fall, but you can find him and his adventures with Mando streaming on Disney+ now. All eight episodes of The Mandalorian Season 1 are available, and Season 2 will arrive in the not-terribly-distant future.
If you're in the mood for some television not involving Star Wars, you can find more options on our 2020 summer premiere schedule and our 2020 Netflix premiere guide.
Resident of One Chicago, Bachelor Nation, and Cleveland. Has opinions about crossovers, Star Wars, and superheroes. Will not time travel.
Your Daily Blend of Entertainment News
Thank you for signing up to CinemaBlend. You will receive a verification email shortly.
There was a problem. Please refresh the page and try again.