How Doom Patrol's Dorothy Spinner Will Affect The Team In Season 2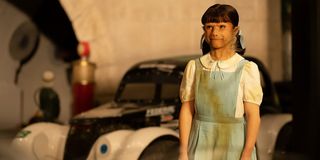 Doom Patrol's Season 1 finale introduced Dorothy Spinner, Niles Caulder's very powerful daughter. However, while viewers only glimpsed the back of her head at the time, it was clear she would have a much bigger role in Season 2. Recently, Doom Patrol showrunner Jeremy Carver revealed exactly how Dorothy will affect the team, in particular, in Season 2.
Still salty because they went full-on Honey, I Shrunk the Kids, the Doom Patrol didn't immediately warm up to Dorothy Spinner. To be fair, it was mostly due to the fact that they were still mad at her dad for betraying their trust and ruining their lives, not to mention all their own personal issues they had yet to resolve. Compared with the rest of the crew, Dorothy had a different outlook on life despite having her own dark past. So how will her character impact the rest of the team? Here's what Jeremy Carver told Collider:
It's true. Just because Dorothy's been 11-years-old for nearly a century, that doesn't mean she won't grow up. She's been locked up for decades, hidden from the world with only her imaginary friends as company, and I'm sure there's a lot of unresolved issues she'll have to face as well.
That said, it sounds like Dorothy's own outlook on life will force the rest of the Doom Patrol to take a hard look at themselves. Jane, Rita, Cliff, Larry, and Cyborg have all been going through the motions for a long time, but Doom Patrol Season 2 may finally help them figure things out. If Dorothy can change them for the better and help them "move on with their lives," then I'm all for it. Bring on the angst!
What's more, Dorothy's presence in Season 2 also showcases a different side to Niles Caulder, who's been aloof and calculated in the time viewers have known him. In wanting to protect his daughter, Niles "has been awakened" to the fact that the Doom Patrol has suffered because of him. So, as you can see, Dorothy's introduction is doing wonders for Doom Patrol's core relationships.
New episodes of Doom Patrol Season 2 air on HBO Max and DC Universe. For more on what to watch, be sure to check out our 2020 summer TV premiere guide.
Your Daily Blend of Entertainment News
Thank you for signing up to CinemaBlend. You will receive a verification email shortly.
There was a problem. Please refresh the page and try again.