How Doom Patrol's Niles Will Be Different In Season 2, According To Timothy Dalton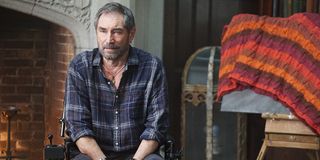 Minor spoilers ahead for the Season 2 premiere of Doom Patrol.
Perhaps the biggest reveal from Doom Patrol Season 1 was that Niles Caulder was actually responsible for the accidents that turned the titular characters into a broken group of misfits. That came as a shock to the modern-day Doom Patrol since Niles had not only given them a home, he was a father figure and mentor to them as well. However, the tides might be changing for Niles in Season 2, and Timothy Dalton recently explained just how his character will be different in Doom Patrol future on HBO Max and DC Universe.
Niles will have to atone for his sins, but the first step in righting past wrongs is acknowledging the problem in the first place. The Season 1 finale saw the Doom Patrol assist Niles in rescuing his daughter Dorothy from the villainous Mr. Nobody. However, the Doom Patrol Season 2 premiere made it clear that the team hadn't forgiven him completely for his misdeeds, meaning Niles will have to put in the work to gain back their trust. Here's what Timothy Dalton told TVLine about the character's evolution in Season 2:
Niles being "awakened" to the fact that he was responsible for the hurt felt by Jane, Cliff, Rita and others is a major step forward for the character, whose selfish mission had clouded his potential for compassion and empathy in Season 1. (Not that Mr. Nobody would have made it easy for him to express such things.) That said, his change of heart might also be due to getting his own eccentric and powerful daughter back, which likely put a lot of his behavior into a new perspective. Whatever his reasons, Niles was finally trying to "make amends."
Speaking of Niles' daughter, Dorothy is a major factor for Doom Patrol Season 2. It was quickly revealed that she has some fairly menacing imaginary friends who, if unleashed, could turn everything upside down. (There's no place like home, indeed.) The need to protect her was a big reason for the Doom Patrol members' "suffering" at the hands of Niles.
While Niles was like a father to the Doom Patrol, Dorothy's introduction showed a different side to the character, representing more of a real father than a too-familiar therapist. He was far more caring and gentle than he'd ever been with anyone in the rest of the group, even Baby Doll.
Timothy Dalton added that caring for Dorothy is what "drives" a lot of Niles' actions in Season 2. I'm more than ready to see how Niles' relationships with the characters evolve this season. I'm sure it'll involve some rather bizarre escapades that may or may not include an animal's rear compartment, as is typical of Doom Patrol.
If you're not already watching Doom Patrol, get to it! The first three episodes of Season 2 are now available to watch on HBO Max and DC Universe, with one episode airing every week thereafter. For more on what to watch, be sure to check out our 2020 summer TV premiere guide.
Your Daily Blend of Entertainment News
Thank you for signing up to CinemaBlend. You will receive a verification email shortly.
There was a problem. Please refresh the page and try again.