Doom Patrol: 6 Things To Remember Before Season 2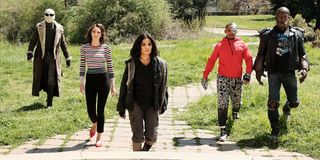 Of all the comics-based television shows, DC Universe's Doom Patrol is probably one of the wildest and weirdest of the bunch (in a good way). Sentient streets, giant cockroaches, and the Animal-Vegetable-Mineral-Man are just a few characters who appear in the show. And that doesn't even begin to cover the series' main characters — Brendan Fraser's Cliff Steele, Matt Bomer's Larry Trainor, Diane Guerrero's Jane, April Bowlby's Rita Farr, and Joivan Wade's Cyborg.
Doom Patrol Season 1 received positive acclaim last year when it premiered on DC Universe. The series was later renewed for Season 2 and will be available to stream on both DC Universe and the newly launched HBO Max. With the sophomore season fast approaching, here are six things to remember about Doom Patrol Season 1.
6. Cyborg Wasn't Responsible For His Mother's Death
All throughout Season 1, Victor Stone, a.k.a. Cyborg, was incredibly resentful of his father, Silas, because he felt like he controlled every move he made. It didn't help that Silas was tapped into his son's cybernetic implants. After a lab explosion killed his mother and severely wounded him enough to receive said implants, Cyborg blamed himself for his mother, Elinore's, death.
It wasn't until much later in Season 1 that Silas revealed that those memories were fabricated. In fact, Elinore survived the explosion. But, at the behest of Niles Caulder, she was taken off of life support and Silas chose to save his son with the nanotech implants rather than his wife. Just when Cyborg and Silas were on the verge of reconciliation, their bond was broken once more and Cyborg severed ties with his father.
5. Niles Caulder Had A Hand In The Doom Patrol's Accidents
Despite the Doom Patrol's resistance to being labeled heroes and doing anything remotely considered heroic, they were on the same page about one thing: Niles Caulder was their friend. What's more, they respected and admired the man who had been there for them since the accidents that transformed them.
However, in the penultimate episode of Season 1, it was revealed that Timothy Dalton's Caulder was actually involved in the accidents that gave the Doom Patrol their powers. It was a shocking twist, to say the least. In his mission to become immortal, Caulder effectively used the Doom Patrol as experiments. He didn't elaborate about why he wanted to live for eternity, but suffice it to say that the truth ultimately cooled the team's affections for him.
4. Niles Caulder Has a Daughter Named Dorothy
In the episode "Hair Patrol," Caulder happens upon an ancient woman who seems to possess the mystical powers of immortality. After spending years with her, hidden away, Caulder decides to head back to society to protect her from the Bureau of Normalcy.
Their union produced a daughter named Dorothy, who wasn't revealed to exist until the end of Season 1. Caulder hid her away from the world to protect her and her powerful abilities. While they were still angry with him, the Doom Patrol reunited with Caulder in the Season 1 finale to rescue Dorothy from the scheming Mr. Nobody. Dorothy will formally be introduced in Doom Patrol Season 2.
3. Mr. Nobody Is Trapped Inside Another Dimension
Alan Tudyk's Mr. Nobody plots and schemes, but his big ego gets in the way of the greatness he so wishes to exude. It doesn't often work out in the way he wants. So, when he makes big plans to kidnap Caulder's daughter, hides her inside a painting, and lures Caulder and the Doom Patrol inside, he thinks he's won.
Of course, things blow up in his face after the Doom Patrol escape the painting dimension with Dorothy in tow, leaving Mr. Nobody trapped inside with Beard Hunter. Whether he'll find a way out in Season 2 remains a mystery, but it was satisfying when Mr. Nobody finally got his comeuppance. The fact that it happened during the execution of his own supposedly genius plan was the icing on top of the cake.
2. The Doom Patrol Are Now The Size Of Ezekiel The Cockroach
Well, the Doom Patrol may have saved the day, stopping Mr. Nobody and his newly (and briefly) formed Brotherhood of Dangerous Animals (Ezekiel the Cockroach and the rat named Admiral Whiskers), and rescuing Caulder's daughter from the white space, but they have much smaller problems to deal with now: themselves.
Thrilled that they'd all made it out in one piece, they are quickly alerted to a new problem. That's right, Doom Patrol took a page out of Honey, I Shrunk the Kids and are now teeny weeny versions of themselves. None of them are amused. That is, they're all tiny except for Negative Man, who remained outside the painting to help bring them back. It's unclear how they shrunk, but that's probably a question for Season 2 to answer.
1. Danny The Street Is No More
Easily one of the best aspects of Doom Patrol Season 1 was the introduction of Danny the Street, the sentient, genderqueer, and teleporting geographical location. Danny is constantly on the run from the Bureau of Normalcy, but decides to help the Doom Patrol in facing Mr. Nobody despite being terrified.
Danny the Street transports the team to Mr. Nobody's location. However, after helping to rescue Niles' daughter and destroying the dimension inside the painting, Danny emerged alongside the Doom Patrol as nothing more than a brick. Hopefully, Season 2 will restore the now sentient brick to Danny's former glory.
Doom Patrol Season 1 is currently available to stream on DC Universe. Season 2 will premiere on Thursday, June 25 on both DC Universe and HBO Max (opens in new tab). For more on what to watch in the coming months, be sure to check out our 2020 summer TV premiere guide.
Your Daily Blend of Entertainment News
Thank you for signing up to CinemaBlend. You will receive a verification email shortly.
There was a problem. Please refresh the page and try again.