Fleabag And 8 More Amazing Phoebe Waller-Bridge Projects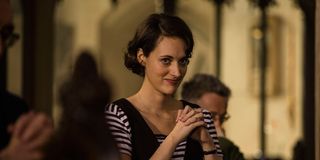 Phoebe Waller-Bridge is becoming one of Hollywood's biggest triple threats. The English screenwriter, producer, and actress began her movie career in 2009 in a short film called The Reward. Ten years later, MGM and EON Productions commissioned Phoebe-Waller-Bridge to co-write one of the most anticipated films of 2020. Hollywood really started to take notice of Phoebe Waller-Bridge's talent after seeing her work on Amazon Prime and BBC Three series Fleabag. The success of Fleabag helped give her career a major push that has propelled it even further.
Before Fleabag, Phoebe Waller-Bridge had been building an impressive resume of stage work, film and television acting, writing, and show producing. The following list discusses some of Phoebe Waller-Bridge's best work. She has appeared in many notable films and television series like Goodbye Christopher Robin, Man Up, and Bad Education, but we focused on her screen projects that involved her having a very significant role, either in front or behind the camera.
Fleabag
Phoebe Waller-Bridge adapted Fleabag from her one-woman play of the same name. The series ran on BBC Three in 2016, and it was later brought by Amazon Prime. Fleabag ran for two seasons, and it followed the complicated life of a character who just refers to herself as Fleabag. Most of the characters have no name and they're titled by how Fleabag sees them. Olivia Colman, Andrew Scott, and Sian Clifford also star in Fleabag. Waller-Bridge completely shines in this Amazon Prime series: her clever writing and emotionally driven acting mesmerizes viewers from start to finish. Fleabag really finds its rhythm during season two, creating six nearly perfect episodes. The series won Phoebe Waller-Bridge multiple awards, including Emmy Awards for Best Lead Actress in a Comedy Series and Outstanding Comedy Series. See Waller-Bridge's award winning Fleabag on Amazon (opens in new tab) Prime Video.
Killing Eve
Killing Eve is the series that made people start to take notice of Phoebe Waller-Bridge. She was lead writer and executive producer on the show for the first season. Killing Eve follows security services operative turned spy Eve (Sandra Oh) as she chases international hired serial killer Villanelle (Jodie Comer). The series won Sandra Oh a Golden Globe award and Jodie Comer an Emmy award. Killing Eve also received many other award nominations for writing, directing, and acting. The series began Phoebe Waller-Bridge's road to the Emmy stage, which she would grace many times the following year. The first two seasons of Killing Eve are available to stream on Hulu (opens in new tab).
Broadchurch
Broadchurch is a hit UK crime drama starring David Tennant and Phoebe Waller-Bridge's Fleabag co-star and Academy Award winner Olivia Colman. Broadchurch aired for three seasons in 2013, 2015, and 2017. Phoebe Waller-Bridge appeared in the second series of Broadchurch as Abby Thompson, a junior barrister helping defend an accused murderer. Waller-Bridge showcased more of her dramatic acting on Broadchurch, as well as sharing the screen with many other talented actors, including Jonathan Bailey, who she would co-star with in her own series Crashing. All three seasons of Broadchurch are available on Netflix (opens in new tab).
Crashing
Phoebe Waller-Bridge wrote, created, and starred in Crashing, a comedy-drama about six twenty-somethings living together in an unused hospital as property guardians. Lulu (Phoebe Waller-Bridge) finds herself in a complicated situation with best friend Anthony (Damien Molony) and his fiancé Kate (Louise Ford). All three living together presents complications when Anthony and Lulu's friendship gets in between his relationship with Kate. Crashing only has six episodes, but those short episodes emphasize how good Phoebe Waller-Bridge is at playing and writing polarizing characters. All throughout Crashing, viewers cannot decide if they want Anthony and Lulu to be together or despise them for dragging everyone into their mess. Catch Crashing on Netflix (opens in new tab).
Drifters
Phoebe Waller-Bridge was a writer on Drifters during its second season. The series follows three 20-something women as they deal with the messiness of the 20s, everything from complicated romantic relationships to insecurity to job instability, all the hilarious tragedy of it all. Phoebe Waller-Bridge only wrote one episode of the series, "Truth or Dare," with credits for contributing to two others, "Leia" and "Rock'n'Roll." Despite her limited involvement (at least credited involvement), Drifters probably helped give Phoebe Waller-Bridge the experience necessary to develop complex, anti-hero female characters, which she writes so well. Amazon Prime users can view Drifters (opens in new tab) via their Prime subscription.
The Café
In 2011 and 2013, Phoebe Waller-Bridge had one of the lead roles on Sky One's comedy series The Café. The Café follows life in a café in Weston-super-mare. The Café was a wholesome comedy that focused on the workplace antics of working in a café in a seaside area. Phoebe Waller-Bridge gave one of the series' standout performances as Chloe Astill. Fans of the English actress can view The Café on Amazon Prime (opens in new tab), but only by buying the series or episodes.
Solo: A Star Wars Story
Ron Howard directs Solo: A Star Wars Story, which follows a young Han Solo (Alden Ehrenreich) as he gets involved in the criminal underworld. Woody Harrelson, Emilia Clarke, Donald Glover, Paul Bettany, and Thandie Newton star. Phoebe Waller-Bridge has a crucial role as L3-37, an advanced android that upgrades by salvaging parts from other androids. L3-37 wants equal rights for droids, but it might come at a cost. L3-37 plays an important role in Solo by adding a different droid perspective unseen before in these Star Wars movies, and she adds a bit of humor while trying to lead a revolution. Solo: A Star Wars Story is available on Netflix (opens in new tab).
Run
Phoebe Waller-Bridge has a new HBO comedy series called Run due for a 2020 release. She will have a recurring role as a character named Flick, and she'll be Run's executive producer along with Vicky Jones, who Waller-Bridge worked with on Fleabag, Crashing, and Killing Eve. Run stars Merritt Wever and Domhnall Gleeson as exes who decide to activate the pact they made 15 years ago. Ruby (Merritt Wever) and Billy (Domhnall Gleeson) made a deal that if one of them ever texted the word run, then the other would drop whatever they were doing and run off with them. Run will be available on HBO in 2020.
No Time To Die
No Time to Die is the latest James Bond movie starring Daniel Craig. Rami Malek plays Bond's main enemy in No Time to Die, and the rest of the all-star cast includes Ben Whishaw, Noamie Harris, Jeffrey Wright, Christoph Waltz, and Ralp Fiennes. Phoebe Waller-Bridge plans to add her unique tone and voice to the latest Bond film by acting as one of No Time to Die's screenwriters. We're excited to see her plans and vision for No Time to Die, which hits theaters on April 8, 2020.
We hope to continue to see Phoebe Waller-Bridge build an impressive resume beyond Fleabag. Her unique talent could really add something special to the world of film and television.
Spent most of my life in various parts of Illinois, including attending college in Evanston. I have been a life long lover of pop culture, especially television, turned that passion into writing about all things entertainment related. When I'm not writing about pop culture, I can be found channeling Gordon Ramsay by kicking people out the kitchen.
Your Daily Blend of Entertainment News
Thank you for signing up to CinemaBlend. You will receive a verification email shortly.
There was a problem. Please refresh the page and try again.