Zac Efron's New Down To Earth 'Dad Bod' Has Surprised Some Netflix Viewers, But Many Dig It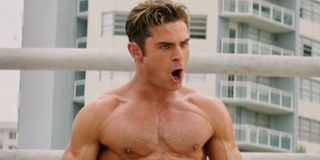 Among the Internet's favorite boyfriends, Zac Efron is the one who is probably most known for going shirtless, and that holds true for his latest project, Netflix's Down To Earth. As the actor travels around to varying places around the world, including Peru, Iceland, London and much more, he is seen occasionally sans shirt and his body is looking a bit hairier and less intensely cut than it used to, prompting some comments including terminology such as "dad bod" and 'thicc."
Plenty of commenters on social media have taken a liking to Zac Efron's new look, which comes after the actor stopped his crazy Baywatch diet and starting living life a little differently, thus leading to Down to Earth.
In fact, Down to Earth is more often a series about unique and sometimes inspiring things people are doing around the globe to live more sustainable lives. Perhaps on a personal note, he'd argue being cut to the point where he had no "wiggle" room in his diet was not sustainable. Still, people seem really into Zac Efron's surprising new look.
Granted, some people object to Zac Efron's body being referred to as a dad bod at all. In fact, just because he isn't quite as cut as he was in, say, Baywatch, doesn't mean he's not still fit and healthy looking. A good percentage of Down to Earth tweets are, well, much more down to earth.
Others don't have such a rosy view of their own prospects, given that Zac Efron with a dad bod is more aspirational than achievable for many.
Those who have kept tabs on The Greatest Showman actor should know that Zac Efron has changed the way he's looked in recent years. He has in fact spoken out about the insane diet he had to stick to look as good as he did in Baywatch and play opposite Dwayne "The Rock" Johnson. The actor said on "Hot Ones" that trying to keep that physique was "stupid," noting,
The good news is that regardless of whether or not people agree on the dad bod take, there does seem to be one take that just about sums it up for a good chunk of the Internet:
Of course, Zac Efron is still known for his Hollywood looks and he was even wet and shirtless in the trailer for Down to Earth, so I suppose we should have seen some of this coming. Meanwhile, dad bod or no dad bod, people mostly seem to be down with the actor's brand new look. Not everyone is looks focused, either, as plenty of people are just happy with his work on Netflix. Efron previously responded to all the love the show has been getting, which is still currently in Netflix's Top 10.
It's worth pointing out that Zac Efron has been working on a healthier lifestyle for a while, as evidenced in some of the social media posts he's shared. However, for many people, the first time they've seen Efron looking like this was Down to Earth and it's not surprising in the least this became a topic of conversation on the Internet.
Your Daily Blend of Entertainment News
Reality TV fan with a pinch of Disney fairy dust thrown in. Theme park junkie. If you've created a rom-com I've probably watched it.