Zac Efron Responds After Twitter Can't Get Enough Of Netflix's Down To Earth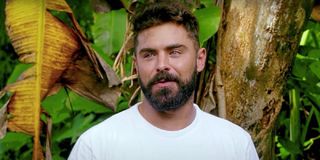 Zac Efron can sing, dance, and act, and now he's adding "global traveler" to his already impressive resume. The High School Musical alum travels around the world in Netflix's latest documentary series, Down to Earth with Zac Efron. The docuseries follows the actor's adventures as he looks for some eco-friendly living options. The folks on Twitter can't seem to get enough of the series and Efron recently responded to all the love.
Zac Efron has put away his dancing shoes for some more comfortable footwear, trekking to a variety of locations, including Iceland, Lima, London and more. Suffice it to say that a lot of fans were digging the show and spent the weekend posting about it on Twitter. It seems Efron noticed all the positive attention and responded in kind. Check out his lovely Twitter response below!
That's very sweet of Zac Efron to say. Never in my wildest dreams did I think he'd go from starring in movies like Baywatch to a travel show host, but here we are. It seems Down to Earth with Zac Efron inspired many. One response to the actor's tweet is asking him about what mini camera he was using while filming.
However, everyone likely watched the docuseries for a multitude of reasons. This fan tuned in because they needed a break from grittier TV series like Hannibal, which is completely understandable because that show gets pretty dark. The tweet is quite funny and you can check it out below.
That said, other fans took notice of certain other things while watching the Netflix docuseries. For the majority of his global adventures, Zac Efron is indeed wet and often shirtless. That, of course, garnered some attention from many on Twitter, leading to fun tweets like the one below.
Another fan joked that they were watching Down to Earth with Zac Efron for the, uh, knowledge. The learning experience apparently included watching Efron riding a horse and swimming.
Regardless of why viewers tuned into Down to Earth with Zac Efron, the majority of fans seemed to have found some value in the docuseries. I can't speak for everyone, but I think the Netflix series is definitely a step up from Quibi's Killing Zac Efron, which saw Efron reportedly contract an infection while visiting Papua New Guinea last year. Thankfully, he made it through just fine.
All eight episodes of Down to Earth with Zac Efron are currently available to stream on Netflix. For more on what to watch on the streamer, be sure to check out our 2020 Netflix schedule, as well as our summer TV premiere guide.
Your Daily Blend of Entertainment News