Rick And Morty Is Giving Rick A Nemesis In Season 5, Check Out The First Look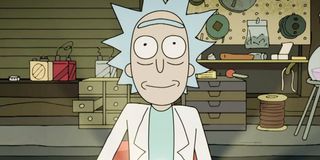 It was relatively only recently that Rick And Morty completed its fourth season, airing the last half of the run in the first half of this year, but already we are insatiably hungry for more. Sadly, it's probably going to be a while before we actually get to see Season 5 in its complete form – but the good news is that we already have a sneak peek at one of the episodes, and it reveals that Rick has had an ocean based nemesis named Mister Nimbus that he's apparently never talked about before.
The unfinished clip from Rick and Morty Season 5 debuted this evening during the show's Comic-Con @ Home Panel, with Dan Harmon teasing that the footage comes from the opening of one of the episodes on the upcoming slate. Check it out by clicking play on the video below!
For what is supposed to be just the opening of an episode, there is a hell of a lot to unpack here. While it's not uncommon for Rick and Morty to drop audiences into action that is already in progress, this is arguably the first time where it really looks like it might be the end for the titular duo. With Rick bleeding out from some kind of chest wound, Morty has to pull him over to their spaceship, and together they barely escape from what appears to be flying sentient rocks by escaping through a wormhole to Earth. Their arrival through the atmosphere unfortunately sees them in really awful condition, and as he is ready to die the ever-nervous teenager decides to use what he believes are his final moments to tell his forever crush, Jessica, the way he really feels.
What Morty doesn't expect in the slightest is that Jessica doesn't totally rebuff his admission, instead noting that his nervousness is a kind of selfishness, and she agrees to go on a date with him. This apparently is alone enough to give the kid the motivation to survive, and he is thankfully able to steer the ship into a bouncy tree that prevents a straight collision with the planet. The bad news is that it lands them in the ocean, and evidently that's a place that Rick is never supposed to go.
This is an excellent and totally unexpected set-up – though there is an interesting potential plot hole that Rick And Morty fans may notice. Specifically, this isn't the first time in the span of the series that we have seen the god-like scientist make a trip underwater, as the third season episode "The Ricklantis Mixup" features our two titular protagonists going to and from an adventure in Atlantis (even though most of the episode is dedicated to various stories going on at the Citadel of Ricks). It seems fair to assume that Mister Nimbus isn't a character who only became a nemesis for Rick off-screen within the last season, and the duo clearly didn't run into him previously given Morty's puzzlement.
Possibly explanations for this plot hole could be that Atlantis is outside of Mister Nimbus' "jurisdiction," giving Rick freedom to travel there, or it could just be that Rick using portal technology is a kind of loophole. We'll just have to wait to watch the episode and see if it's something that is addressed or ignored (given the intelligence demonstrated by Rick and Morty on a regular basis, the safe money is probably on the former).
As for the question of when we will get to see said full episode, the answer is that we have no idea. During the Comic-Con live-stream, show co-creator Dan Harmon confirmed that Season 5 has entirely been written, and that the staff is now working on Season 6, but as you can tell from the clip above, there is still a ton of work that needs to be completed on the animation side of things. We can certainly hope that we'll get to see the next 10 Rick and Morty adventures sometime in 2021, but nothing has been confirmed to this point.
This clip is only one of many great things that came out of the Rick and Morty Comic-Con At Home panel, so stay tuned for more of our coverage, as well as more of our coverage of the show in general, here on CinemaBlend!
Assistant Managing Editor
NJ native who calls LA home and lives in a Dreamatorium. A decade-plus CinemaBlend veteran who is endlessly enthusiastic about the career he's dreamt of since seventh grade.
Your Daily Blend of Entertainment News
Thank you for signing up to CinemaBlend. You will receive a verification email shortly.
There was a problem. Please refresh the page and try again.