7 Rick And Morty Inside Jokes That Are Completely Brilliant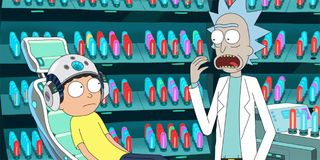 In the age of streaming, when shows can be watched over and over again ad infinitum, Rick And Morty is a particular standout thanks to its impressively layered comedy. Every episode has its greatness thanks to clever story, dialogue, and character work, but Dan Harmon, Justin Roiland, and the staff of writers and animators are also always thinking 10 steps ahead and folding in inside references and jokes that either go over audiences' heads at first pass, or initially go unnoticed because they appear and disappear in the span of a blink. These bits not only make it immensely easy to appreciate the show, given the obvious care that's going into its creation, but it also provides a certain rewarding feeling when you pick up on things the creators want you to catch.
To show our appreciation of this endless cleverness that keeps us tuning into Rick and Morty week after week during its all-too-short seasons, we've collected a list of our favorite inside jokes and subtle gags – some of which you readers may not have picked up on before. Let's dig in!
Rick Totally Let The Alien Parasites Into The Smith House
Season 2's "Total Rickall" is an episode that inspires a lot of questions – most pertaining to the how and whys of Mr. Poopybutthole – but one of those questions has a wonderfully clever answer. If you've ever wondered who it was that let the alien parasites into the Smith household, it was definitely Rick, and the evidence can be found two episodes earlier in "Mortynight Run." As seen in the screenshot above, the self-proclaimed smartest man in the multiverse can be seen loading green rocks into his spaceship, one of which has a tiny pink blob on it (a.k.a. the parasite). Rick can be seen throwing these same rocks in the trash at the start of "Total Rickall," but the big difference is that there are way more pink blobs present.
Rick Creates Community With Unity
Prior to co-creating Rick and Morty, Dan Harmon was best known to TV fans as the creator of the cult comedy series Community – and there is actually an episode in the fifth season of the sitcom where Danny Pudi and Brie Larson's characters are shown watching the Adult Swim show. The connections don't end there, however, as there is also a very special moment in Season 2's "Auto Erotic Assimilation" for Harmon fans.
As Rick sits on a couch watching television, he barks orders at beings under Unity's control, saying "Okay, now make 'em cry. But happy cry. Now make 'em all make fun of the blonde one. Now make 'em all do it on the table! I can't believe you created a whole show for me. Now cancel it! Okay, now put it back on. Haha! [pauses] Alright, I'm bored." This is clearly Harmon poking fun at himself and his once-on-NBC-and-then-on-Yahoo!-Screen sitcom, punctuated with an actual shot of the television screen at the end of the scene featuring Unity versions of the Community cast.
The Gravity Falls Crossover
For obvious logistical reasons, creating crossovers between animated shows is a lot easier than in live-action, and there is a brilliant one that exists between Rick and Morty and the amazing Cartoon Network series Gravity Falls – and it's truly something you won't notice unless you are specifically looking for it.
In Season 1's "Close Rick-Counters Of The Rick Kind," there is a scene where Rick and Morty escape a pursuing troop of Ricks by opening a series of portals, and those with eagle eyes will notice there is a brief moment where a notebook, a mug, and a pen fly out. That episode first aired on April 7, 2014, and the gag was paid off months later on October 27, 2014, as there is a mid-credits bit in the Gravity Falls episode "Society of the Blind Eye" where a main character loses those three items in a portal he is building. It's not Rick and Morty's only callback to the Alex Hirsch-created show, as there are minor other ones sprinkled throughout the existing seasons, but it is the best one.
Rick's Fake Home Is The White House (The Breaking Bad One)
In Rick and Morty's Season 3 premiere "The Rickshank Rickdemption," there is a sequence where it seems like audiences are finally being given some insight into why it is that Rick of Universe C-137 is the Rickist Rick of all the Ricks, as we witness a backstory that involves him inventing and then rejecting dimension-hoping technology, and then witnessing the assassination of his wife. Eventually it's revealed to all be a lie Rick is using to escape from prison – but that's something you can actually pick up on early if you pay attention to the design of his house. After all, the house should be familiar to TV addicts, as it's a perfect replica of the home where Walter, Skyler, Walt Jr., and Holly White live in the critically-acclaimed AMC series Breaking Bad.
There Are Various Fun Translations
One of the easiest subtle jokes to implement in any show is simply using foreign languages and text to hide jokes in plain sight, and Rick and Morty has gone to that well a couple times during its run. For example, in Season 1's "Raising Gazorpazorp" there is a Latin phrase written on the stairs leading to the queen's throne "Sis Semper Calumniam," which roughly translates to "You're always wrong." And if you can read Japanese, you may have noticed that the characters on the back of Jerry's kimono in The Rickchurian Mortydate" mean "weak" or "frail," which is just… perfect.
Jerryboree Really Is The Perfect Place For Jerrys
Jerry Smith is a perfect punching bag character, and few episodes sum that up better than "Mortynight Run," where Rick and Morty need to find a way to ditch Jerry after he pulls a stowaway move during a driving lesson. The ideal place to leave him is the evidently interdimensional hub Jerryboree, which is used by Ricks and Mortys around the universe to leave the idiot in safe hands. A lot of the Jerry-centric entertainment is surface-level funny, but there's even more to enjoy if you're paying attention. You can see elements of his "Hungry For Apples" pitch from Season 1's "M. Night Shaym-Aliens!" as well as hear "Human Music" playing in the background, and you can also see a special section dedicated to the film Titanic, which we know from "Ricksy Business" is one of his favorite movies.
Morty Basically Pulls A Kenny, And The Show Knows It
In Season 4's "The Vat Of Acid Episode," Rick and Morty does a minor degree of fourth wall breaking by acknowledging that they are operating with an idea first used by Futurama – but you may not have noticed the more subtle reference the episode makes to a different animated show: South Park. It's eventually revealed that while Morty believes he has been working with a machine that creates save points like a video game, the truth is that he's been actively killing Mortys in similar alternate dimensions so that he could take their place.
From a macro perspective, he is basically operating a cycle of life and death, similar to the legendary Kenny McCormick, who used to die in every South Park episode. Dan Harmon, Justin Roiland & Co. seem to recognize this connection, as fans may notice that characters during the Alive-esque plane crash sequence wear outfits very similar to those worn by the protagonists in the long-running Comedy Central show.
Do you have a favorite super subtle Rick and Morty joke? Is it one we've featured here, or one you think that a lot of people may have missed? Hit the comments section below, and stay tuned on CinemaBlend for more stories and features about this brilliant on-going series.
NJ native who calls LA home; lives in a Dreamatorium. A decade-plus CinemaBlend veteran; endlessly enthusiastic about the career he's dreamt of since seventh grade.
Your Daily Blend of Entertainment News
Thank you for signing up to CinemaBlend. You will receive a verification email shortly.
There was a problem. Please refresh the page and try again.