Why Chris Meloni Decided That 'Now Is A Good Time' To Return As Stabler For SVU Spinoff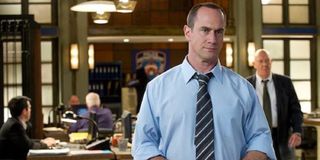 Chris Meloni will be reprising his role as Law & Order: SVU's Elliot Stabler for the first time in nine years in the upcoming spinoff, Law & Order: Organized Crime. When the actor left SVU in Season 12, there wasn't any animosity between Meloni and anyone else in the show's cast and crew. However, it's been long enough that many may be wondering exctly why he's returning after so long. Well, Meloni recently explained why he decided that "now is a good time" to return as Stabler for the SVU spinoff.
Law & Order: Organized Crime was officially announced in March and fans were even more thrilled to hear that Stabler and Mariska Hargitay's Olivia Benson would be reuniting onscreen in the Season 22 premiere of Law & Order: SVU. With Stabler back with the New York police department, Organized Crime will force him to adjust to all the changes that have occurred, all while also leading a task force. Nearly a decade after Chris Meloni left SVU, he revealed why he's choosing to do the spinoff now. Here's what Meloni told ET:
It definitely sounds like everything aligned perfectly when it came to Chris Meloni's return to the Law & Order: SVU world. I'd wager that, even though Stabler will need some time to adapt, Meloni's return to the role will feel like going home for the first time in a long time.
That kind of "effortlessly correct" situation Chris Meloni spoke about seems rare for actors. Of course, there aren't very many shows that last for 21+ years and allow opportunities for role reprisals like Meloni is getting with Stabler. But was Meloni's return as Stabler destined to happen, so to speak? Here's how the actor put it:
Prior to Stabler's return to the NYPD, he'll have suffered a "devastating personal loss." However, it's unclear who or what Stabler will lose before starting his new position with the crime task force. That said, I'm sure he can count on Olivia to help him pick up some of the pieces following his tragedy. Will Stabler be revealing this mysterious setback during the Season 22 premiere of Law & Order: SVU? It's always possible, but we'll just have to wait for more information.
Law & Order: Organized Crime will consist of at least 13 episodes and is expected to premiere at some point in the fall on NBC. Stay tuned to CinemaBlend for updates. For more on what to watch in the meantime, be sure to check out our 2020 fall TV premiere guide for options.
Your Daily Blend of Entertainment News