Steve Harvey's Family Feud Is Returning With Some Key Production Changes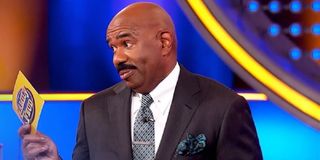 It's been all quiet on the production front in recent months, following Hollywood-wide shutdowns in March. However, filming is slowly starting to resume on a number of shows, with CBS being the first network to begin filming again. The cast and crew of The Bold and the Beautiful have already gone back to work, with CW shows like Riverdale and The Flash expected to resume production by the end of August. Now, Steve Harvey's Family Feud is also picking back up with production, but with some key and expected changes.
The syndicated Family Feud is reportedly scheduled to resume filming on August 4 in Atlanta, with new episodes set to air on September 14. Per Deadline, Season 22 of the long-running game show will be filmed with minimal crew members and no live audience. Moreover, the crew is expected to wear protective gear, including masks, with everyone undergoing regular temperature checks.
These safety precautions are being put into place to protect Steve Harvey, the contestants, and the production crew and to adhere to all of the protocols and guidelines mandated by the state and industry unions. All of this is to also ensure that all social distancing measures are followed. To viewers, Family Feud won't look too different, with the requirements primarily affecting the way the game show is produced behind-the-scenes.
This isn't unusual, as all productions that are planning to or have already resumed filming are working to ensure that safety guidelines are being followed. One production violated the proper COVID-19 safety rules and got shut down. That said,i t's pertinent for Family Feud and other productions to maintain distance and safety when working so as to avoid putting anyone at risk.
The Bold and the Beautiful, for example, has been using latex mannequins when filming intimate scenes, while the cast of Vancouver-based series will undergo a mandatory two-week quarantine period before resuming filming. Of course, Family Feud won't have to deal with mannequins or anything since it's a game show, but the aforementioned are good examples of what practices are being put into place to keep everyone safe during the pandemic.
Family Feud will join Wheel of Fortune and Jeopardy! in resuming filming. Wheel of Fortune has even redesigned its wheel to better accommodate social distancing practices. Meanwhile, Jeopardy! is also changing its setup to add more space between contestant podiums and is expected to film five episodes a day, two days a week.
Family Feud will return with Steve Harvey as host in September. The game show airs in syndication, so be sure to check your local listings for information. For more on which shows are returning in the coming months, be sure to check out our 2020 fall TV premiere schedule.
Your Daily Blend of Entertainment News
Thank you for signing up to CinemaBlend. You will receive a verification email shortly.
There was a problem. Please refresh the page and try again.