The Flash, Riverdale And Other Shows Are Restarting Production Sooner Than You Might Think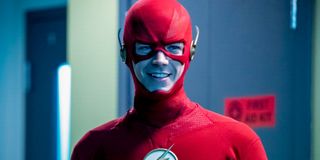 Television productions are slowly beginning to get back to business, but with certain protocols and safety measures in place. CBS was the first network to start filming its shows again after the Hollywood-wide shutdowns in March, starting with The Bold and the Beautiful last month. Meanwhile, Netflix's The Witcher is set to resume production in August. Now, The Flash, Riverdale, and other Vancouver-based Warner Bros. productions are set to resume filming sooner than you might think.
The folks at Warner Bros. TV have scheduled tentative start dates for their Vancouver-based shows, many of which are produced by Berlanti Productions. Per Deadline, shows including The Flash, Superman & Lois, and Riverdale are set to resume filming in late August. The actors of the respective series have reportedly been notified via letters of their return to work a month in advance as per requirements.
The late August timeline — which reportedly ranges between August 20-27 — is when the actors will arrive in Vancouver for their 14-day self-isolation, which is mandated by the officials of British Columbia. It's only after the two-week quarantine period that the actors be able to begin filming, likely to ensure the safety of everyone on set.
It's important to note that the Warner Bros. TV shows cannot resume production without Screen Actors Guild (SAG) approval. However, the unions and guilds have been in talks for weeks now, and it seems that both sides have been getting closer to reaching an agreement. That, in turn, would then allow other Vancouver-based productions to also begin filming again, too.
Los Angeles-based productions were given the go-ahead to resume production back in June, though they were subject to approval by local health officers. Cases have spiked since then, and we saw what happened when one production violated COVID-19 rules.
All that said, the August production restarts make sense considering that The CW has scheduled The Flash, Riverdale, and more for January 2021 premieres. Of course, resuming production is still a slippery slope considering that we're still in the throes of the COVID-19 pandemic. I can only imagine how the cast and crew may be feeling ahead of getting back to work.
What's more, the cast of Supernatural reportedly began arriving in Vancouver earlier this month and are set to begin filming the remainder of the show's final episodes of Season 15 in early to mid-August. The long-running series shutting down was especially rough considering that it was Supernatural's last season, but it looks like it's finally on track to wrap everything up soon before the cast can move on to other projects.
I suppose we'll know for sure when the actors of Riverdale, The Flash, and Superman & Lois are back in Vancouver soon, as many of them have historically posted to Instagram highlighting their return to set. Either way, I just hope that the production environment for all these series is as safe as possible. That's the most important thing right now.
Stay tuned to CinemaBlend for updates. The TV lineup will look a little different this year, what with all of the Warner Bros. TV shows and others being delayed, so be sure to check our fall premiere schedule to see what's new and returning in 2020.
Your Daily Blend of Entertainment News