Ren And Stimpy: 6 Reasons To Be Excited For The Reboot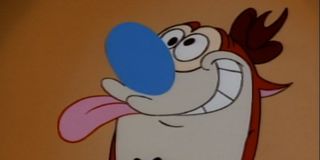 One of the raunchiest children's television shows of all time is making a comeback. Yes, Ren and Stimpy of The Ren & Stimpy Show (which originally ran from 1991-1995) are heading back to television via a new reboot that will happen at Comedy Central. There's understandably some apprehension about this, but I think now is the perfect time for these two to return to TV.
It may be a hot take, but I think there are some details about this new project that apprehensive folks are getting a little too hung up on. I'll get into all that below, and address why this is the hottest thing to happen to television since the release of Log!
John Kricfalusi Won't Be Involved
I know there's some conflict with the idea of Ren and Stimpy returning to television, some of which is tied to creator John Kricfalusi, who will not be on board the new project. I understand the outrage on one hand because, without Kricfalusi, The Ren & Stimpy Show wouldn't exist. He's a large factor in the show's success, and it was his constant boundary-pushing at Nickelodeon that made the show as polarizing and iconic as it became. No doubt, he deserves credit for all he accomplished.
On the same token, the world has seen what John Kricfalusi has done when he isn't being held back. Ren & Stimpy: Adult Party Cartoon was so vulgar and over the top that Billy West walked away from reprising his role as Stimpy because he thought it would damage his career. Critics seemed to agree that the show was more vulgar just for the sake of vulgarity, which hurt the overall comedy. There needs to be a balance for the comedy to connect, so I'm eager to see how another person would develop this series. Plus, given the allegations lodged against Kricfalusi in recent years, I think this move is for the best.
The Original Cartoon Is Great But Looks Dated
I recently re-watched some episodes of The Ren & Stimpy show on CBS All Access, and while it was just as gross as I remembered, the quality of the animation was something that caught me off guard. The animation style is iconic, but the frames are super choppy, and there's certainly a sense that this show was trying to be made with as little drawing as possible back in the '90s.
Now, in an age when most animation is much more advanced than it was back then, Ren and Stimpy can be brought to life in a much more modern way. Plus, with name recognition, I doubt it'll have trouble finding a budget to be as good as it needs to be. I'm ready to see these characters look updated, and for some animation that doesn't look like it was made on a budget.
Now Might Be The Perfect Time For Ren & Stimpy
Ren & Stimpy was considered controversial back in the day, but in modern times, I think there's a case to say it'd fall in right with the run-of-the-mill adult animation shows. South Park and Rick and Morty can get super vulgar at times, and I can't imagine that Ren & Stimpy can possibly go beyond that line even at its worst.
Plus, I think most people who will appreciate Ren and Stimpy coming back are already well into adulthood. This isn't The Ren & Stimpy Show posing as a children's show; audiences know what to expect this time around. I think there will definitely be a crowd upset if the show isn't doing the most to be obscene, but as we saw with the first reboot, we don't need this franchise pushing to be as obscene as possible at the expense of comedy.
There Are So Many Iconic Characters
Ren and Stimpy may be the more recognizable characters of the franchise (understandably so), but they aren't the only great characters in this cartoon. Powdered Toast Man and Mr. Horse were both solid enough to carry their own spinoffs and may have even outlasted the original if they had.
Beyond those two icons, I'm hoping a Ren & Stimpy reboot would bring back characters like Haggis McHaggis, Stimpy's fart son, or Ren's cousin Sven. There's just so much potential with minor characters that could be further fleshed out within the franchise. Of course, I question how many viewers will actually remember some of these random characters and whether they'll care as much as I do to come back into a new version of the show.
Ren And Stimpy Are One Of The Best Animated Duos
People try to act like Beavis and Butt-Head were even on the same level as Ren and Stimpy, and that's simply not the case. These days I think it would be quite the argument to say Ren and Stimpy are on the same level as Rick and Morty, but I will definitely say they're one of the best duos television has ever seen.
Ren Höek and Stimpson J. Cat have such a perfect dynamic, even if it is incredibly toxic. Ren slaps Stimpy around, and Stimpy annoys Ren to no end, but without each other, they simply could not function. They need each other to survive, and as twisted as their dynamic is, it works. Plus, it's a cartoon, so it's kind of hard to really think either one of them is cruel or disgusting as if they existed in real life.
Comedy Central Won't Let It Go Too Long If It Flops
Comedy Central has run a fair amount of original animated programming in years past, and not much of it has withstood the test of time. In fact, the longest-running animated show it has had outside of South Park was Dr. Katz, Professional Therapist, which hasn't been on television since 2002.
The point being, there are a ton of shows like Moonbeam City, Shorties Watchin' Shorties, and Lil' Bush that didn't last that long at all. If the Ren & Stimpy reboot is bad, I have full faith Comedy Central will waste little time pulling the plug. It may not happen as quickly as Spike TV pulled the plug on the first reboot after only three episodes aired, though.
A reboot of The Ren & Stimpy Show is in development at Comedy Central. Continue to stick with CinemaBlend for more details on that, and for the latest happening in television and movies.
Your Daily Blend of Entertainment News
Mick likes good television, but also reality television. He grew up on Star Wars, DC, Marvel, and pro wrestling and loves to discuss and dissect most of it. He's been writing online for over a decade and never dreamed he'd be in the position he is today.
Your Daily Blend of Entertainment News
Thank you for signing up to CinemaBlend. You will receive a verification email shortly.
There was a problem. Please refresh the page and try again.