12 CBS All Access Shows That You Should Be Watching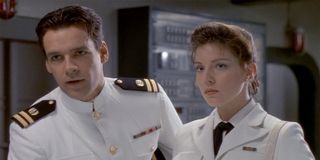 In a world where streaming services are on the rise, with many only getting better with time, CBS All Access has solidified itself as one of the premiere must-have services for cord-cutters and streaming connoisseurs of the of 21st century. Its mix of live sports programming, eye-catching original series, and deep catalog of CBS legacy shows make it a streaming requirement even for those who have access to the CBS network in their home.
Here, we've rounded up some of the biggest shows that give CBS All Access an advantage over many services out there. To be sure, these are just some of the great CBS All Access originals that folks should be watching, combined with some classic hits from yesteryear that make for excellent binge-viewings while waiting for the newer shows to deliver new episodes.
Star Trek: Discovery (Seasons 1-2)
Star Trek: Discovery has arguably been CBS All Access' most notable original series since its launch. The sci-fi drama remained essential viewing throughout the recently concluded Season 2, setting up an exciting future.
Intense and convincing performances from talents like Sonequa Martin-Green and Michelle Yeoh – and, more recently, Anson Mount and Ethan Peck – only elevate this new franchise installment. Though its story is set in the past, it still feels as close to the "reality" of Starfleet as the original series, and has maintained an interesting respect for show canon.
Binge Star Trek: Discovery Season 2 now, only on CBS All Access. Try 1 week FREE!
The Good Fight (Seasons 1-3)
The Good Wife fans who haven't yet had a chance to check out its Christine Baranski-fronted spinoff The Good Fight are missing out. The CBS All Access original is essentially a continuation to the original show, but through a different and more levity-filled lens.
The show follows Rose Leslie's Maia Rindell as she tries to do some good in the world following the arrest of her father. It's not the original adventure with Julianna Margulies, but showrunners Robert and Michelle King have made sure that's not at all a bad thing.
The Twilight Zone
Jordan Peele's revival of Rod Serling's classic anthology series is essentially the same classic twist-driven show, but with more than enough changes that bring it into the modern age. The Twilight Zone is brimming with high-profile talent – such as John Cho, Rhea Seehorn, DeWanda Wise and more – and each week's dark take on social and/or technological injustices are sometimes peppered with nods for other episodes.
There's no doubt that Jordan Peele is on a hot streak in Hollywood right now, with his recent horror Us earning tons of money and acclaim. Fans of his current work would be making a mistake in missing out on one of his latest offerings, which was also co-developed by X-Men franchise producer Simon Kinberg and former Daredevil showrunner Marco Ramirez.
The new series The Twilight Zone is now streaming on CBS All Access. Try 1 week FREE!
Big Brother (Seasons 1-20)
Big Brother has always been one of the longest-running reality shows in television history, and new and long-time fans can binge the entire library on CBS: All Access. This includes Celebrity Big Brother, and Big Brother: Over The Top, which was exclusive to the streaming service.
But while former seasons of reality shows admittedly don't make up the best binge marathons, CBS All Access is also home to the Big Brother live feeds, which can be streamed when the series seasons are in session. The live feeds are where the real fun unedited fun is, so anyone hoping for the full show experience should have a subscription.
Which of these will be the fan-voted most memorable Big Brother moment of all time? Vote now and watch every season of Big Brother on CBS All Access.
Strange Angel (Season 1)
Space rockets, the 1930s, and the occult. If the combination of those three things sounds potentially interesting enough, then Strange Angel may be the first CBS All Access series that new subscribers should dive into. The fact that it stars Detroit and Sing Street's Jack Reynor doesn't hurt.
Strange Angel tells the tale of real-life rocket scientist John Whiteside Parsons, and it's based on the biography of his life as written by George Pendle. Season 1 is already up and ready to binge, with Season 2 set to arrive in June.
Stream it here with CBS All Access.
No Activity (Seasons 1-2)
An American remake of an Australian comedy, No Activity centers on an ensemble of characters: two cops who share a lot of time in a car, two criminals kept out of the loop, two dispatch workers who don't see eye to eye, and two tunnel-to-Mexico diggers who are relatively unfamiliar with each other. An eclectic mix, for sure.
Audiences who love big names and talented actors will love this comedy, which features the likes of Will Ferrell, Jesse Plemmons, Tim Meadows, J.K. Simmons, just to name a few. A third season that's on the way, which will hopefully bring back Bob Odenkirk and Joe Manganiello.
JAG (Seasons 1-10)
NCIS fans who are looking to relive the series that started it all need not look any further: the full series JAG is available to binge on CBS All Access. This will be especially handy for those curious about getting into the series following the Season 10 finale of NCIS: Los Angeles, as both "Mac" and "Harm" will be making an appearance.
It's a series that's format has withstood the test time, and there are over 225 episodes to dive into. What's not to love about this classic CBS procedural?
Stream your favorite shows on demand -- now commercial free -- on CBS All Access. Learn more now!
Touched By An Angel (Seasons 1-9)
CBS All Access is the home to the supernatural drama, which followed an angel tasked with helping others through tough decisions in their lives. The series starred Roma Downey and Della Reese as two angels finding the humanity and compassion in the world around them, and it was an audience hit when it originally aired.
It's not so easy to find Touched By An Angel on television or streaming today. As such, It's heavenly that CBS All Access allows users run through all 9 seasons at their leisure.
The Price Is Right
There's nothing quite like sitting home from work or school and relaxing on the couch while watching The Price Is Right. Here's a secret: one doesn't have to be feeling under the weather to enjoy all the showcase showdowns and wheel-spinning.
Fans can catch invite Drew Carey (or Bob Barker) into their homes with the latest episodes of The Price Is Right on CBS All Access at their own leisure. It's fun to binge, and a great resource for anyone looking to one day come on down to compete on the household item-centered program.
Watch it live, watch it later. CBS All Access: stream shows live or on demand, across devices. Try it free.
Beauty and the Beast (Seasons 1-3)
No, this isn't the more recent CW drama. Rather, we're talking about the bizarre but strangely addictive 1980s series about a New York attorney who fell head over (fashionable) heels for a man-beast.
Most people probably already know the non-Disneyfied series starred Ron Perlman and Linda Hamilton, but what about the fact that Game of Thrones creator George R.R. Martin was a writer for Beauty and the Beast as well? With that HBO series set to end, now may be the best time to revisit one of the author's prior works. Just don't expect dragons.
Happy Days (Seasons 1-11)
What do Ron Howard, Henry Winkler, Scott Baio, and Pat Morita have in common? Happy Days fans already know, and one and all can binge the entirety of the classic series on CBS All Access. This day, and binges, is ours. (If only Pat Morita had also cameoed on Arrested Development.)
Here's some even better news, the CBS All Access app is super reliable, so users won't need to call their local Fonzie to come and smack a Roku device or tablet, jukebox-style, in order for them to work. Subscribers are free to wear their own leather jackets and say, "Heyyy!" willy nilly, however.
Watch Happy Days on CBS All Access here.
Hawaii Five-O (Season 1-12)
The modern Hawaii Five-O reboot has established itself as a classic in its own right, and viewers are loving it. But for anyone who wants to kick back and enjoy the original series, look no further than CBS All Access.
All 12 seasons are ready for fans new and old to run through, and Jack Lord's Steve McGarrett is there to bust out his "Book 'em, Danno" catchphrase when needed. 279 episodes means that fans will have to go through that iconic drum fill a whole lot of times, but that's not at all a bad thing.
Anyone interested in CBS All Access can subscribe right now in order to dive right into a bunch of other great CBS programming that's available to stream. Be sure to stick with CinemaBlend between binge-sessions for the latest in entertainment news.
Mick likes good television, but also reality television. He grew up on Star Wars, DC, Marvel, and pro wrestling and loves to discuss and dissect most of it. He's been writing online for over a decade and never dreamed he'd be in the position he is today.
Your Daily Blend of Entertainment News
Thank you for signing up to CinemaBlend. You will receive a verification email shortly.
There was a problem. Please refresh the page and try again.