Classic Kids' Shows That Should Get Netflix Movies After Rocko's Modern Life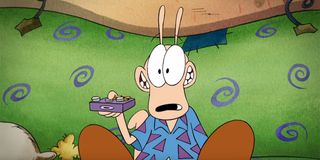 In this age of IP-driven franchises, remakes, reboots and nostalgia mining, Netflix's Nickelodeon revivals of Rocko's Modern Life and Invader Zim are unique. Rather than rebooting these properties, adapting them to live-action or remaking them for a broader audience, Rocko's Modern Life: Static Cling and Invader Zim: Enter the Florpus are made for the fans who grew up with them. They both were made with the series' original creators and maintain the tone and aesthetics of the classic shows.
The existence of these movies naturally inspires hope that other beloved and long gone kids' shows could one day have their own renaissances, however brief, in the form of Netflix movies. Not every property will get or is suited to the live-action feature film treatment and those efforts delight and divide fans in equal measure. But the examples of Static Cling and Enter the Florpus represent a way to give classic shows one last hurrah, as well as a chance to deliver a proper ending and provide a bit of fan service.
While there is no shortage of classic kids' shows that are deserving, rather than list every show that premiered over decades, we're going to narrow things down. Although live-action shows aren't as well suited, there will be a few on this list. What won't be are Disney shows or superhero shows, since the former would be headed to Disney+ and the latter to DC Universe, plus they would result in too many entries, so no Gargoyles and no Teen Titans.
I'm also going to largely, although not entirely, avoid shows that already got a proper movie that capped the series (Hey Arnold, The Wild Thornberrys) or those that have reboots/live-action adaptations of some sort in development (Rugrats, Animaniacs, Are You Afraid of the Dark?). So with all that in mind, here are the classic kids' shows that should get Netflix movies.
The Ren & Stimpy Show
One of the most controversial and notorious cartoons of all time, The Ren & Stimpy Show was one of the three original Nicktoons alongside Rugrats and Doug. This show followed the absurdist misadventures of the volatile Chihuahua Ren and the chill cat Stimpy. It's remarkable Ren & Stimpy existed because it probably couldn't today and certainly not as a kids show with its dark, off-color humor, vulgarity, violence and sexual innuendo. The audiences that watched it are all grown up now though and they're the people watching Static Cling on Netflix.
That makes Ren & Stimpy the perfect show to follow its fellow Nicktoon into the over-the-top age. In the early 2000s a brief follow-up, Ren & Stimpy 'Adult Party Cartoon' was released to general disdain and series creator John Kricfalusi has been accused of some pretty heinous things in recent years. So maybe it's best Ren & Stimpy stay gone, but still, these two deserve to go out on a high note and a Netflix movie, perhaps from co-creator Bob Camp could do just that.
The Angry Beavers
Alongside Catdog, The Angry Beavers was one of Nickelodeon's oddities in the late 90s and just the kind of weird and irreverent show that would be well suited to a Netflix revival. The Angry Beavers told the story of Norbert and Daggett, two beaver brothers who move out of their parents' house to live the bachelor life in the forests of Oregon. Their contrasting personalities led to all kinds of entertaining conflict in this surreal and slapsticky series.
Like many classic kids' shows, especially those on Nick, The Angry Beavers has its own bit of lore. After four seasons the show was cancelled and the creators decided to send the series out with a fourth-wall breaking episode where the beavers realized they were cartoons and acknowledged their own cancellation and deaths. This episode broke Nickelodeon rules and never aired, but Netflix would be a great place to turn it into a movie. We could get the lost "Bye Bye Beavers" episode, only for the beavers to realize they're still alive and more zaniness could then ensue.
The Pirates Of Dark Water
I've long felt this 1991 animated series from Hanna-Barbera and David Kirschner could be an incredible live-action movie that combines the high seas adventure of The Pirates of the Caribbean with the special effects and alien creatures of Avatar, but I acknowledge the budget that would take combined with its relative obscurity make that unlikely. Still, this property deserves to be brought back, not just to find a new audience, but to finish out its story after it was prematurely cancelled.
The Pirates of Dark Water is set on the alien world of Mer, which is being devoured by a mysterious substance known as Dark Water. Only the young prince Ren and his ragtag crew can stop it by finding the magical Thirteen Treasures of Rule, all while being hunted by the pirate lord Bloth. Despite its brief run, this show had cool mythology and fun characters that deserve another shot. The show ended before the story was complete and although a live-action adaptation may never happen, a Netflix movie with updated animation could finish the tale and give fans closure.
The Secret World Of Alex Mack
For a variety of reasons, like the actors growing up, live-action continuations of classic kids' shows generally wouldn't work and reboots would be preferred, but The Secret World of Alex Mack is one of the few shows that have a sequel movie in its current continuity. The show, which aired as part of Nickelodeon's SNICK lineup, was about a teenage girl who, Daredevil style, is in an accident where she gets exposed to a top-secret chemical. The result is that she gets powers like telekinesis and the ability to shoot lightning from her fingers and liquefy herself.
The series had an ambiguous, cliffhanger ending where Alex was presented with the cure to the GC-161 chemical she was exposed to, but you never find out whether she took it. A new Netflix film could answer that question and find Larisa Oleynik's Alex with a family of her own and having to contend with some mad scientists back up to their old tricks. It's got some similarities to Stranger Things now that I think about it and would fit right in at Netflix.
Danny Phantom
Nickelodeon's Danny Phantom is a bit newer than most of the classics on this list, but it still ended over a decade ago so it doesn't feel too recent to deserve a revival. Hailing from the creator of the much more successful The Fairly Oddparents, Butch Hartman's Danny Phantom didn't get as long of a run as it probably should have. This show is about the teenage son of a pair of ghost hunters who, after an accident, becomes a human-ghost hybrid. With the aid of his friends, he uses his powers to save his town from ghost attacks.
The acclaimed series had a cool concept with great animation, interesting characters and fun action. Danny Phantom has developed a cult following in the years since its cancellation and hopes for a reboot or revival have never waned. Hartman has confirmed that a script for a live-action film was written, as well as teased a revival where we pick up with the characters 10 years later. Either of those ideas or something else entirely could be brought to life with a new movie on Netflix.
Thundercats
Kevin Smith is bringing He-Man back with the limited series Master of the Universe: Revelation on Netflix, but the residents of Eternia aren't the only 80s cartoon heroes deserving of a new lease on life. Thundercats had a brief return in 2011 with a Cartoon Network animated series and the new, highly divisive Thundercats Roar is presumably still on the way. Yet what this property needs is a decent movie and although it has been rumored to get the live-action treatment for ages, an animated feature on Netflix would work best. We don't want the Thundercats to look like the humanoid felines do in Cats, yeesh.
The finale of the original series has a somewhat open ending so a Netflix movie could act as a sequel to that, or it could continue the 2011 series that was cut short after only one season. With She-Ra and the Princesses of Power and the aforementioned Masters of the Universe as well as many anime shows, Netflix has shown an affinity for this kind of thing and a Thundercats movie would be a nice addition to the service's lineup, pending it could get the rights to do it of course.
Aaahh!!! Real Monsters
Part of what was so great about classic Nickelodeon was how weird, gross and ridiculous its shows were. A perfect example of this is Aaahh!!! Real Monsters. If Rocko's Modern Life and Invader Zim are any sort of indicator of the kind of show that could get the revival treatment on Netflix, Aaahh!!! Real Monsters is an obvious next candidate. The 1994 series from Klasky-Csupo was weird and immature and hilarious, and was the kind of show, like many Nickelodeon classics, that had something for kids and adults.
Aaahh!!! Real Monsters followed the adventures of three juvenile monsters: Ickis, Oblina and Krumm, who live in New York City. The three friends are going to school to learn how to scare humans. This obviously bears some similarities to Pixar's Monster's Inc. films and there are even theories connecting the two. Legend has it that there was an Aaahh!!! Real Monsters movie in the works that was nixed for being too dark. True or not, Netflix sounds like the perfect place for a dark movie based on this Nickelodeon classic.
The Adventures Of Pete & Pete
Nickelodeon's The Adventures of Pete & Pete is quite possibly the single greatest kids' show ever made. This surrealist look at life as a kid featured incredible guest appearances, great characters, effortless weirdness and an absolutely iconic theme song. For those who haven't seen it, Pete & Pete follows two brothers, both named Pete, as they go through daily life and absurd adventures in their bizarre suburban town of Wellsville.
History shows that the 2000 film Snow Day was originally intended to be the Pete & Pete movie but that idea was scrapped and the film was done as a standalone feature. That wrong can be righted with a feature-length Netflix movie as long as creators Will McRobb and Chris Viscardi were on board and have a good idea for it. Stars Michael C. Maronna and Danny Tamberelli do a podcast together now and it would be brilliant to see them back in the weird and wonderful world of Wellsville for one last adventure. If a movie could capture even one-tenth the magic of the original, it would be well worth it.
Courage The Cowardly Dog
One of Cartoon Network's most popular series, Courage the Cowardly Dog ran from 1999 to 2002. The series followed Courage, a dog who, you guessed it, is cowardly. This proved challenging, as he had to protect his owners from all manner of supernatural creatures. The series had some dark comedy and actually had plenty of fun horror elements to it.
Fans have been wanting to see more Courage for a while now and in 2016 there was a Facebook campaign for Cartoon Network to greenlight a fifth season of the show. That didn't happen but creator John Dilworth did make a CGI special, The Fog of Courage, as a pilot for a revival of the series and he has hinted at a possible prequel but neither of those have come to pass as of yet. Whether its CGI or the animation style of the original series, fans of Courage would flock to Netflix for a new original movie.
Action League Now!
Almost any of the recurring sketches from Nickelodeon's series KaBLaM! could get a fun short movie on Netflix like Rocko's Modern Life: Static Cling, from "Life with Loopy" to "Prometheus and Bob," but the one that feels the most appropriate and relevant is "Action League Now!" This recurring sketch actually spun off into its own Nick series in 2001. Action League Now! followed a group of suburban superheroes, portrayed onscreen by custom action figures, as they fought against crime and their own idiocy.
As we are inundated with superhero content on screens big and small, it's good to have some variety and stuff that deconstructs and makes fun the genre. That's why Amazon's The Boys and HBO's upcoming Watchmen are so exciting. Action League Now! would be a hilarious and worthy entry into that domain. A Netflix movie featuring The Flesh, Stinky Diver, Thundergirl and Meltman would be easy to do and seems like the kind of thing that would really find an audience in the internet age, both with older fans and people discovering it for the first time.
This list is by no means all encompassing; there are dozens upon dozens of shows more that could be on here and dozens more I didn't include because some sort of reboot or adaptation is supposedly in the works. We always want more of the things we love and we all have shows from our childhood that we'd like to see brought back in some fashion, be it a new series, a feature film, a reboot or something in between.
As evidenced by the frequent internet refrain for Hollywood to 'stop ruining my childhood!' these efforts don't always work and sometimes it's best to leave well enough alone. But nostalgia isn't inherently a bad thing and Rocko's Modern Life: Static Cling and Invader Zim: Enter the Florpus show another, smaller way that beloved shows can be brought back that is very fan friendly.
With companies like Netflix always looking to capitalize on what we already love, we can never say never and our classic kids' shows can always make a comeback.
To see what's headed to theater the rest of this year, check out our premiere guide.
Your Daily Blend of Entertainment News
Nick grew up in Maryland has degrees in Film Studies and Communications. His life goal is to walk the earth, meet people and get into adventures. He's also still looking for The Adventures of Pete and Pete season 3 on DVD if anyone has a lead.