10 Classic Nicktoons, Ranked By Pure Weirdness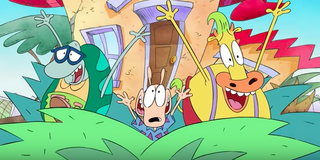 For just about every 1990s kid, the name Nickelodeon is synonymous with entertainment. The network had a string of original hit series over the course of the decade (and beyond), with each one carving out a unique identity for itself, and the Nicktoons brand stood above all else. However, despite the fact that the animated series were specifically geared towards kids, it's almost impossible to deny that some of them were (and still are) insanely weird. Even for adults.
On that note, we have gone through the pantheon of classic Nickelodeon cartoons (most of which can be seen on The Splat programming block) and compiled a list of the ten weirdest shows ever to grace the network. Take a look at our list, and let us know what you think of these classically surreal cartoons in the comments below. Now let's strap a belt around our head and dive in to see which of these absurd shows made the cut.
10. Doug
On the surface, Doug seemed like a show about a new kid in town with a wildly active imagination. We regularly floated through Doug Funnie's imagination as he placed himself into the various identities of fictional heroes like Quailman, Jack Bandit, and Smash Adams -- all characters that he would actually play out in real life. Couple that with an anthropomorphic dog named Porkchop, a quasi-romance with a girl named Patti Mayonaise, and various characters of all shapes, sizes, and colors -- Why was Skeeter blue? -- in his hometown of Bluffington, and Doug provided one of the weirdest takes on adolescence that we have ever seen on Nickelodeon.
Want to see the weirdness for yourself? Take a look at the clip below!
9. The Wild Thornberrys
Compared to other shows on this list, The Wild Thornberrys seems normal on the surface because of its earnestness, much like Doug in a way. Focusing on a young girl who can talk to animals, the show followed the titular family in their quest to document and save nature. In execution, however, the show was far weirder than it usually gets credit for, as its references to famous scientists, focus on teen angst, and consistent storylines about preservation made it one of Nick's most layered and out-of-the-box shows. With the delightful Tim Curry added to the mix as Nigel Thornberry, you're left with one weird kid-based property.
Want to see the weirdness for yourself? Take a look at the clip below!
8. The Angry Beavers
Cartoons that aired on Nickelodeon were well-known for their use of double entendres, obscure pop culture references, and jokes that would (more often than not) go over the heads of the young viewers, and The Angry Beavers epitomized that idea during its run on the network. Centering on brothers Norbert and Daggett, The Angry Beavers was rooted in the concept of family, but the oddball comedy would also dig deep into the annals of pop culture -- offering up a bear modeled on Barry White, an imaginary superhero (provocatively) called "Muscular Beaver," and consistent references to classic movies and TV shows such as The Twilight Zone.
Want to see the weirdness for yourself? Take a look at the clip below!
7. Spongebob Squarepants
At this point, a show like SpongeBob SquarePants needs no introduction. Though many Nickelodeon cartoons have maintained their popularity in the years since they first achieved their fame, SpongeBob has persisted in meme culture arguably better than any other Nick property -- whether it is because of the mystery of Old Man Jenkins, or a Krabby Patty's secret recipe, just to name a couple. Though the stories told on the show were often incredibly simple, the writing featured some serious deep-cut references to figures like Toulouse-Lautrec and Salvador Dali -- with plenty of bluntly sexual jokes thrown in for good measure. And some of that animation is the stuff of magnificent nightmares.
Want to see the weirdness for yourself? Take a look at the clip below!
6. KaBlam!
KaBlam! stands apart from the other shows on this list because it was actually a variety show hosted by two animated characters -- Henry and June. The show featured a broad range of cartoon and stop-motion segments (such as Prometheus and Bob and Action League NOW!), and it's clear that Adult Swim and Robot Chicken owe a considerable debt of gratitude for the bizarre DNA that KaBlam! provided. On a relatively mainstream children's network, a variety show like KaBlam! embraced alternative comedy in a way that we have seldom seen since the show went off the air back in 2000. All That! couldn't compare.
Want to see the weirdness for yourself? Take a look at the clip below!
5. CatDog
CatDog was not unlike The Angry Beavers regarding how it approached its brotherly dynamic. Taking ample inspiration from The Odd Couple, the core emotional through-line of the series centered on their conflicting styles as individuals (despite being literally attached at the hip, or however you want to put it ). However, unlike Beavers, CatDog embraced a far darker tone and often put its two heroes in far creepier situations involving more villainous characters such as The Greaser Dogs and Rancid Rabbit. CatDog's existence was frequently portrayed as a bad situation for both characters, and it made for some utterly bizarre episodes about dealing with life's inconveniences.
Want to see the weirdness for yourself? Take a look at the clip below!
4. Aaahh!!! Real Monsters
Long before Pixar introduced the world to Mike Wazowski and Sully with Monsters, Inc., Nickelodeon introduced us to the idea of an entire monster bureaucracy with Aaahh! Real Monsters. Premiering on Halloween in 1994, the show ran for four seasons and never shied away from embracing a decidedly gothic tone and visual style, while also offering up some truly lovable characters in the form of Ickis, Oblina, Krumm, and The Gromble. (Less lovable than the others, but still.) If you grew up loving Tim Burton, then there's a pretty good chance that you can trace some of that love back to the distinct stylings of this creepily wonderful cartoon.
Want to see the weirdness for yourself? Take a look at the clip below!
3. Invader Zim
Invader Zim is arguably the darkest Nickelodeon show on this list. The science fiction cartoon told the story of an alien who accidentally lands on Earth when his overlords want to get rid of him on their homeworld, and showcases his subsequent battles with a human boy. In many ways, Invader Zim has more in common with a classic David Cronenberg body horror story than anything else ever seen on Nick, as the show consistently embraced violence, darkness, and sheer weirdness to deliver its best jokes and most striking moments. With a movie reportedly on the way, we could all be singing the Doom Song one more time very soon.
Want to see the weirdness for yourself? Take a look at the clip below!
2. Rocko's Modern Life
Pretty much every show on this list thrived on subtle jokes that only adults could pick up on, but few could pull off that delicate balancing act quite like Rocko's Modern Life, which went adult with entire storylines. Centering on a timid wallaby and his best friends (a free-spirited cow and a neurotic turtle), the show took a number of bold chances -- offering audiences episodes about cults, addiction recovery, death, hell (run by a fabulously sinister figure named Peaches), and prison. With a revival currently in the works that will tackle modern society, we can rest easy knowing that there's plenty more of this absurdist humor on the way.
Want to see the weirdness for yourself? Take a look at the clip below!
1. Ren and Stimpy
Last, but definitely not least, we come to Ren and Stimpy, which remains the definitive WTF and endlessly dark TV show ever to grace Nickelodeon. Violent, vulgar, and utterly insane, this acid trip of an animated series centered on the adventures of a neurotic chihuahua and a loveable fat cat, and it continues to have far more in common with the type of programming seen on Adult Swim's classic, late-night block of programming like Aqua Teen Hunger Force than anything that has followed it on Nick. (Maybe blame that on the network's issues with creator John Kricfalusi, who was ousted and replaced, leading to the far sub-standard later seasons.) Episodes that should be considered required viewing: "Space Madness," "Stimpy's Invention," and "Powdered Toast Man."
Want to see the weirdness for yourself? Take a look at the clip below!
To see what weird new and returning TV shows are hitting the small screen soon, head to our fall premiere schedule.
Your Daily Blend of Entertainment News
Originally from Connecticut, Conner grew up in San Diego and graduated from Chapman University in 2014. He now lives in Los Angeles working in and around the entertainment industry and can mostly be found binging horror movies and chugging coffee.