Why Friends' Lisa Kudrow Had Problems Playing Phoebe Early On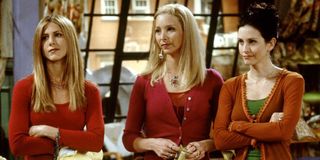 Most fans of the dramatic arts can probably grasp the fact that acting, while certainly not the most difficult job ever, can at the very least be emotionally taxing. But, it's a lot easier to see the complications that might arise when you talk about portraying a dark character or one that has to deal with very troubling subjects. Few of us could likely guess that Lisa Kudrow had some issues when it came to playing Phoebe on Friends in the early years of the sitcom mega hit.
Apparently, there are some struggles that come with playing someone who...how do I say this nicely?...whose IQ is quite a bit lower than your own. Here's what Lisa Kudrow had to say about those early years playing Phoebe:
Well, now, Lisa Kudrow! As a Phoebe fan I take some offense to the use of the phrase "dumb girls" as you've used it to refer to our beloved Phoebe Buffay. Sure, maybe the Smelly Cat singing masseuse wasn't the brightest bulb in the box, but she was really more of a wonderfully naive character who had a lot of street smarts and a pretty good outlook on life despite her rough upbringing. But, I digress...
Lisa Kudrow appeared on Kevin Nealon's Hiking With Kevin show, and when asked if the former improv comedian had ever played a character like Phoebe before, Kudrow revealed several things about her early time on Friends. For one, (and anyone who's seen her in interviews will know this) Phoebe's frequently ditzy approach to life isn't really anything like Kudrow, so not only did she feel like she got away with something by nabbing the part, but she also thinks simply not cracking under the pressure of the audition process is what helped her win.
Secondly, even though you'd be hard pressed to find anyone who felt something was off with the actress playing Phoebe, Lisa Kudrow admits that she had to "work hard" to fully embody the character's generally easy going persona. By the time Season 3 came around, things had gotten so difficult for her that she was actually "struggling" to find her footing as Phoebe.
A Friends Reunion? Here's What Lisa Kudrow Thinks
If you'll remember, Season 3 is when Phoebe got to know her birth mother and younger half brother. So, Lisa Kudrow had storylines that were a bit more intricate and emotional than previously, and it makes a lot of sense that, if she was already having trouble getting into Phoebe's headspace, this would have added to it.
Luckily, Matt LeBlanc (who, of course, played lovable doofus Joey) noticed that Lisa Kudrow was having a hard time and was able to offer her some sage advice about playing a character who's a bit intelligence challenged. LeBlanc suggested that she was simply overthinking things and "working too hard," and once Kudrow thought about his words she agreed and was able to relax into Phoebe. The rest, as they say, is television history.
It's certainly lucky for us that Lisa Kudrow was able to confide in a castmate who was capable of giving her just the advice she needed to stop overthinking Phoebe. Who knows what would have happened if she flamed out of of Friends in Season 3?
If you need a Phoebe fix now, you can still catch Friends on Netflix through early 2020, but be sure to check out our 2019 fall TV premiere guide to see what else you can watch on the small screen in the coming weeks.
Bachelor Nation, Gilmore Girl; will Vulcan nerve pinch pretty much anyone if prompted with cheese...Yes, even Jamie Fraser.
Your Daily Blend of Entertainment News
Thank you for signing up to CinemaBlend. You will receive a verification email shortly.
There was a problem. Please refresh the page and try again.