Fringe's John Noble Apologizes For Taking Part In A 'Disrespectful' Running Gag On The Show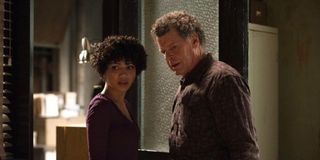 For five seasons, Fringe's Dr. Walter Bishop had an abundance of names for Astrid: Asgard, Astro, Asterisk, and the list goes on and on. It was a quip that began in the early days of the show and while many fans loved it, it may have not been so great in hindsight, despite the non-malicious intent behind the joke. Current The Good Doctor star Jasika Nicole recently spoke up about dealing with that Fringe joke, with former co-star John Noble apologizing for taking part in the "disrespectful" running gag during the Fox series' run.
Here's what happened. Over on Twitter, a fan responded to a Fringe thread started by Batwoman writer and former journalist Natalie Abrams, noting that they loved Astrid's relationship with Walter. The fan mentioned in just the fact that, no matter what, Walter always managed to get Astrid's name wrong. Fringe alum Jasika Nicole responded to the tweet, addressing the long-running joke and the reasons she wasn't okay with it. Here's what she wrote:
Jasika Nicole added that the joke was "written through the lens of whiteness" and acknowledged that there may not have been any ill-intent, but that the joke still caused harm. John Noble was tagged in the discussion thread on Twitter and chimed in to apologize. In his words:
The actress let John Noble know that it was okay because he didn't write the scripts for Fringe. Still, I think it was thoughtful for Noble to apologize regardless. Jasika Nicole goes on to point out that she understood that the "spirit of the joke" was not lost on her initially, and that it was an indicator of Walter's mental health at the time.
However, she says that it became "bullying and racist" once Walter knew who she was and then continued to get her name wrong anyway. What's more, the Fringe vet mentioned that she never said anything because the show was not a safe space for her.
Fringe has been over for seven and a half years at this point, but several Black actresses have spoken up recently regarding how they've been treated on the sets of their jobs. Former America's Got Talent judge Gabrielle Union alleged that there was a toxic work environment on set and that she faced racial discrimination during her time on the show. Meanwhile, Glee vet Samantha Ware reportedly experienced "traumatic microaggressions" from co-star Lea Michele.
Fringe is currently available to stream on Amazon Prime Video. For more on what to watch in the coming months, be sure to check out our 2020 fall TV premiere schedule.
Your Daily Blend of Entertainment News
Your Daily Blend of Entertainment News
Thank you for signing up to CinemaBlend. You will receive a verification email shortly.
There was a problem. Please refresh the page and try again.