What The Alias Cast Is Doing Now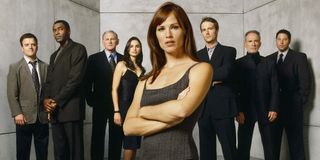 Created by J.J. Abrams, Alias was an exciting espionage action-thriller series which gave Jennifer Garner the career-building role that turned her into a household name. Throughout its five-season run on ABC, the show produced action, adventure, drama, and suspense in frequent measure, providing a fun, thrilling show with critical acclaim and a devoted fanbase. Alas, the series called it a wrap in 2006, but what has the Alias cast been up to since it ended? You know what Garner is up to nowadays, as well as Abrams. And you've probably heard of a certain supporting actor by the name of Bradley Cooper. But what about the rest of the ensemble? What's new with them? Where have they gone since Alias compromised its mission? Let's find out!
Jennifer Garner (Sydney Bristow)
As Sydney Bristow, a highly-skilled agent for the U.S. government, Jennifer Garner played our central protagonist in Alias. The actress won a Golden Globe and received four Emmy nominations for this performance, and it helped her become a household name. Prior to her time on this show, Garner was seen in Mr. Magoo, Dude, Where's My Car?, Pearl Harbor, and Catch Me If You Can. While she starred at the forefront of Alias, Garner was also starring in films like 13 Going On 30, Daredevil, Elektra, and Catch and Release.
In the years to follow, Garner was notably seen in films like Juno, Valentine's Day, The Odd Life of Timothy Green, Dallas Buyers Club, Alexander and the Terrible, Horrible, No Good, Very Bad Day, Love, Simon, Miracles from Heaven, and Peppermint. She also frontlined HBO's Camping. Next, Garner will star in and produce Yes Day.
Michael Vartan (Michael Vaughn)
In the role of Michael Vaughn, a love interest for Sydney, Michael Vartan was seen prominently throughout Alias. Prior to his role in this ABC series, the actor was seen in The Pallbearer, To Wong Foo, Thanks for Everything! Julie Newmar, Never Been Kissed, Friends, and Ally McBeal.
During his time on Alias, Vartan was also seen in One Hour Photo and Monster-in-Law. Following the show's run, Michael Vartan has most notably been seen in Hawthorne, after he replaced Jeffrey Nordling. He is also in The Arrangement, and he appeared in several episodes of Big Shots, Bates Motel, Satisfaction, and Rectify. Vartan starred in films like Jolene, Rogue, Colombiana, High School, and Nina. Most recently, Vartan appeared in an episode of God Friended Me in 2018.
Ron Rifkin (Arvin Sloane)
Playing Arvin Sloane, the cold, calculating leader of SD-6, Ron Rifkin played a menacing role in Alias. Previously best known for his performance in L.A. Confidential, Rifkin is an acting veteran with well over 50 years of acting experience. Following his time on this ABC drama series, Rifkin played a lead role in Brothers & Sisters. He also appeared in several episodes of Gotham, Limitless, Law & Order: SVU, and, most recently, New Amsterdam.
Ron Rifkin was also briefly seen in episodes of Elementary and The Good Wife. On the big screen, Rifkin was seen in movies like The Words, Pulse, Peep World, and Bradley Cooper's A Star Is Born. He was in Netflix's True Memoirs Of An International Assassin. Next, Rifkin can be seen in Minyan, which is playing in the film festival circuits right now. He starred in the 2019 short film, Daddy.
Carl Lumbly (Marcus Dixon)
In the role of Marcus Dixon, C.I.A.'s Director of Joint Task Force, Carl Lumbly played a lead role throughout Alias' five-season run. Prior to this ABC espionage drama, Lumbly was best known for Cagney & Lacey. He also starred in Coming in America, Escape From Alcatraz, The Adventures of Buckaroo Banzai Across the 8th Dimension, How Stella Got Her Groove Back, and Men of Honor. Additionally, Lumbly has done extensive voice work as Martain Manhunter in Justice League.
Since his time on Alias, Lumbly has most notably been seen on Supergirl, as well as episodes of NCIS: Los Angeles, Southland, NCIS, Criminal Minds, and more. The actor also appeared in A Cure for Wellness and, most recently, last year's Doctor Sleep. On television, Lumbly was last seen in episodes of Altered Carbon and God Friended Me. He'll next appear in The Falcon and the Winter Soldier.
Kevin Weisman (Marshall Flinkman)
Playing Marshall Flinkman, the tech wiz at SD-6 and later the C.I.A., Kevin Weisman was given a fun and lively role in Alias. An actor of the stage and screen, Weisman appeared on Frasier, Pauly, Just Shoot Me, ER, The Drew Carey Show, Felicity, The X-Files, Charmed, Buffy the Vampire Slayer, and more before he landed his role on Alias.
In the time since the ABC series wrapped, Weisman has appeared in Clerks II, Space Buddies, Flipped, and The Trust, though he has notably been seen in the main cast for Hello, Ladies and, most recently, Runaways. He also appeared in episodes of Goliath, Scorpion, The Blacklist, Better Call Saul, Fringe, CSI, Chuck, Awake, and more. As a founding member of Buffalo Nights Theatre Company, Weisman has produced, directed, and starred in several L.A. productions.
Victor Garber (Jack Bristow)
As Jack Bristow, Sydney's father, Victor Garber played a prominent role throughout Alias' television run. A Tony-nominated actor known for his stage and screen work, Garber prominently appeared in Broadway productions of Godspell, Sweeney Todd: The Demon Barber Of Fleet Street, Hello, Dolly!, Deathtrap, Little Me, Lend Me A Tenor, Damn Yankees, and Assassins, to name only a few.
Prior to his role in Alias, Garber was seen Titanic, Sleepless in Seattle, The First Wives Club, and Legally Blonde. Following his role in this ABC series, the actor would go on to star in movies like Milk, The Town, Kung Fu Panda 2, Argo, Sicario, Star Trek (2009), and, most recently, Dark Waters. On television, Garber appeared in Eli Stone, Web Therapy, Power, Deception, and The Flash. He also played a lead role in Legends of Tomorrow. Next, he'll star in Family Law and Happiest Season.
Bradley Cooper (Will Tippin)
As Will Tippin, a good friend to Sydney, Alias provided Bradley Cooper with a notable pre-fame role. He appeared in the first two seasons, followed by guest appearances, with Sex and the City and Wet Hot American Summer being his only noteworthy roles prior. Following his tenure on Alias, however, Cooper's career skyrocketed. Notably, he starred in Wedding Crashers, Failure to Launch, and Yes Man before The Hangover made him a leading man A-lister.
From there, Cooper led The A-Team and Limitless before becoming an Oscar nominee with Silver Linings Playbook. Subsequent awards contenders like The Place Beyond the Pines, American Hustle, and American Sniper followed, and he took on the voice role of Rocket in Marvel's Guardians of the Galaxy and other MCU movies. He also directed and acted in 2018's A Star Is Born. Next, he'll star in the latest films from Guillermo Del Toro and Paul Thomas Anderson.
Merrin Dungey (Francie Calfo)
Playing the role of Francie Calfo, a close friend of Sydney, Merrin Dungey played a key role in the first two seasons of Alias. As an actress, Dungey was previously in Deep Impact, EDtv, ER, Seinfeld, The West Wing, and Malcolm in the Middle. She also had a recurring role in The King of Queens.
Following her appearance on Alias, Dungey played Ursula on Once Upon A Time, starred in Conviction, and appeared in The Resident. Dungey was also seen in Big Little Lies, You're the Worst, Chasing Life, CSI, Brooklyn Nine-Nine, Betrayal, Revenge, Curb Your Enthusiasm, and more. She played a main role in The Fix. Most recently, Dungey was seen in episodes of Star Trek: Picard and Man with a Plan earlier this year. She also starred in Some Kind of Beautiful and CHIPS. Next, she'll be seen in Inside Me and Greenland.
Greg Grunberg (Eric Weiss)
As Eric Weiss, a C.I.A. field agent, Greg Grunberg was a recurring presence throughout Alias, particularly in the third and fourth seasons. As a TV actor, Grunberg is primarily best known for his role in NBC's Heroes, which he joined not longer after Alias ended its run. He was also a recurring presence on Masters of Sex Season 1 and Season 2 and The Client List. Additionally, Grunberg hosted the AMC late night talk show, Geeking Out, with Kevin Smith.
Prior to Alias, Grunberg gained notoriety as one of the main cast members on JJ Abrams' Felicity. Outside of television, Grunberg starred or appeared in the newest Star Wars trilogy, A Star Is Born, Big Ass Spider!, Star Trek (2009), Star Trek Beyond, HBO's Paterno, and Mission: Impossible III. Beyond his acting work, Grunberg launched Talk About It, a site dedicated to epilepsy education and awareness, in 2009.
David Anders (Julian Sark)
In the role of Julian Sark, an elusive criminal with an affiliation with SD-6, David Anders played a recurring role throughout Alias, notably in Seasons 2 and 3. Prior to his time on this hit drama series, Anders was primarily known for his stage work.
Since his time on Alias, Anders played a lead role in Heroes and a main role on iZombie. He also had recurring roles in 24, Once Upon A Time, The Vampire Diaries, and Necessary Roughness, while also popping up in episodes of House, Arrow, Criminal Minds, Comedy Bang! Bang!, and Lie to Me, among others. Most recently, Anders appeared in episodes of The Magicians and Roswell, New Mexico earlier this year. Outside of acting, Anders provided vocals for Greg Grunberg's band, Band From TV. In 2017, he noted that he was working on an album. He claimed it was "for kicks."
Lena Olin (Irina Derevko)
As Irina Derevko, the mother of Sydney, Lena Olin gave an Emmy-nominated performance throughout the second season of Alias, and she was seen in various episodes in Seasons 4 and 5. The Oscar-nominated actress is best known for her roles in The Unbearable Lightness Of Being, Enemies, A Love Story, After the Rehearsal, Chocolat, Fanny and Alexander, Romeo is Bleeding, Mystery Men, The Ninth Gate, and Queen of the Damned, to name a select few.
Following her time on Alias, Olin was seen in The Reader, Remember Me, The Devil You Know, and, most recently, The Artist's Wife and Adam. The actress also played a lead role in NBC's short-lived sitcom, Welcome to Sweden. She also played a main character in Riveria, and she appeared in several episodes of Hunters earlier this year. Additionally, Odin appeared on Vinyl and Mindhunter. Next, she'll star in Intensive Care.
Melissa George (Lauren Reed)
As Lauren Reed, an agent with the NSC, Melissa George was seen throughout the third season of Alias. Prior to her acting career, George was a former national rollerskating champion and model. She gained prominence as an actress through her role in the Australian soap opera, Home and Away. In the United States, however, George earned attention for Dark City, followed by The Limey, Mulholland Drive, Sugar & Spice, and Down with Love.
Following her time on Alias, George starred in 2005's The Amityville Horror, Derailed, Turistas, 30 Days of Night, Triangle, A Lonely Place to Die, and Felony. On TV, the actress also played lead roles in Heartbeat and The First, while also appearing in The Slap, Grey's Anatomy, In Treatment, Hunted, Lie to Me, and, most recently, The Eddy from earlier this year. Up next, George is set to appear in The Mosquito Coast.
Who is your favorite Alias actor? Let us know in the comment section!
Your Daily Blend of Entertainment News
Will is an entertainment writer based in Pittsburgh, PA. His writing can also be found in The Playlist, Cut Print Film, We Got This Covered, The Young Folks, Slate and other outlets. He also co-hosts the weekly film/TV podcast Cinemaholics with Jon Negroni and he likes to think he's a professional Garfield enthusiast.