DC's Legends Of Tomorrow: Why All The Major Cast Members Left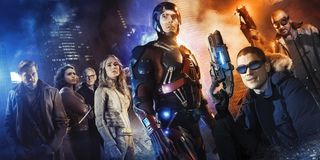 They might be the Legends of Tomorrow, but they don't always make it to the next episode. The DC superhero series is a few short months away from its fifth season airing on The CW, but not everyone in the ensemble has made it this far. The show's roster has changed more than a few times throughout the fluctuating seasons, and there are several reasons why each respective cast member hasn't stuck around.
Whether it was announced beforehand or not, many of the show's cast members from previous seasons have left the program. If you go back to when the show first premiered back in 2016, you'll see that Legends of Tomorrow hasn't always looked the same with each season, and there are many reasons why former cast members have stopped collecting paychecks from the popular series.
With that in mind, let's take a look at the reasons why these Legends of Tomorrow performers haven't always made it to fight another day. Because, when you have a heroic ensemble doing tricky, dangerous work, it's never guaranteed that everyone is going to be around forever.
Ciara Renee (Kendra Saunders/Hawkgirl)
Sometimes, there is a natural end for a character's story. When it comes to Ciara Renee's turn as Kendra Saunders, i.e. Hawkgirl, it would seem that the writers felt her arc was completed by the time Legends of Tomorrow Season 1 came to a close, and they decided that it would be better to send her off into the sunset rather than attempt to expand her journey in an extraneous way. Alas, that meant that Ciara Renee's time on the show had winded to a close — even though she was a series regular during the first season. When the immortal Vandal Savage proved killable, that wrapped things up for Hawkgirl.
Falk Hentschel (Carter Hall/Hawkman)
Unfortunately, when it came time to discontinue Hawkgirl's storyline, the same fate befell Hawkman. With their main objective finished, the writers decided that it was time to put these two characters to rest along with the bulk of their narrative. They didn't have anything else they wanted to do with them, and they decided that it was their time to head into the great TV superhero beyond — even though, similar to Ciara Renee, Falk Hentschel was a series regular. While Hawkman was presumed dead after two episodes, the character came back — if only for a short while. His time on the show ended in 2016.
Matt Letscher (Eobard Thawne/Reverse Flash)
After a recurring role in The Flash, Matt Letscher's Eobard Thawne, also known as Reverse Flash, was given a series regular role in Legends of Tomorrow's second season. But, the villainous character wasn't meant to last on the show. Though he was a difficult foe, the character met his end during an eventful season finale, resulting in a memorable and fitting finale for the character. Alas, when Thawne was killed, that was, naturally, the end of Letscher's time on the show too.
Wentworth Miller (Leonard Snart/Captain Cold)
As Leonard Snart, i.e. Captain Cold, Wentworth Miller found himself on both The Flash and Legends of Tomorrow at regular intervals. On Legends of Tomorrow in particular, the actor served as a series regular during the first season, but then he became a recurring presence in Season 2, before shifting into guest star appearances in Season 3. It was shortly thereafter that it was revealed that Miller was leaving the Arrow-verse, signifying an end to his time on both shows.
The reason for Miller's departure is still left a bit murky. He expressed his gratitude to the showrunners and fans, but has moved on to different projects since saying goodbye to the CW superhero universe in 2018. Most recently, Miller has been seen on CBS's Madame Secretary.
Arthur Darvill (Rip Hunter)
Throughout the first two seasons, Arthur Darvill's Rip Hunter was one of the primary characters on the show. But he became a recurring character during the show's third season, during which Rip decided to sacrifice himself during in the Season 3 finale. Ultimately, it would seem that sacrifice is one that lasted, as the character has not returned for subsequent seasons. His character remains dead (so far as we can tell), resulting in the end to Arthur Darvill's time on the series. Once again, it would seem that it was a creative choice of the showrunners and writers to wrap up his character's journey this way.
Victor Garber (Martin Stein/Firestorm)
One of the core members of the time traveling superheroes, Victor Garber's Martin Stein, i.e. half of Firestorm, was at the core of Legends of Tomorrow ... until he decided to bid the show adieu after its third season. Evidently, it was the actor's desire to return to Broadway that lead him to leave the series, as he was starring in a revival of Hello, Dolly! alongside Bernadette Peters. It would have been very hard for the actor to do a Broadway show and a time-intensive television series at the same time. And, when given a choice, the actor — who is a veteran of the stage — decided that he wanted to return to the theater.
Franz Drameh (Jefferson "Jax" Jackson/Firestorm)
Shortly after Victor Garber exited the series, Franz Drameh did the same. Though the door was left open for the possibility of the character to return once again. In the show, shortly after Martin Stein was killed, the heroes went back in time and tried to save him. But, when they ran into a younger version of Stein, it was revealed that he was at peace with his death since it would have been after he lived a full life.
Subsequently, Jefferson "Jax" Jackson took this message to heart and he decided to leave the Legends of Tomorrow in order to focus on his own present and living a fulfilling life. The door is open for the possibility of the character returning, but it would seem that Jax is both wrapped and left dormant for the current time.
Keiynan Lonsdale (Wally West/Kid Flash)
After joining The Flash in Season 2, Keiynan Lonsdale became a series regular on Legends of Tomorrow during its third season. Alas, for personal reasons, the actor decided to leave both shows in order to focus on himself and his own journey outside of the show. On social media, Lonsdale was quick to express his thanks to those behind each show and their respect for him leaving during that time. And, he claimed that he wouldn't be opposed to returning at a latter date. But, he was ready to focus inward, and that meant he had to call it quits on the time travel series... at least, for the time being.
Alas, these aren't the only actors who will call it quits on Legends of Tomorrow. It was also recently revealed that Brandon Routh and Courtney Ford, who play Ray Palmer/Atom and Nora Darhk, respectively, on the series, will also be leaving The CW show after its forthcoming fifth season. The actors are married in real life, but it's not clear why they both decided to exit the series after this latest season. Alas, they're the latest in a string of actors who have left — either because their characters met their respective ends or the actors themselves decided it was time to move on.
Despite all of these actors leaving Legends of Tomorrow at a regular clip, however, it doesn't sound like there was any ill will towards the making of the show or playing their characters. Everyone involved expressed their thanks and gratitude, and it does help that they were involved in a show that frequents in time travel, thus allowing themselves a window through which they could, theoretically, return if they desire to do so. For now, though, it would seem that fans will have to continue to mourn the loss these characters as their futures were cut short.
Legends of Tomorrow will return for its fifth season starting on January 14th, 2020.
Your Daily Blend of Entertainment News
Will is an entertainment writer based in Pittsburgh, PA. His writing can also be found in The Playlist, Cut Print Film, We Got This Covered, The Young Folks, Slate and other outlets. He also co-hosts the weekly film/TV podcast Cinemaholics with Jon Negroni and he likes to think he's a professional Garfield enthusiast.