America's Got Talent Fans Are Calling Out One Contestant As A Fraud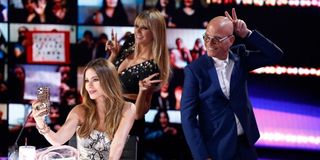 The latest round of semi-finals was the last chance for America's Got Talent's remaining contestants to really impress the judges ahead of the finals. Some of the contestants did a tremendous job and won over Heidi Klum, Sofia Vergara, and Howie Mandel, and escape artist Jonathan Goodwin even managed a death-defying and dangerous act that left viewers pretty shocked. However, mentalist and magician Max Major seemed to have a major slip-up during his act that led to fans calling him out as a fraud, and it wasn't pretty.
During Tuesday's live show, America's Got Talent contestant Max Major asked the judges and members of the virtual audience to choose random numbers for his act. However, when one girl appeared to call out the number 13, but Major went ahead and claimed she'd said "14," which worked better for his act.
Max Major revealed that he'd already placed a bet and bought a lottery ticket before the show with all six numbers that the judges and audience had chosen. (Half-ironically, the roulette spin landed on the number 13.) Fans caught the mistake and were not thrilled that Major disregarded the girl's number choice to make his illusion work. One fan called him a fraud on Twitter, and they weren't alone.
I watched the act myself, and the audience member seemed to very clearly state a different number than what Max Major presumably heard. Making it worse, and all the more awkward, is that no one corrected him and the America's Got Talent judges even looked downright confused about the whole thing. Perhaps it might have been different under prerecorded circumstances, but someone should have raised a concern or two. That said, I completely understand why fans (like the one below) called out not just Major, but the competition show for letting it slide.
Meanwhile, another fan had to go back and replay the moment to ensure that they'd heard what the girl said correctly.
I don't know about you, but when fans are collectively hearing the same number, it's impossible not to think something and/or someone was being sketchy. And the fan below didn't like that very much either.
There is some debate on Twitter about which number the girl did actually say, but many seem to feel like it ruined the act and outed Max Major as a fake. Plus, one fan even posted a screenshot of closed captioning to show that the girl said "13." For those who were going to vote for him, the number debacle changed their mind.
This isn't the first time Max Major has been called out about a presumably shady act. A few weeks ago, Major predicted that the judges and the virtual audience would draw a sun because his interview video apparently included subliminal messages. One alleged member of the virtual audience claimed that they had been told to draw a sun before Major took to the stage. A fan on Twitter also wondered about how genuine Major's act was when they drew something different.
It sure sounds like something fishy is going on, though no one at America's Got Talent has confirmed anything either way (and I doubt they'd come out and say it anyway). I suppose we'll have to wait and see what happens next, assuming there isn't someone out there who already knows.
This poll is no longer available.
America's Got Talent Season 15 continues tonight at 8 p.m. ET on NBC, and be sure to check out the finale when it airs next Tuesday, September 22. For more on what to watch, go ahead and swing by our 2020 fall TV premiere guide.