Does America's Got Talent's Jonathan Goodwin Have A Major Problem After Dangerous Semifinals Act?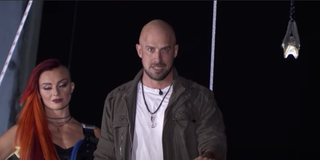 (Image credit: NBC)
Spoilers ahead for the semifinals of America's Got Talent Season 15.
The latest round of semifinals in America's Got Talent Season 15 marked the last shot for eleven acts to make it to the finals. While there were some unsurprising standouts like show-stopping singer Cristina Rae and the almost impossibly fast Bad Salsa dance duo, arguably the highlight of the night was escape artist and daredevil Jonathan Goodwin, whose act was so dangerous and so shocking that I find myself wondering if he's facing a major problem if he makes it to the finals. Was he too good too soon?
First things first: we have to break down what exactly he did that was so mind-blowing. After revealing that he is afraid of heights to the point that he has a physiological reaction, and that the most serious injury of his career involved a zipline, Jonathan Goodwin revealed that his AGT semifinals act would be to bind his hands behind his back, with a lock to break on his front, hanging onto a zipline 60 feet in the air with his teeth, all while the ropes holding him up were on fire. As if an act called "The Death Slide" could be any less thrilling!
It was indeed a thrilling act, and I found myself wondering more than once if the final rope would burn through and the safety line would have to save him from plummeting to very serious injury or even death. Judge Sofia Vergara said that it was her "favorite of all the stuff" that he'd done, noting that this wasn't an illusion or magic trick, but something that he was really doing to himself. Heidi Klum (who was the subject of a rough joke earlier this season) was overflowing with praise for how he was constantly showing up with something new and different that they'd never seen before, and Howie Mandel stated that he thinks Jonathan Goodwin is worth a vote forward to the finals.
All great news, right? Well, I for one am a little nervous that Jonathan Goodwin's bag of tricks is too empty after pulling out so many stops for the semifinals on September 15. He did describe the zipline move as the "penultimate scariest stunt" in his book, and he openly admitted that he had never attempted this trick before he was going to try it in front of the AGT judges. It was spectacular, and hopefully enough to get him out of the semifinals. But does he have enough left for the finals? And now that he has revealed that he's at the back of his stunt book, are viewers going to vote for him if they think he doesn't have anything to offer if he wins?
I would say that his odds of at least advancing to the finals next week are good, but I can only cross my fingers on his behalf. In case you missed it on America's Got Talent or just want to get your heart pumping all over again with a rewatch, check out Jonathan Goodwin's dangerous stunt!
If this turns out to be Jonathan Goodwin's final performance on America's Got Talent and he is eliminated in the upcoming results episode, I'll say that he ended his time on a very strong note. Even knowing that AGT might not show it if something went wrong and he really fell because the rope burned through, I was on the edge of my seat in the best way.
As somebody who tends to prefer physical acts like dance and daredevils over singers thanks to shows like The Voice and American Idol already offering talented singers a showcase, Jonathan Goodwin is right up my alley, and will hopefully get the chance for at least one more act, ideally to prove me wrong in my suspicion that he could be in trouble when it comes to trying to top himself!
To vote for Jonathan Goodwin and/or some of the other semifinalists ahead of the results episode, head to the official AGT voting page. You can vote until Wednesday, September 16 at 7 a.m. ET, so don't waste any time if you want to weigh in on winners! The results episode airs at 8 p.m. ET on Wednesday, September 16 on NBC, with the Season 15 finale hitting the airwaves next week. For some viewing options once America's Got Talent is finished for the season, check out our 2020 fall TV premiere schedule.
Resident of One Chicago, Bachelor Nation, and Cleveland. Has opinions about crossovers, Star Wars, and superheroes. Will not time travel.