America's Got Talent Comedian Stands By His 'Tramp' Joke About Judge Heidi Klum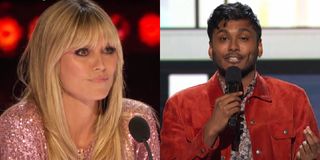 Season 15 of America's Got Talent is in full swing, and things got a bit heated during the latest round of quarterfinals performances. Comedian Usama Siddiquee was in the midst of telling a joke and it seemed like he had the judges in his court. That is, until Siddiquee called Heidi Klum a "tramp" as a part of his comedy set concerning music and feminism. Despite the disapproval of Klum and audience members, however, the comedian is standing by his joke.
During Tuesday night's episode, Usama Siddiquee took to the America's Got Talent stage to, well, show off his talent, and his jokes were generally hitting the mark with judges Heidi Klum, Howie Mandel, and Sofia Vergara. Mandel even praised Siddiquee's set. The questionable turn came when Siddiquee addressed Klum, saying that while it wouldn't go over well if he called her a tramp on any given day, she might not take it as offensively if he did it while in the middle of a club with a good beat playing behind the words. Speaking with ET, Siddiquee confirms that he wouldn't take back what he said. In his words:
Usama Siddiquee is certainly taking the Ricky Gervais route by not apologizing for making a joke that was perceived as offensive and sexist, saying his joke was targeted more at modern music than anything else. The America's Got Talent comedian goes on to add that comedy always incites "visceral reactions" from people, but that he had nothing but love for Heidi Klum and the rest of the judges.
Speaking of Heidi Klum, the long-time judge was certainly not a fan of Usama Siddiquee's tramp joke. I believe the pursed-lipped, serious expression she had on her face while watching his act made that clear. Here's what Klum had to say about Siddiquee's tramp joke:
America's Got Talent Season 15 has already proven to be unpredictable, with a shocking elimination during Wednesday night's results. The competition's stakes are rising, and there's still no sign of Simon Cowell's return following his back surgery a few weeks ago. We'll just have to wait and see what the next episode of America's Got Talent will bring.
The next round of America's Got Talent live quarterfinals will air on Tuesday, September 1, at 8:00 p.m. ET on NBC. For more on what to watch in the coming months, be sure to check out our 2020 fall TV premiere schedule.
Your Daily Blend of Entertainment News
Your Daily Blend of Entertainment News
Thank you for signing up to CinemaBlend. You will receive a verification email shortly.
There was a problem. Please refresh the page and try again.