Guy Fieri Becomes The Mandalorian In Hilarious Custom Poster, And I Can't Unsee It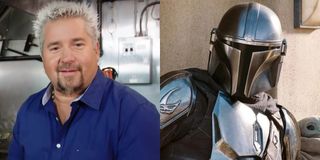 It was a long wait, but the first trailer for The Mandalorian Season 2 has finally arrived, and it managed to meet, and possibly exceed, expectations. Along with all of the great footage that was released, fans were also treated to a sweet poster that depicts the main character and his loyal (and adorable) companion, The Child. Well, Diners Drive-Ins and Dives host Guy Fieri also liked the poster, so much so that he decided to make a few cosmetic changes. And the result is something you won't be able to unsee anytime soon.
Yes, Guy Fieri managed to put his own spin on the official Season 2 poster of The Mandalorian or as he calls it, "The Guydalorian." In the hilarious image, a smiling Fieri takes the place of Din Djrain, and even Baby Yoda is sporting a Fieri-esque look that will change the way you look at the diminutive, green alien. Check out the Twitter image for yourself down below:
I sincerely hope the poster didn't scare you too much. I mean it's not every day that you see Baby Yoda sporting spikey, blonde hair and shades. Also, I think we can all agree that having Guy Fieri in the role of the Mandalorian would definitely change the landscape of the show. It would be quite weird to see Mando sampling new cuisine across the galaxy as he attempts to find The Child's rightful home.
Still, you have to appreciate Guy Fieri's creativity and his love for The Mandalorian. When it comes down to it, he simply found a unique way to channel the excitement that many of us feel when it comes to the new season. And based on that new trailer, there's a lot to look forward to:
As alluded to, the season will focus on Mando's continued efforts to discover The Child's origins and return him to his home. This will take the pair to a slew of new places, ranging from snowy landscapes to buzzing cities. The season will also see the return of fan-favorite characters like Cara Dune, Greef Karga and Moff Gideon.
We'll also see a number of new characters, one of which will be played by Sasha Banks.
However, she won't be playing Star Wars: The Clone Wars alum Ahsoka Tano, despite some mistaking her for the character when the trailer first dropped. That role will reportedly be played by Rosario Dawson and, should she appear, it could have major ramifications for The Child's future.
There's a lot to think about ahead of Season 2 and, with his custom poster, Guy Fieri has now put something else on our minds. While it likely won't overtake the big questions that linger after the trailer's release, some of us are sure to be wondering what a Guy Fieri-led Star Wars project could look like.
The Mandalorian Season 2 will start streaming on Disney+ on October 30 but, in the meantime, you can check out or revisit the first season now.
Covering superheroes, sci-fi, comedy, and almost anything else in film and TV. I eat more pizza than the Teenage Mutant Ninja Turtles.
Your Daily Blend of Entertainment News
Thank you for signing up to CinemaBlend. You will receive a verification email shortly.
There was a problem. Please refresh the page and try again.