No, That Wasn't Ahsoka Tano In The Mandalorian's Season 2 Trailer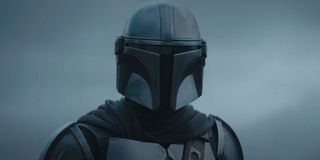 The first trailer for The Mandalorian Season 2 has arrived, and it was overwhelming, to say the least. The sweet footage revealed a number of new things without actually giving away any major details and, as a result, fans have been left with plenty of questions to chew on. One thing that's been heavily contested since the trailer dropped is whether or not Rosario Dawson's Ahsoka Tano made an appearance during a brief scene. Well, I can definitely tell you that it wasn't Ahsoka that you saw.
The Mandalorian Season 2 trailer featured a quick moment in which Mando was eyeing a mysterious woman draped in a black cloak. This led many to believe that it was Rosario Dawson in the role of the fan-favorite Jedi Ahsoka Tao. However, if you look closely, the actress is actually WWE star Sasha Banks:
It's honestly clear to see that the character isn't Ahsoka. Aside from the fact that it's Sasha Banks and not Rosario Dawson under the cloak, the character is clearly human. Ahsoka Tano, on the other hand, belongs to the Togruta species. Despite this, excitement initially overtook a majority of fans, and some of them were a bit too quick to jump to conclusions:
Others were somewhat unsure of the character's identity and took to the internet to receive a bit of guidance:
Since the initial mix-up, some fans are trying to set the record straight and, in the process, they're also speculating that Banks could be playing another fan-favorite Star Wars character:
For those who aren't familiar with Sabine Wren, she originally appeared as a main character on Star Wars Rebels. Born on Mandalore, Wren eventually joined up with the crew of The Ghost, during which she would find allies in characters like Ezra Bridger, Kanan Jarrus and Hera Syndulla. The former two would instruct her on how to wield the Darksaber, which – on The Mandalorian – is in the possession of Moff Gideon. By the end of the series, Sabine joined Ahsoka on her quest to find Ezra, who disappeared during the liberation of the planet Lothal.
The Mandalorian's creator, Jon Favreau, and producer Dave Filoni have not confirmed appearances from Ahsoka or Sabine. Still, signs point to the two factoring into the season in some form or fashion. There is, of course, the chance that Sasha Banks isn't playing Sabine either. She could be playing an original character, one that could have connections to the Jedi.
We're bound to have plenty of questions ahead of The Mandalorian Season 2's debut, and we'll likely still have them as the season progresses. But we should probably settle down because we still haven't seen a live-action version of Ahsoka Tano... yet.
The Mandalorian Season 2 drops on Disney+ on October 30, while the first season is available to stream now.
Your Daily Blend of Entertainment News
Covering superheroes, sci-fi, comedy, and almost anything else in film and TV. I eat more pizza than the Teenage Mutant Ninja Turtles.
Your Daily Blend of Entertainment News
Thank you for signing up to CinemaBlend. You will receive a verification email shortly.
There was a problem. Please refresh the page and try again.