Chris Rock Has Responded To Jimmy Fallon's Blackface Impersonation On SNL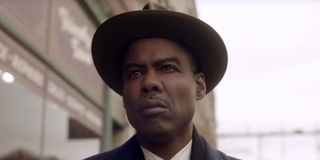 Back in 2000, then-Saturday Night Live star Jimmy Fallon impersonated comedian and actor Chris Rock while in blackface, and though it resurfaced a few times over the years, it came up in a big was this past May. At that point, Fallon's SNL sketch led to a big backlash, in connection with several other series pulling episodes for similar blackface content. The Tonight Show host took to social media in the aftermath and apologized for making a "terrible decision." Jamie Foxx has spoken out about Fallon's Blackface impersonation and, more recently, Rock himself had a response regarding the controversy.
At the height of Black Lives Matter protests in May, the clip of Jimmy Fallon's Chris Rock impersonation began making the rounds on social media and he was called out for it. In addition to apologizing online, Fallon addressed the controversial sketch in a Tonight Show monologue. Speaking with the New York Times, Chris Rock revealed how he felt about the sketch, and it doesn't sound like he would have even asked for an apology. In his words:
Despite Chris Rock's defense of Jimmy Fallon in this particular instance, the comedian wants people to know that he is definitely against blackface and that it's not cool at all to use. For Rock, that's an obvious statement, but he argued that you have "to state so many obvious things you're against" just in case it wasn't already clear before.
Jimmy Fallon's blackface sketch certainly wasn't the only one that came under fire. Over the last several months, TV episodes that included blackface were edited or removed entirely from season lineups for sitcoms like 30 Rock, Scrubs, and more. At this point, many episodes featuring the controversial blackface scenes can no longer be found on streamers like Hulu or on TV networks, while certain shows just edited the offending scenes out of still-streaming eps.
All that said, Chris Rock has never shied away from talking about race and issues of police brutality in his comedy sets. In his 2018 Netflix comedy special Chris Rock: Tamborine, Rock presciently spoke about harmful police practices, and how he thought there shouldn't be any bad apples in law enforcement because of the nature of the job. After all, he joked, no one would make the same defense about pilots. In recent months, the Tamborine clip has made the rounds on social media given its relevance to current discussions about racism and police violence against Black people. Rock says he remembers some people trying to give him flak for it in 2018 and two years later "it's right on" the money and certainly applicable to our current political climate.
Chris Rock will next be seen in Fargo Season 4, which will premiere on Sunday, September 27 at 10:00 p.m. ET on FX. For more on what to watch this fall, be sure to check out our 2020 TV premiere schedule.
Your Daily Blend of Entertainment News
Thank you for signing up to CinemaBlend. You will receive a verification email shortly.
There was a problem. Please refresh the page and try again.