10 Big TV Shows That Removed Episodes From Streaming Over Controversial Blackface Scenes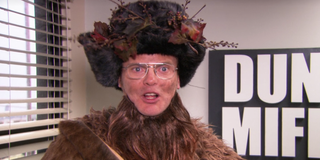 While the protests still happening around the country (and the world) are largely focused on police reform and accountability, another major big-picture goal is to excise racially biased behavior from all walks of public life. That definitely includes the still relatively prevalent usage of white characters wearing blackface in TV shows, with many popular series of the past and present all facing renewed criticisms for using the offensive makeup tactic.
With Jimmy Fallon recently apologizing about donning blackface for an SNL impression, and Howard Stern not-exactly-apologizing for his own blackface incident in the past, the TV industry has seen a number of episodes from different series getting completely removed from streaming sites. (In at least one case, only the offending scene itself was removed, with the rest of the episode remaining intact.) Below, you can check out all the big TV shows that had to remove blackface content in recent weeks.
Community
It's known that NBC's Community dealt with some racial tension behind the scenes, thanks to Chevy Chase's comments to Donald Glover seemingly coming from Pierce Hawthorne himself. Still, that likely had little to do with the show allowing Ken Jeong to go full-blown blackface for the Season 2 episode "Advanced Dungeons & Dragons," in which Jeong's Chang showed up for the group's D&D game wearing pitch-black makeup and a white wig. After being called out for the "hate crime" act by Yvette Nicole Brown's Shirley, Chang defended himself by saying he was cosplaying as a Dark Elf. To be sure, that is indeed a specific race within the role-playing game, but not one meant to be depicted in real life by light-skinned actors. "Advanced Dungeons & Dragons" has been removed from both Netflix's and Hulu's libraries.
The Mighty Boosh
On the surreal UK comedy The Mighty Boosh, which made waves in the U.S. as an Adult Swim import, Julian Barrett's character Howard Moon is obsessed with jazz music, to the non-delight of Noel Fielding's Vince Noir. In the Season 1 episode "Electro," Howard has to take on the Spirit of Jazz in order to find his own musical voice. The problem here is that the Spirit of Jazz was played by Fielding wearing black makeup and a wig of dreads beneath a white top hat. The character was popular enough at the time that he returned in later episodes in Seasons 2 and 3. Due to those multiple appearances, Netflix decided to pull the entirety of The Mighty Boosh off of its website, though all episodes are still available to stream on Hulu.
30 Rock
In the midst of other programs getting pulled, 30 Rock co-creator Tina Fey reached out to streaming services to request the removal of episodes from the Emmy-winning NBC hit that featured characters in race-swapping makeup. Those episodes include: Season 3's "Believe in the Stars," in which Jane Krakowski's Jenna poses as a black man, while Tracy Morgan's Tracy is made up as a white woman; Season 5's "Live Show," whose East Coast airing showed Jon Hamm's Drew Baird in black makeup for the spoof Alfie and Abner; Season 5's "Christmas Attack Zone," in which Krakowski's Jenna is made up to look like Pittsburgh Steeler great Lynn Swann; and Season 6's "Live from Studio 6H," which featured another Alfie and Abner scene. Hulu and Amazon have both removed all of the episodes listed above, though Hulu still features the West Coast version of "Live Show," which didn't feature the offending scene.
Little Britain
Across its four well-received seasons, David Walliams and Matt Lucas' UK sketch comedy Little Britain featured the two creators playing a host of extremely heightened recurring characters that didn't always sit well with viewers, particularly the show's treatment of females and minorities. In particular, Little Britain has long been under fire for Walliams' blackfaced portrayal of the obese (and often nude) Desiree DeVere, and for Lucas' stereotypical Black American preacher Jesse King. Both Walliams and Lucas spoke out in previous years with regrets over the use of blackface, as well as jokes about transvestites, but only recently have episodes featuring those characters been taken off of streaming. Netflix removed all episodes of both Little Britain and the duo's lesser-known and critically panned comedy Come Fly with Me, in which blackface was also used.
It's Always Sunny in Philadelphia
Like few other shows in TV history, It's Always Sunny in Philadelphia thrives on showcasing its central characters cluelessly behaving in the most morally corrupt ways imaginable. But not even the long-running FX/FXX hit was immune to recent blackface backlashes, with several episodes being pulled from Hulu's library here in the U.S. Fans will no longer be able to stream Season 6's "Dee Reynolds: Shaping America's Youth" or Season 9's "The Gang Makes Lethal Weapon 6," which both feature Glenn Howerton's Dennis and Rob McElhenney's Mac donning blackface to play Danny Glover's Lethal Weapon character Roger Murtaugh, with Kaitlin Olson's Dee also donning the makeup as Murtaugh's daughter. Hulu also removed the Season 14 episode "Dee Day," which only debuted in 2019, for Danny DeVito's Frank wearing blackface in portraying a Black woman (and presumably also for Mac's extremely outdated parody of Asian stereotypes).
The Office
The Office has long faced criticisms for the abundance of uncomfortable and morally absent actions taken by Steve Carell's Michael Scott. However, the series remained largely intact on streaming platforms until recently, when the decision was made to eliminate a scene depicting blackface use, though the rest of the episode is still available. Season 9's "Dwight Christmas," in which Rainn Wilson's Dwight coerces his coworkers into celebrating a traditional Pennsylvania Dutch Christmas, features a scene where Mark Proksch's Nate dons blackface to portray the mythical character Zwarte Piet. Before he can make his appearance, the rest of the office decries Dwight's idea with disapproval, causing Dwight to tell Nate to nix the costume. Netflix and show creator Greg Daniels agreed to cut the shot in the episode where the fully costumed Nate is seen in the parking walking toward the building's entrance.
The League of Gentlemen
One of the most acclaimed British sketch shows of the modern era, The League of Gentlemen was definitely not without its questionable material. Recently, Netflix execs made the decision to completely remove the show from its streaming library due to episodes featuring the character Papa Lazarou. As portrayed by Inside No. 9's Reece Shearsmith, Papa Lazarou was a freaky clown-like being who headed up a traveling freak show and demonstrated bizarre and sometimes sinister behavior. For what it's worth, co-creators Shearsmith and Steve Pemberton have stated in the past that Papa Lazarou isn't a portrayal of a black man, but rather a scary entity in dark clown-like makeup that evokes Chitty Chitty Bang Bang's villainous Child Catcher. The fan-favorite character appeared only a handful of times across League's various seasons and specials, but the entire series got taken off of Netflix.
W/Bob And David
Bob Odenkirk and David Cross' sketch comedy Mr. Show reveled in dishing out potentially offensive scenes, and their reunion for Netflix's W/Bob and David delivered more of the same. Four years after the series' lone season debuted, the streaming service decided to pull Episode 3 for a sketch in which Cross plays a character attempting to force an on-camera confrontation at a traffic checkpoint with a Black, non-combative police officer (played by Key & Peele's Keegan-Michael Key). For his final effort, Cross' character dons hastily applied blackface makeup, which gets him pepper-sprayed and tased, though not by Key's officer, but by a white cop played by Jay Johnston. Both Odenkirk and Cross spoke out against Netflix's decision to remove the episode.
Scrubs
Though Scrubs may be well remembered for the enviable BFF-ship shared by Zach Braff's J.D. and Donald Faison's Turk, the show wasn't without its own racially insensitive moments. Currently, the three Scrubs episodes that have been removed from Hulu are Season 3's "My Friend the Doctor," and the Season 5 episodes "My Jiggly Ball" and "My Chopped Liver." In the latter episode, Braff appeared in blackface (and a mullet) opposite Faison in whiteface as a college party prank. Previously, Sarah Chalke donned blackface makeup for a fantasy sequence as the mash-up character Turkiot. It appears as if show creator Bill Lawrence himself was part of the push to get the episodes removed from streaming, alongside production company ABC Studios.
Golden Girls
While most of the shows listed here purposefully used blackface makeup for the purposes of having white actors play Black characters, the un-rebootable Golden Girls had an episode recently removed from Hulu for a blackface-related joke. In the Season 3 installment "Mixed Blessings," Dorothy's son Michael announces plans to marry an older Black woman, which causes some strife among both families. When the to-be-wife's family arrives at the Girls' home, Betty White's Rose and Rue McClanahan's Blanche are applying mud masks as a facial treatment. For the awkward greeting, the women point out that it's mud on their faces, and that they're "not really black." According to Deadline, the series' distributor Disney-ABC Domestic Television sent the request to Hulu to get that episode removed, and the streaming service complied.
It's not clear yet whether or not these kinds of announcements have fizzled out, or if more shows with blackface-related scenes will be put on the chopping block in the near future. While waiting to hear more, check out CinemaBlend's Summer 2020 TV premiere schedule to stay on top of what new and returning shows will be popping up soon.
Your Daily Blend of Entertainment News
Assistant Managing Editor
Nick is a Cajun Country native, and is often asked why he doesn't sound like that's the case. His love for his wife and daughters is almost equaled by his love of gasp-for-breath laughter and gasp-for-breath horror. A lifetime spent in the vicinity of a television screen led to his current dream job, as well as his knowledge of too many TV themes and ad jingles.