Why John Cena Loves His WWE Haters As Much As His Fans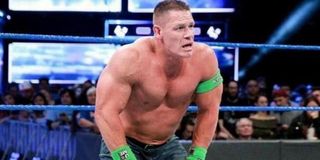 Before he became an actor, John Cena was (and remains) a very polarizing WWE star. He has had his fair share of haters and fans, and his feuds with Dwayne "The Rock" Johnson, CM Punk and others were rather notorious. You might think that years of negativity would get him down, but Cena recently revealed why he loves his WWE haters just as much as his fans.
John Cena's wrestling career has created a lot of divisiveness among fans despite his obvious popularity. I'm sure he doesn't forget the boos that he's gotten from the audience in the past. In the most recent WWE Untold special, Cena was candid about why the negativity wasn't so bad, after all. Here's what he said (via Fightful):
It sure sounds like John Cena lets the hate and negative reactions fuel him as a performer, rather than let them bring him down. I can't imagine what it's like to get applause, cheers, and even loud booing thrown at you from a large crowd of people, but that audible reaction feels "fucking wonderful" to Cena no matter the intention behind it. I think it's a pretty unique take, and considering that the WWE star incites a variety of reactions, I suppose he has learned how to roll with it.
The WWE Untold special centered on John Cena's well-documented rivalry with Edge, which helped fuel the polarizing reactions he so often receives from WWE fans. The episode covered everything from Cena and Edge's first meeting to their unforgettable Tables, Ladders and Chairs match at Unforgiven 2006. It also included new interviews, which is how we got Cena's perspective on both the hate and love he receives from the fanbase.
Aside from his WWE feuds, John Cena was recently rumored to be joining the next Spider-Man movie as Sandman, although it doesn't really make any sense. While he evidently won't be battling the friendly neighborhood superhero, Cena is headed back to television for the Wipeout reboot on TBS, where he'll host the competition series. Cena is also starring in James Gunn's The Suicide Squad, joining Margot Robbie, Viola Davis, and more.
WWE Untold is available to watch on the WWE Network. As always, stay tuned to CinemaBlend for updates on TV news. For more on what to watch this fall, be sure to check out our 2020 TV premiere schedule.
Your Daily Blend of Entertainment News
Your Daily Blend of Entertainment News
Thank you for signing up to CinemaBlend. You will receive a verification email shortly.
There was a problem. Please refresh the page and try again.