Neil DeGrasse Tyson Reveals Why He Won't Replace Alex Trebek On Jeopardy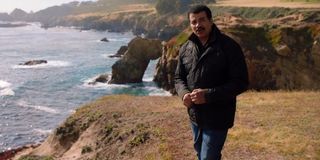 After a months-long absence, Jeopardy! is back with new episodes, and it truly feels like some semblance of normalcy has been restored. Of course, there has been some chatter about who might replace Alex Trebek as host in the future. Trebek himself has joked that Betty White could take on the role, being younger and funnier and all (!). Yet the search goes on but, when astrophysicist Neil deGrasse Tyson was approached about it, he revealed why he could never replace Trebek on the show.
Neil deGrasse Tyson has joined Bill Nye in becoming one of the many public faces of science, but is he ready to take on the challenge of hosting Jeopardy! in Alex Trebek's place? While it's hard to imagine anyone else in the role, some believe Tyson to be a solid choice. The astrophysicist appeared on The View recently to promote his show and was asked if he'd be game to host. Here's what Tyson said about why he wouldn't be:
It sounds like Neil deGrasse Tyson has his priorities straight, though I think most viewers wouldn't mind if he popped in for a guest spot or two. He's done his own fair share of hosting TV shows, including StarTalk and Cosmos: A Space Time Odyssey. Up next is hosting the long-awaited documentary series, Cosmos: Possible Worlds, on Fox. That said, I'm sure being an astrophysicist keeps Tyson busy, and his schedule is all booked up.
As for Jeopardy!, it would seem that the audience always has their eyes out for the next potential host. When Ken Jennings, the game show's Greatest of All Time champion, returned to the series this season as a consulting producer and Jeopardy! ambassador, it led many to believe that he was being primed to eventually take over in Alex Trebek's place.
It makes sense considering how beloved and familiar Jennings has become to fans of the show. However, as of right now, Ken Jennings is simply working behind-the-scenes, and viewers will see him appear in the occasional video category. And besides, Jennings isn't interested in the gig anyway, at least for now. Not to mention that Alex Trebek believes he'll be replaced by a female host (sorry to Neil deGrasse Tyson and Jennings). Either way, I sincerely hope all the "who will host?" talk will be put off as long as possible so long as Trebek is still around.
Jeopardy! airs in syndication, so check your local listings for airtimes. You can also check out Neil deGrasse Tyson's Cosmos: Possible Worlds when it premieres on September 22 at 8:00 p.m. on Fox. For more on what to watch this fall, be sure to check out our updated TV premiere schedule.
Your Daily Blend of Entertainment News
Thank you for signing up to CinemaBlend. You will receive a verification email shortly.
There was a problem. Please refresh the page and try again.