How Jim Parsons Thinks The Big Bang Theory's Sheldon Would React To COVID Pandemic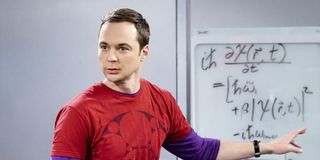 It's been over a year since The Big Bang Theory ended its 12-season run on CBS, and Jim Parsons has since moved on from Sheldon Cooper to star as a slimy talent agent in Netflix's Hollywood. Considering The Big Bang Theory ended long before COVID-19 began, however, viewers never got to see what a "Sheldon in quarantine" situation would look like. But when asked, Parsons thinks that his germaphobic TV counterpart was certainly set up to handle the pandemic a lot better than most.
During an appearance on The Tonight Show Starring Jimmy Fallon, Jim Parsons revealed that he had contracted COVID-19 in March along with his husband Todd Spiewak. They have since recovered, but Parsons described being unable to taste or smell anything throughout the ordeal. Looking back on The Big Bang Theory, Jimmy Fallon echoed fans and asked how Sheldon Cooper would react to the pandemic, and Parsons had a fantastic response. Here's what he said:
I think Jim Parsons nailed Sheldon's potential reaction to the pandemic. The character really was built for such hermitic and overly cautious situations. He was pretty much the king of avoiding anything involving germs, illness, and most other people, and I'm positive that he would crush social distancing guidelines as if it was some sort of competition. Sheldon had been trying to socially distance himself from Wil Wheaton for ages.
Sheldon may not need anything but food and his gaming console-plus-headset to survive. I think he'd be okay without his friends for a while – despite any and all of Amy's complaints – and would have likely discovered the next big scientific breakthrough and won another Nobel Prize, all while chilling in his quarantine pajamas.
In comparison, Jim Parsons himself spent part of quarantine taking creative writing class and painting classes, and also bleaching his hair blonde in order to stay busy after recovering from COVID-19. Parsons revealed that all of those activities eventually "petered out" after a while, and he felt slightly embarrassed by that lack of drive outside of his acting career. That's a completely understandable feeling, though, since being at home all the time gets exhausting no matter what the activity.
Jim Parsons also told Jimmy Fallon that ending his run on The Big Bang Theory was bittersweet. He compared it to a pet or a friend passing away in that it's hard, but that time passes by without one realizing that it's happening. Parsons has previously revealed why he felt it was time for him to leave the series after 12 seasons, citing that he wanted to do other projects while he still had the time.
The Big Bang Theory is no longer on the air, but the entire series is available to binge on HBO Max. For more on what to watch, be sure to check out our 2020 fall TV premiere guide.
Your Daily Blend of Entertainment News
Your Daily Blend of Entertainment News
Thank you for signing up to CinemaBlend. You will receive a verification email shortly.
There was a problem. Please refresh the page and try again.