Why Jim Parsons Was 'Scared' About Coming Out While The Big Bang Theory Was Still Running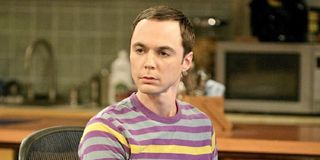 Following several years of guest starring TV roles and playing recurring character Rob Holbrook on the short-lived Judging Amy, Jim Parsons finally landed his first series regular role on CBS' The Big Bang Theory. As Sheldon Cooper, Parsons easily slipped into the role of the genius scientist and amassed plenty of accolades. The role made him famous, but the actor recently explained why he was "scared" about coming out as gay while he was still starring in The Big Bang Theory.
The television industry is not perfect and still functions with implicit bias. It's why a lot of actors within the LGBTQ+ community have largely shied away from coming out. The long-held implication is that an actor would be type-cast, their career might be over, or that any public announcement about their sexual orientation would heavily impact the project they were working on. Such was the case with Jim Parsons, who says that he wasn't ashamed of being gay, so much that he was afraid of how it would impact The Big Bang Theory's reputation. Here's what he told The Hollywood Reporter:
Jim Parsons didn't publicly come out as gay until 2012, six years into The Big Bang Theory's 12-season run. A year prior, the actor appeared in Broadway's 2011 revival of The Normal Heart. Parsons later reprised the role of Tommy Boatright in HBO's TV movie adaptation of the stage production and his coming out is largely attributed to starring in the show. Here's how the actor recalled the experience of coming out publicly:
Jim Parsons went on to say that the news of him coming out as gay faded away rather quickly, but that it was in the months afterward that he really began to take "ownership over it." With the relief that it was all out in the open, Parsons felt more like a "participatory member of the community." That, in and of itself, was a big deal.
You can check out Jim Parson's work on The Big Bang Theory and Hollywood, which are currently streaming on HBO Max and Netflix, respectively. For more on what to watch, be sure to check out our summer premiere guide.