Jim Parsons Talks Getting Comfortable With Sex Scenes In Netflix's Hollywood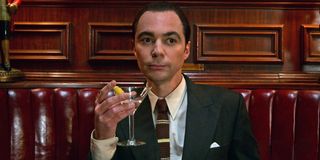 Jim Parsons' turn as Henry Wilson in Netflix's Hollywood was a major departure from his work as The Big Bang Theory's Sheldon Cooper. Based on that of a real-life Hollywood agent, Henry's life was full of debauchery and predatory behavior. As an actor, one of the challenges that came with playing Henry was having to film sex scenes (of which there are plenty in the raunchy miniseries). Of course, doing such intimate scenes is never easy, and Parsons opened up about how he was able to get comfortable with sex scenes in Hollywood.
It must be said, but Henry Wilson was a scumbag of an agent in Hollywood. He gets a redemption arc, sure, but his early behavior wasn't very moral in the slightest. After signing Jake Picking's Rock Hudson to his agency, Henry revealed a secret room in his office and forced Rock to pleasure him, or else find himself out of a career. Speaking with Deadline, Jim Parsons detailed the challenge of filming that initial sex scene with his co-star. Here's what he said:
I can't imagine how awkward it would be to film a sex scene with another actor you'd only just met and possibly didn't have instant chemistry with, but such is the nature of acting. Jim Parsons did take on the role of Henry Wilson in part as a way to leave The Big Bang Theory behind, and I think his character combined with Hollywood's more taboo scenes were the furthest thing from Sheldon that he could possibly get.
What's more, a growing number of productions are enlisting the help of intimacy coordinators to ensure the safety and comfort of actors when filming sex scenes. Now, intimacy coordinators aren't for everyone, but multiple actors say that they have greatly benefited from having the extra guidance and support on set where nudity and sexual behavior is involved. That said, Jim Parsons cited why filming Hollywood's sex scenes became a bit easier to handle after a while. In his words:
It makes sense that Jim Parsons grew a bit more comfortable with performance requirements as time went on, and I'm really glad he felt that he "had a partner" in Jake Picking. And hey, at least Parsons and the other actors didn't have to do scenes that involved full-frontal nudity. Yup, the early drafts for Hollywood scripts were definitely a lot more graphic in nature, and I think the actors dodged a bullet there.
Hollywood is currently streaming on Netflix. For more on what to watch, be sure to check out our 2020 fall TV premiere guide.
Your Daily Blend of Entertainment News