8 Fresh Prince Of Bel-Air Episode Stories We Want To See Redone In The Reboot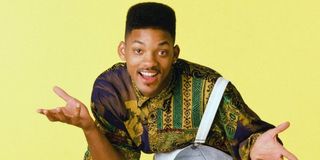 It's hard to believe it's been 30 years since The Fresh Prince of Bel-Air first graced our TV screens and made Will Smith, Alfonso Ribeiro and their co-stars staples of pop culture. Although the show ended its six-season run back in 1996, it's been kept alive through syndication and streaming services, with a reunion special even on the way. But the most exciting news to come from this anniversary year is that the show is being rebooted as a drama called Bel-Air. If you've seen the YouTube trailer that sparked the idea, then you know the show will is bound to cover some heavy topics, and some could come by way of stories from the original show.
The Fresh Prince of Bel-Air is filled to the brim with notable episodes, though the comedic nature of some installments may not mesh with the more serious take Bel-Air will offer. Still, the original series did touch on some strong themes, and the reboot could allow for the opportunity to dive deeper into these ideas and reframe them in a grounded way. So let's take a look at which stories could work for Bel-Air:
Uncle Phil Gets A Visit From His Parents And A Taste Of His Past
Season 1 has a number of episodes that would be viable for Bel-Air, and "Not with My Pig, You Don't" is definitely one of them. The episode introduces viewers to Uncle Phil's parents, Hattie and Joe, who come to celebrate their son's recent award. However, Philip upsets his parents when they get the impression that he's ashamed of his rural roots – especially his childhood pig, Melvin. This was a sweet episode not only because it provided more backstory for Will's lawyer uncle, but because it also explored how people reconcile where they come from with their current circumstances. It's a theme we've seen play out many times but one that would still be relevant for the new show.
Will's Friend Ice Tray Makes An Impression On The Banks Family
"Homeboy, Sweet Homeboy" stars Don Cheadle (who nearly headlined a spinoff) as Will's fun, yet unmotivated friend, Ice Tray, who steals Hilary's heart, leading to concern for Phillip and Vivian. Ultimately, the romance doesn't last, but Will is hurt that both his aunt and uncle would have problems with Hilary being with someone like him. Though Aunt Viv helps him see that he and Ice Tray aren't as alike as he thinks. What makes this story a nice fit for Bel-Air is that Tray's story illustrates how a person's circumstances can help mold their outlook on life. Having Will realize this and firmly understand how lucky he is to have structured familial support is a theme that could resonate with viewers in a firm way.
Will And Carlton Are Arrested After Being Mistaken For Car Thieves
Many of you probably assumed "Mistaken Identity" would be somewhere on this list, and how could it not? The fan-favorite episode sees Will and Carlton drive a Mercedes (belonging to Phil's legal partner) to Palm Springs, only for the two to be detained by the police, who believe they stole it. Sure, the episode has plenty of funny moments (Bob the singing inmate is still an icon), but it tackles racial profiling – a topic that, unfortunately, is still all too relevant and fitting for the dramatic reboot. And with our current climate, it would be interesting to see if this version of Carlton would still be quick to brush off the situation as a simple mistake.
Carlton Takes A Memorable Trip To Compton
There's a good chance Fresh Prince fans remember when Will dared Carlton to spend a weekend in Compton in "72 Hours." However, things don't go quite as Will expects when Carlton impresses Will's friends and takes on a new persona, C-Note and nearly gets himself into a dangerous situation. This is easily one of the show's funniest episodes, but it can still work for Bel-Air by serving as a bit of a reality check for the Carlton. The original story is somewhat over-the-top, so it would be interesting to see what would really happen if the Banks' entitled oldest son were to be placed in the modern, real-world Compton.
Uncle Phil And Aunt Viv's Activist Friend Comes To Visit
"Those Were the Days" gave The Fresh Prince of Bel-Air an opportunity to dive into social activism. The story sees Philip and Vivian reunite with Marge, an activist friend from the '60s. Marge, who turns out to be on the run from the FBI, eventually inspires Will to take action against his teacher's recent firing. This story succeeded because it asked viewers to not only consider the different ways in which people can take action but to also ponder what means are truly necessary in a particular situation. Taking these same questions and putting them against the backdrop of the Black Lives Matter movement could make for a very compelling episode of Bel-Air.
Carlton Pledges A Fraternity And Experiences Discrimination
This was probably another one of those episodes you knew was going to be somewhere on this list. In Season 4's "Blood Is Thicker Than Mud," Will convinces Carlton to pledge a fraternity with him, though Carlton is hazed due to the fraternity president's prejudice against his privileged upbringing. This all leads up to a passionate speech from Carlton that still rings as true today as it did back in 1994. To put it simply, reverse discrimination would be a prime topic for the new series to cover.
Will's Father Drops Back Into His Life, Only To Leave Him Again
I'm sure just about every Fresh Prince fan has seen this episode – or at the very least, the powerful closing scene. "Papa's Got a Brand New Excuse" finally introduced viewers to Will's long-absent father, Lou Smith, who comes to California and bonds with his son. But Lou turns out to be the deadbeat he's always been when he cancels their planned cross-country trip after landing a new "job." This episode connected with many viewers on a personal level, and it would be interesting to see Bel-Air tackle how Will has coped with having an absent parent. And story-wise, such an episode would solidify the surrogate father-son relationship between him and Uncle Phil.
Will Returns To Philadelphia And Meets Up With An Old Rival
Will finally made it back to Philly in "The Philadelphia Story." The Season 4 finale takes him and the Banks family to the City of Brotherly Love to visit his mother, Vy. While there, Will learns that his reputation has been damaged and seeks to fight gang leader Omar to rectify things. However, he finds Omar to be a totally different person, having opted to serve his community in Will's absence. At some point in Bel-Air, it would be nice to see Will return home to face his demons. And honestly, I think Bel-Air could up the drama by having the "Omar-like" character remain unreformed. This, paired with the fact that this iteration of Will is already avoiding trouble with the law, would make for a confrontation filled with stakes.
But are there any other stories from The Fresh Prince of Bel-Air that you'd like to see repurposed for Bel-Air? Do you think the show shouldn't touch classic episodes at all? Let us know in the comments! And be sure to keep it here at CinemaBlend for Fresh Prince news and more from the world of TV and film.
Your Daily Blend of Entertainment News
Covering superheroes, sci-fi, comedy, and almost anything else in film and TV. I eat more pizza than the Teenage Mutant Ninja Turtles.
Your Daily Blend of Entertainment News
Thank you for signing up to CinemaBlend. You will receive a verification email shortly.
There was a problem. Please refresh the page and try again.