What The Fresh Prince Of Bel Air Cast is Doing Now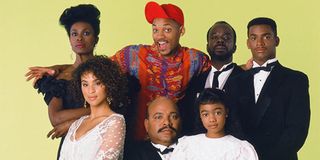 It's kind of crazy to think that The Fresh Prince of Bel-Air debuted all the way back in 1990 since it's still wildly popular today. Whether it's the style, the dance moves (it's cheesy, but who doesn't whip out "the Carlton" every now and then at a party), or even the theme song, but the show that made Will Smith a household name still has a legion of fans even today.
And with HBO Max now streaming all 6 seasons, there's no better time than now to hail a taxi to a town called Bel-Air. But once you do, you'll probably remember that it wasn't just the Will Smith show, as it was the whole cast that made the series special. So, what's the cast doing now since the show ended in 1996? This article aims to find out.
Will Smith (Will)
Will was the brash, fun-loving star of The Fresh Prince of Bel Air (I mean, he WAS the Prince after all) who always got on his Uncle Phil's nerves and liked to romance the ladies. That said, he always found a way into everybody's heart and brought his West Philadelphia charm to L.A. in a major way. In the last episode, Will stayed in California to finish school, while everybody else pretty much left, creating an interesting close to the show. But since the series ended back in 1996, Will Smith kind of disappeared from the limelight. Just kidding. He's been everywhere since then.
He had a successful rap career with DJ Jazzy Jeff both before and during the show, but he had an even bigger career after it ended, releasing the albums Big Willie Style (which went 9X platinum!), Willennium, Born to Reign, and Lost and Found. He also had a monster single on the Men in Black soundtrack, which he also starred in. In fact, some of his biggest movies during the '90s and 2000s were the aforementioned MIB and its two sequels, Independence Day, Bad Boys 1 and 2, The Pursuit of Happyness, I Am Legend, and pretty much every major movie produced in Hollywood for awhile. If you saw a major blockbuster in the '90s and early 2000s, he was probably in it.
As of late, Will Smith was the Genie in Aladdin, a pigeon in Spies in Disguise, the comic book character Deadshot in Suicide Squad, and most recently reprised his role as Detective Mike Lowrey in Bad Boys For Life, which is the third movie in the series. There's also a Bad Boys sequel in the works (So they probably should have saved the last movie title for this one so it could be Bad Boys 4 Life), and his Civil War action thriller Emancipation will be heading to Apple+. So yeah, he's still doing pretty well for himself.
Alfonso Ribeiro (Carlton Banks)
Carlton was the Tom Jones loving, happy-go-lucky son of Philip Banks who had his head on his shoulders, but also knew how to break it down and sing into a hair brush every now and then. He had a love-hate relationship with Will, but in the end, they became good friends. In the last episode, he went to Princeton because he was also a Mr. smarty pants.
Alfonso Ribeiro himself has been keeping busy. He's still making people laugh as the current host of ABC's America's Funniest Home Videos. He directed numerous episodes for shows like Meet the Browns, Are We There Yet? and K.C. Undercover. And he also participated (and won!) Season 19 of Dancing with the Stars with Witney Carson. As of late, he also sued Epic Games for using his "Carlton Dance" in the game Fortnite, but ultimately dropped the suit.
It's not unusual to love Alfonso Ribeiro.
Karyn Parsons (Hilary Banks)
Hilary was the drama queen diva of the show who often looked down upon people without money. Still, she got along well with Will—even better than he did with Carlton—and even had her own daytime talk show simply titled "Hilary." In the last episode of the series, she moved to New York since that's where her show was moved to.
As an actress, Karyn Parsons' last gig was in in a short film in 2017 called On Monday of Last Week. Other than acting, she also recently published her first middle-grade novel in 2019 titled, How High the Moon, which is about a girl growing up in Jim Crow South.
Tatyana M. Ali (Ashley Banks)
Ashley Banks was always Will's closet cousin. She looked up to him and liked to walk in his footsteps since he wasn't as uptight or stuffy as her brother, Carton, or her sister, Hilary. When she got older, she dropped the good girl attitude and got a little rebellious, but it never got too bad. Will always made sure that she didn't stray too far to dark side. In the last episode, she moved out of California and went to New York with Hilary.
Tatyana Ali continued acting from 2007-2013 on the soap opera, The Young and the Restless as the character, Roxanne. And in 2013, she also was in the BET comedy, Second Generation Wayans alongside Craig Wayans and Damien Dante Wayans. She also acted as a spokesperson for Barack Obama during his 2008 Presidential run, doing a rock the vote sort of thing at campuses to get young people to the polls. Her music career has also stayed buoyant. Her debut album, which came out in 1998 called Kiss the Sky, went gold, and she released Hello in 2014. Her most recent contribution was a single for the album Music to Inspire: Artists United Against Human Trafficking with the song, "Ghost Town" back in 2017.
Janet Hubert (The First Vivian Banks)
The first Aunt Viv (who's directly related to Will since her sister is Will's mother) was strict and to the point, but she cared for Will and tried to steer him and her children on the right course. She was also quite witty and my preferred Aunt Viv. She got a PhD at UCLA and met her husband, Phillip Banks there. She left the show (or rather, was ousted) around mid-third season, and she's still not happy about it.
Janet Hurbert is still acting. She recently played Yvonne Godfrey on General Hospital from 2018-2019, and also recently played Whitley in a BET TV movie called Christmas Belles. She also has Osteoporosis and is an Ambassador for the National Osteoporosis Foundation. Lastly, I would be remiss if I didn't mention that she STILL has a feud going with Will Smith since she says he got her fired. Now that's commitment.
Daphne Maxwell Reid (The Second Vivian Banks)
The second Aunt Viv was the complete opposite of the first, often just being super supportive of her children and Will. She has her fans, but I much prefer Janet Hubert. In the last episode, she moved out East with Philip and their son, Nicky (remember him?) to be with the rest of her family.
Daphne Maxwell Reid has mostly stayed busy in television, but she has also been in movies, most recently the 2019 film, Harriet as Miz Lucy. Her next slated project, according to IMDb is a movie called The Business of Christmas, which is slated for this holiday season, but we'll see. You know. Coronavirus.
Joseph Marcell (Geoffrey Butler)
Geoffrey Butler (oh, my God. Was Butler really his last name?) was the witty voice of reason and butler of the Banks family. He was British, so Will was usually cracking on him for that, but he was loyal to the family, even if he did think they were sort of beneath him. It was just the aristocrat in him. In the last episode, he went back to London to be with his son.
Joseph Marcell has been sticking mostly to British TV and movies, but you can currently see him on Netflix as Chief Wembe in The Boy Who Harnessed the Wind, which also stars Chiwetel Ejiofor.
James Avery (Philip Banks)
Last but certainly not least is the patriarch of the family, Philip Banks. Philip was the stern, protective poppa of the Banks family, and often got annoyed by Will's antics. But he also cared deeply for him, taking him in as his own and being like a father to him. He was once a lawyer, but eventually became a judge. And he is by far my favorite character on the show.
Unfortunately, James Avery passed away in 2013 from complications of open-heart surgery. His last film role when he was alive was in a TV movie called Go, Bolivia, Go! as Commissioner Morocco, and he was also Sam in a 2012 episode of Grey's Anatomy. He also carried the title of Judge with him on his role in The Young and the Restless for two episodes as Judge Roy Daley. Quite recently, the cast of The Fresh Prince of Bel-Air (Minus Janet Hubert, who was most likely not invited) also honored him recently with a virtual reunion tribute. Gone but not forgotten, Uncle Phil will always be remembered.
The Fresh Prince of Bel-Air has a long legacy and an unbelievable fan base. It's good to know that most of the actors are still staying busy and seem to be happy. Catch the show on HBO Max whenever you just want to smile and be nostalgic.
Your Daily Blend of Entertainment News
Rich is a Jersey boy, through and through. He graduated from Rutgers University (Go, R.U.!), and thinks the Garden State is the best state in the country. That said, he'll take Chicago Deep Dish pizza over a New York slice any day of the week. Don't hate. When he's not watching his two kids, he's usually working on a novel, watching vintage movies, or reading some obscure book.