Fresh Prince Of Bel-Air Almost Got A Spinoff... With Don Cheadle?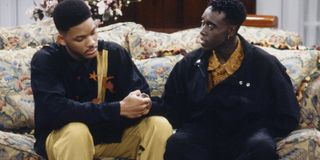 In the world of reboots and revivals, The Fresh Prince of Bel-Air is getting neither. Instead, Will Smith confirmed a while back that the beloved NBC sitcom was getting a spin-off. The announcement came 23 years after the series' original run ended in 1996. However, it turns out The Fresh Prince of Bel-Air almost got its own spin-off back in the 1990s and it would have starred Don Cheadle!
During Season 1 of The Fresh Prince of Bel-Air, House of Lies alum Don Cheadle guest starred in the episode "Homeboy, Sweet Homeboy." He played Will Smith's friend, Ice Tray, who was visiting him in Los Angeles in the hopes of alleviating Will's homesickness. He also ended up dating Will's cousin Hilary Banks (Karyn Parsons), but only briefly.
Ice Tray never showed up again after that, but Don Cheadle revealed that he was so close to starring in his own show based on his guest starring role. Here's what happened:
That's unfortunate. Still, even though the Fresh Prince of Bel-Air spin-off didn't make it to series, it's incredible that Don Cheadle filmed a pilot for it. It's also surprising that we're only just hearing about this elusive spin-off. In his appearance on People's Party with Talib Kweli, the actor also revealed that the spin-off would've been called In the House.
TV history buffs will remember that this title was eventually bestowed upon LL Cool J's comedy series, which aired for five seasons from 1995 to 1999. That's not the only connection, however. In the House also starred The Fresh Prince of Bel-Air vet Alfonso Ribiero, who played Carlton Banks, Will's lovable cousin. Though, it's probably not a coincidence, since both sitcoms shared the same executive producers.
Now that Will Smith's cross-platform company, called Westbrook Inc., is developing a Fresh Prince of Bel-Air spin-off, it might not be too late to call up Don Cheadle to reprise his role. While the actor didn't expand upon what Ice Tray would have been up to in the original spin-off, I'd be interested to know what he's been doing since. Better late than never.
The Fresh Prince of Bel-Air will soon be joining Friends in its move to HBO Max in 2020, so keep an eye out for that. For more on what other shows to watch, be sure to check out our complete TV guides to every series premiering through the end of the year and onward into 2020.
Your Daily Blend of Entertainment News
Your Daily Blend of Entertainment News
Thank you for signing up to CinemaBlend. You will receive a verification email shortly.
There was a problem. Please refresh the page and try again.