Supergirl Actress Melissa Benoist's Alleged Abuser Speaks Out, Apologizes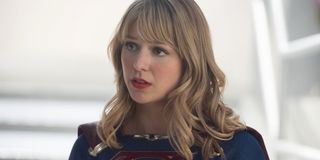 Last November, Supergirl's Melissa Benoist posted a 14-minute video revealing that she was a survivor of domestic violence. Benoist claimed that she had been pinned down, punched, slapped, dragged by her hair on concrete, choked, and head-butted among other things while in the abusive relationship. While Benoist never mentioned her alleged abuser by name, many at the time suspected that it was Glee alum Blake Jenner, Benoist's ex-husband. Recently, Jenner spoke out about the allegations of abuse, apologizing and taking responsibility.
Blake Jenner posted to Instagram for the first time since Melissa Benoist's allegations of domestic abuse went public last year. In a lengthy post, Jenner alleged that there was abuse on both sides and that it started early on in the relationship. He also doesn't mention his then-partner by name, but claims that the abusive relationship referenced in his message was brought up last year. So the timelines match up with Benoist's claims. Jenner apologized for his part in the abuse and took responsibility for it, citing an incident that Benoist referenced in her video. Here's a part of what Jenner wrote:
Blake Jenner also accuses his ex-partner of mental and emotional abuse. He alleges that he was "discouraged from and threatened" to not get close to any female co-stars and that he was prohibited from seeing his friends for years. Jenner alleges that he was slapped, scratched, and punched. One incident allegedly led to a trip to the hospital to treat a broken nose.
In addition, Blake Jenner says that he also had to make up lies about visible injuries to others. This seems to mirror Melissa Benoist's story about how she lied to cover up her swollen eye, lacerations, and broken nose after Jenner allegedly threw a phone at her face, which also tore her iris and nearly ruptured her eyeball.
Blake Jenner also claims that he's spent years in therapy and that the instances of alleged emotional and physical abuse were rooted in "false ideas of manhood," which he says doesn't serve as an excuse for his behavior. Jenner apologized to the reader, saying he is sorry for the "loss of respect and trust" and for "injecting negativity" into the world. However, the "most important" apology goes to his ex-partner. In his words:
Melissa Benoist married former Supergirl co-star Chris Wood last year. The pair welcomed a baby boy named Huxley Robert Wood a short while ago. Benoist's final run as Supergirl is fast approaching, as the sixth season was recently announced as its last. Season 6 will bow at some point in 2021. As of this writing, she has not commented on Blake Jenner's apology and allegations. You can read Jenner's post in its entirety below.
Stay tuned to CinemaBlend for updates and be sure to swing by our 2020 fall TV premiere guide for more on what to watch.
Your Daily Blend of Entertainment News
Your Daily Blend of Entertainment News
Thank you for signing up to CinemaBlend. You will receive a verification email shortly.
There was a problem. Please refresh the page and try again.