Chyler Leigh And More Supergirl Stars React To Cancellation After Six Seasons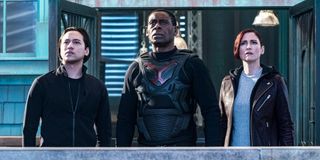 It's truly the end of a superheroic era. Supergirl is saying farewell, and Kara Danvers will take to the skies for one final batch of episodes in Season 6 before saying goodbye. Series star Melissa Benoist expressed the utmost gratitude for getting to play such an iconic character and promised viewers will be getting "one helluva final season." In the hours following The CW's cancellation news, Chyler Leigh, David Harewood and more Supergirl stars also reacted to the show ending after six seasons.
Supergirl has had a unique run when compared to the other Arrowverse shows. In fact, it wasn't originally a part of CW's superhero line-up (or the Arrowverse), with Season 1 actually airing on CBS before the series moved to The CW for Season 2 and beyond. Now that everyone knows Supergirl will officially end in 2021, Chyler Leigh posted an Instagram photo of herself with Melissa Benoist and David Harewood on their first day of filming for Season 1 and looked back on what the series has meant to her. Here's what she wrote:
Chyler Leigh also added that working on Supergirl has been a job of a lifetime and that she was so inspired by co-stars Melissa Benoist and David Harewood to stand taller and believe in herself. Watching Leigh grow into her role as Alex has been a personal joy for me as well, and I don't think Supergirl would be what it is now without Kara and Alex Danvers' heartfelt sibling bond.
"Space dad" David Harewood, who plays J'onn J'onzz (a.k.a. Martian Manhunter), also took to Instagram to share how grateful he's felt to be a part of Supergirl since the beginning. He posted a sweet picture of himself, Melissa Benoist and Chyler Leigh to go along with the caption. Take a look below!
Meanwhile, Jesse Rath, who joined Supergirl in Season 3 as Brainiac 5, reacted to the cancellation news on Twitter. I think Rath's take on Brainy has been one of the highlights of the last few seasons, so it's fitting that the actor added a Brainy gif and quote to his post.
The last time we saw Brainy, he was dying slowly after sacrificing himself to protect everyone from Lex Luthor and his devious plans. He was also on the outs with the rest of Team Supergirl because he'd been working as a double agent alongside Lex. Nicole Maines' Nia Nal realized that he wasn't okay in the Season 5 finale and will hopefully find him before it's too late.
Speaking of Nia, I think Nicole Maines added a new energy to the show when she joined Supergirl as Dreamer. Getting to watch her and Kara bond and Nia evolve her powers on the show has been, well, a dream for me. Maines feels the same way and took to Twitter to share her thanks and sadness over the show's end.
Two and a Half Men vet Jon Cryer has played the scheming Lex Luthor for a couple of seasons now, and the actor is convinced that Supergirl will indeed go out with a bang. My guess is that Lex will also blow something up just for good measure. Check out Cryer's reaction below!
I'm of the opinion that Lex wouldn't have gotten anything done if he didn't have Andrea Brooks' Eve Teschmacher at his side. At the end of Season 5, Eve revealed what Lex and Obsidian's plans were for the world, but things are still tense between her and Team Supergirl. Such is not the case in real life, and Brooks posted a fun photo of herself with Katie McGrath and Melissa Benoist after the cancellation news.
Knowing that Supergirl is ending in advance of the Season 6 finale hopefully means that the writers have something amazing in store for the superhero show's final season. I (and assumedly many others) may shed a tear or two by the time the series finale rolls around, but at least there'll be plenty of time until then for fans to accept that the show will end for good.
Supergirl Season 6 will premiere at some point in 2021 on The CW. Stay tuned to CinemaBlend for updates and be sure to check out our 2020 fall TV premiere guide for more options.
Your Daily Blend of Entertainment News