Saturday Night Live Transforms Jim Carrey Into Joe Biden In New Season 46 First Look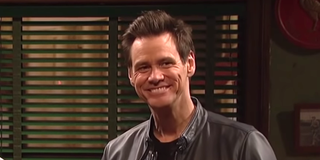 The ongoing pandemic has impacted the fall TV season in more ways than one, but viewers can expect some semblance of normalcy when tuning in to watch Saturday Night Live's return for Season 46. After filming "at home" episodes while quarantined in the spring, the NBC sketch show is headed back to the studio with Chris Rock set to host the first episode of the season (with Megan Thee Stallion as the musical guest). SNL managed to nab comedian Jim Carrey for the premiere, and a first-look video gets up close and personal with Carrey and Maya Rudolph as they transform into Joe Biden and Kamala Harris.
It was announced in September that Jim Carrey was joining SNL to play former Vice President and current candidate Joe Biden, replacing Jason Sudeikis in the role. If you are like me and have wondered what Carrey will look like as Biden, then the wait is finally over. SNL released a short but effective video detailing Carrey's wild transformation, as well as Maya Rudolph's new look as Kamala Harris, Biden's vice presidential running mate. Watch below to see the final result!
There's a lot of details to appreciate in the video, including a closer look at the costumes, hair and make-up prep that Jim Carrey and Maya Rudolph are going through to get the full look down. I think the final result is pretty on point. The video is also set to some very dramatic music and it really sets the tone for what to expect from the pair. I'm used to seeing Carrey's giant, gleeful smiles, but I'm pretty sure he was practicing his signature Joe Biden smile in the video.
Saturday Night Live has a long history of celebrities impersonating politicians and other public figures. From Will Ferrell's George W. Bush to Jay Pharoah's Barack Obama, the NBC series goes all out, and it looks like Season 46 will be no different. Jim Carrey and Maya Rudolph standing back-to-back sums up their preparedness in the roles in my opinion and I'm positive that they'll do a fantastic job when the show returns.
While other series have removed live studio audiences altogether and replaced them with virtual ones, Saturday Night Live is taking a different approach. There will still be a live audience when the show returns, though rigorous procedures have been put in place for all ticketed guests. That includes taking a mandatory COVID-19 test before entry, temperature checks, and obligatory mask-wearing. Probably the only somewhat glaring absence in the promo is Biden's mask.
As SNL's Season 46 really gets going, viewers should expect more hosts and musical guests to be announced soon. The last person to host the show live in Season 45 was Daniel Craig. The production shut down shortly after that in March and returned in April to host "at home" editions that included Tom Hanks as host and Brad Pitt as Dr. Anthony Fauci.
Saturday Night Live Season 46 will premiere on Saturday, October 3 on NBC. For more on what to watch, be sure to check out our 2020 fall TV schedule.
Your Daily Blend of Entertainment News