BET's Sistas Stars Explain Why They Like Working With Tyler Perry So Much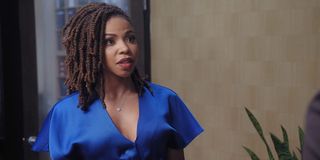 Tyler Perry is one of the hardest working people in Hollywood. From creating, writing, producing and directing multiple TV shows at once to the grand ways in which he gives back to his fans, it's incredible that one man is able to accomplish so much. And while he may often feel ignored by Hollywood, Tyler Perry is adored by his cast. In particular, the stars of one of his latest series, BET's Sistas, have shared why they like working with him so much.
KJ Smith, one of the leads on Sistas, previously worked with Tyler Perry on A Madea Family Funeral. I recently sat down with the actress, and she opened up about how freeing it is to work with him. In her own words,
Many in the entertainment space have discussed the importance of representation in the media for viewers of color and marginalized communities. KJ Smith made it clear this representation just as important in the workplace.
Mignon Von, another lead on Sistas, echoed KJ Smith's words, describing working in an environment where no one has to be the only Black person in the room as "Heaven." Expanding on her experience working with Tyler Perry, Mignon Von said:
Sistas may be a comedy-drama, but Mignon's character Danni keeps those laughs coming in every single scene she appears in. It's easy to tell when watching that the cast, while dedicated to their craft, had a great time making this show. Since he seems to always have multiple projects in the works simultaneously, it's cool to know that Tyler Perry still takes the time to allow his team to play and try new things to create the absolute best scene for the show.
Season 2 of Sistas is currently airing Wednesday nights on BET, and you can catch up on the BET NOW app. If you're looking for more laughs, check out these options on Netflix, or if you're more into the dramatic side, Tyler Perry's Fatal Affair has all the drama and then some.
Obsessed with Hamilton and most things Disney. Gets too attached to TV show characters. Loves a good thriller, but will only tolerate so much blood.
Your Daily Blend of Entertainment News
Thank you for signing up to CinemaBlend. You will receive a verification email shortly.
There was a problem. Please refresh the page and try again.