Star Trek: Strange New Worlds: 7 Quick Things We Know About The CBS All Access Series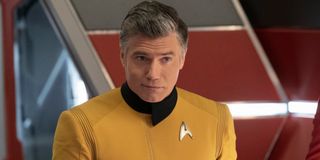 There's yet another new Star Trek show coming to CBS All Access, and there's a considerable amount of hype behind it. Understandably so considering Star Trek: Strange New Worlds will highlight some pretty awesome characters in the Star Trek lore, and maybe even bridge the gap between old school and new school fans with its ambitious project.
Everyone wants to know about Star Trek: Strange New Worlds, but what do we actually know about it? Here's a quick rundown of the key things we know about the upcoming series so far, so that we can get even more people on board as every day brings us just a bit closer to that premiere date.
Star Trek: Strange New Worlds Takes Place Right Before The Original Series
Star Trek: Strange New Worlds is set before the time of Captain Kirk joining the Enterprise, and while Christopher Pike is still in command of the ship. What this means is viewers will get to experience life on the ship before Kirk's arrival, as well as probably get to see more aliens and story references from The Original Series' era. Essentially, this series may be perfect for the crowd who watched the first season of Star Trek: Discovery and were upset that it didn't feel like the Trek they knew and loved.
Star Trek: Strange New Worlds Will Highlight The Pre-Kirk Enterprise
The main draw of Star Trek: Strange New Worlds is how the Enterprise ran under Pike's command, and the relationship he shared with Number One and Spock. It was Pike's relationship with Spock in particular that molded a lot of the person Spock came to be, and there have been suggestions the two were even as close as the later relationship between him and Kirk. Ultimately, this series should effectively close the small gap of time we don't know about before Star Trek began its television run, which should be something exciting for fans to be a part of.
A Former Picard And Discovery Writer And Director Is A Co-Showrunner
One of the most exciting parts of Star Trek: Strange New Worlds is that prolific television writer and Star Trek show director Akiva Goldsman. Goldsman directed and wrote for Star Trek: Picard and Star Trek: Discovery, and now alongside co-showrunner Henry Alonso Myers will bring audiences into a brand new adventure with Captain Christopher Pike, Spock, and Number One. Goldsman has been one of the key players in the early success of modern Star Trek, so it will be interesting to see what he can do overseeing an entire series.
Star Trek: Strange New Worlds Will Be More Episodic Than Other Modern Trek Shows
One of the key things that separate the new Star Trek shows from the older ones is that the stories are more serialized than the ones you'd ever seen in shows like Star Trek: The Next Generation or otherwise. Star Trek: Strange New Worlds will be a return to form with a confirmed emphasis on telling stories contained within an episode, though some character development will carry over from episode to episode. Again, this will be another thing the classic Trek fans will appreciate, which makes sense considering they're likely the target market for this series.
Star Trek: Strange New Worlds Has Seven Years Of Trek To Tell Its Story
While it's not explicitly said the year Star Trek: Strange New Worlds takes place, it has been confirmed that the series will take place in the gap of 7 years between Star Trek: Discovery Season 2 and Captain Pike's major accident. That's a lot of time for this series to go, and there's a lot of adventures that can be told in that gap of time. That's good news if this series ends up to be a hit in Season 1, and more incentive for fans to watch who may be jaded by the fact they already know what's coming.
Star Trek: Strange New Worlds Will Center On Characters Re-introduced In Star Trek: Discovery Season 2
Number One, Captain Pike, and Spock predate Star Trek: Discovery by a wide margin, though the versions were seen in Star Trek: Strange New Worlds were based heavily on their re-introduction in Star Trek: Discovery Season 2. Spock is a little less mature than he's typically known to be, Pike is a living and breathing captain not at all inhibited by a terrible accident he is eventually struck with, and Number One is just a badass. Expect to see all that, and maybe even some other classic Trek characters in a new light as this series gets underway.
Star Trek: Strange New Worlds Will Show Pike Reckoning With His Eventual Fate
As I alluded to in the previous point, Star Trek: Strange New Worlds takes place before Captain Christopher Pike's horrific accident that leaves him almost entirely incapacitated. Star Trek: Discovery added the knowledge that Pike knows this will eventually happen to him, which sets up an arc in this series in which he'll have to reckon with that knowledge knowing he can do nothing to change it. It should make for an awesome story to tell throughout the series, even if the telling of it won't be as serialized as other Star Trek shows.
Star Trek: Strange New Worlds Happened Because Of Fans
While it seemed obvious that Anson Mount's Pike would get to star his own Star Trek spinoff after Star Trek: Discovery Season 2, it's been stated several times by key people that this series was not a thing when plans were first laid for the future of Star Trek. With that said, when Alex Kurtzman and others saw the audience's response to Mount and other performances, it seemed like it was a series that had to happen. Out of all the projects that have come out of Star Trek recently, this one sounds like a real love letter to fans, so hopefully, it's treated as such.
Star Trek: Strange New Worlds is currently in development for CBS All Access. As always, be sure to stick with CinemaBlend for all the latest happening in the franchise, and for the latest news happening in television and movies.
Your Daily Blend of Entertainment News
Mick likes good television, but also reality television. He grew up on Star Wars, DC, Marvel, and pro wrestling and loves to discuss and dissect most of it. He's been writing online for over a decade and never dreamed he'd be in the position he is today.