While Y'all Weren't Paying Attention Busta Rhymes Just Busted His Butt And Got Ripped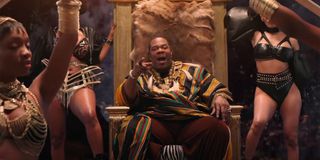 Busta Rhymes is extremely active on social media, almost to the point where some of y'all may have missed the fact that The Masked Singer contestant has spent 2020 getting in shape again. In fact, he's ripped right now and he shared a look at his weight loss and fitness journey in a post.
In a before-and-after look, Busta Rhymes shared that he is in "the best shape" of his life, noting that it took hard work and dedication to get himself to the point where he could see his abs. He said he did the work ahead of the release of his new album, E.L.E. 2: The Wrath Of God.
The album dropped at the end of October and debuted at number 7 on the Billboard 200 chart and marks a big turning point for Busta Rhymes in his journey to have health and vitality in his career and personal life. He's not the first celebrity to have a surprise transformation, as Ethan Suplee also shared his weight loss journey in a similar manner, but it seems the rapper made a change due to his health.
In an episode of "The Messy Truth" with Busta Rhymes and Van Jones this week, the rapper talked about getting to a point with his health where it wasn't good and people were telling him to "go see a doctor" after his father passed away in 2014 and he started living hard. He said it was during that time when he really started to let himself go due to the double pressure of his dad's death and his mom not handling grief well.
This went on for three years. Then he told Van Jones there were "two incidents" that really stood out that helped him to move forward with the newer, healthier Busta Rhymes. His son witnessed him losing the ability to breathe during a heavy night of drinking after a video shoot. Then, the next day his son was so worried about sharing the information with his father, he asked Busta Rhymes' team to tell him about what happened, which helped the rapper to realize things needed to change on lots of levels. So, he got into shape.
That doesn't mean that every single one of Busta Rhymes' activities are super healthy these days. Like Arnold Schwarzenegger, he enjoys a nice cigar every now and again and still has some vices, but he's trying to avoid the "wear and tear" he put on his body previously through his diet, drinking, and lack of training. This year has been incredibly transformational as a whole.
Busta Rhymes is only in his forties and still has a lot of art and memorable performance to share with the world, so it's great he took these steps toward becoming the person he wants to be. Our thoughts are with him as he continues on his journey of health and continues to share his story in and honest and informational way.
Reality TV fan with a pinch of Disney fairy dust thrown in. Theme park junkie. If you've created a rom-com I've probably watched it.
Your Daily Blend of Entertainment News
Thank you for signing up to CinemaBlend. You will receive a verification email shortly.
There was a problem. Please refresh the page and try again.