What Alex Trebek Thought Of Saturday Night Live's Celebrity Jeopardy Sketches, According To One Writer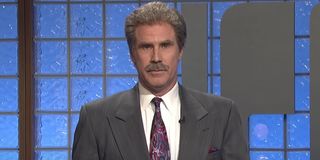 The late Alex Trebek managed to permeate pop culture in a way that few others ever do. His tenure as the host of Jeopardy! allowed him to enter viewers home and become an integral part of their lives. His status as such a prominent television figure also led to him being regularly parodied on Saturday Night Live. With this, you have to wonder what Trebek thought about the show's impersonation. Well now, an SNL writer has provided that answer.
Saturday Night Live would depict Alex Trebek (played perfectly by Will Ferrell) as the host of Celebrity Jeopardy!. In each sketch, Trebek would have to conduct the game while wrangling with the stars competing on that episode. Each sketch would consist of different celebrities, except for Darrell Hammond's Sean Connery, who was a mainstay of the sketches. Much of the humor from the bits would come from Connery's tendency to insult Trebek.
Following Trebek's death, SNL writer and producer Steve Higgins recently reflected on the host's legacy and his own work on the Jeopardy! sketches. The longtime comedy scribe explained that it was his wife he suggested the initial sketch to him, and the idea stuck in the writers' room. He also told Variety how Trebek felt about being lampooned on the show:
It's not hard to picture that Alex Trebek would be a good sport when it came to Saturday Night Live's impression. The host definitely knew how to dish it out, so it shouldn't be surprising that he could take it as well. He actually even appeared as himself in a sketch, in which both he and Will Ferrell were insulted by Hammond's Connery.
What's even sweeter to hear is just how much respect Steve Higgins and his collaborators had for Alex Trebek. He brings up a fair point in that it's hard to parody someone when you don't have some kind of love for them. Because they all cared for Trebek, the sketches managed to both poke fun at him and honor his work on the fan-favorite game show.
Saturday Night Live's Celebrity Jeopardy! sketches are just another part of Alex Trebek's extensive legacy. Rewatching these classic bits definitely won't be the same now that he's no longer around, yet they still serve as a way to remember him fondly.
We here at CinemaBlend continue to extend our condolences to Alex Trebek's loved ones at this time.
Covering superheroes, sci-fi, comedy, and almost anything else in film and TV. I eat more pizza than the Teenage Mutant Ninja Turtles.
Your Daily Blend of Entertainment News
Thank you for signing up to CinemaBlend. You will receive a verification email shortly.
There was a problem. Please refresh the page and try again.