Jeopardy Clip Of Alex Trebek's Savage Response To Contestant Is Going Viral And Cheering Fans Up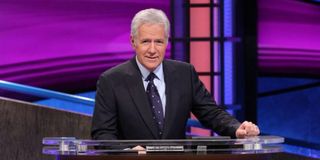 Alex Trebek has been the host of Jeopardy! for over three decades and is accustomed to hearing about the often fascinating, strange, and fun stories and hobbies that contestants share with him on the game show. As viewers know, however, Trebek always seems to have a comment to make following each individual tale. A recently uncovered clip from a years-old Jeopardy! episode reveals Trebek's rather savage response to a contestant, and it's now going viral and cheering fans up.
After a couple of commercial breaks, Alex Trebek usually comes over to greet the Jeopardy! contestants, which adds a personal touch to the game show. While at their podiums, he usually asks them to expand upon some interesting life stories that they want to discuss. In a clip posted to Twitter, one contestant revealed to Trebek that her favorite music was nerdcore hip-hop. As the contestant explained, nerdcore hip-hop was basically "people who identify as nerdy, rapping about things they love." Or, as Trebek put it: "Losers, in other words." While the account that originally posted the clip has become private, you can still watch the clip from the account below:
The Jeopardy! clip has since gone viral, amassing over 29.4k likes and 5.3k retweets at the time of this writing. The clip itself is from a Jeopardy! episode that aired four years ago and was recently dug up and posted online. The Twitter user originally thought that Alex Trebek had only recently begun giving such responses to contestants, but it turns out the host has been giving contestants his unfiltered opinions for years prior to being diagnosed with stage four pancreatic cancer.
Squaring up "against death," as the tweet put it, didn't make him any bolder than he already was. Anyone who's been watching the show for years knows that Trebek's rather dry, deadpan responses aren't anything new. They just happen so quickly that people tend not to dwell on them for too long.
That said, the clip's circulation has at least been entertaining the masses while many people are safe at home during quarantine, allowing many to discover this side of the Jeopardy! host for the very first time.
After years of being asked to write a memoir, Alex Trebek finally opened up about why he decided to write one. The book, titled The Answer Is…: Reflections on My Life, is scheduled to be published on July 21 and will include stories from the host's personal life, as well as his thoughts on popular Jeopardy! champions Ken Jennings and James Holzhauer, among other things.
Production on Jeopardy! is currently shut down, but stay tuned to CinemaBlend for updates. In the meantime, fans can binge watch all previous episodes of the game show on Netflix. For more on what to watch, be sure to check out our 2020 summer premiere guide.
Your Daily Blend of Entertainment News
Your Daily Blend of Entertainment News
Thank you for signing up to CinemaBlend. You will receive a verification email shortly.
There was a problem. Please refresh the page and try again.