The 5 Best SNL Celebrity Jeopardy Skits, Ranked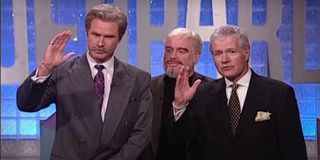 Recently, a bizarrely tragic (or, perhaps, tragically bizarre) series of events occurred. First, on October 31st, Sir Sean Connery passed away at the age of 90. Then, only a little more than a week later, Alex Trebek left this world at 80. While the Scottish actor and the Canadian game show host didn't have any sort of friendship or rivalry in real life (that we know of, at least), these two celebrities became eternally fused together in the minds of pop culture lovers everywhere thanks to Celebrity Jeopardy, a recurring sketch series seen throughout the late '90s and early '00s on NBC's Saturday Night Live.
Over the course of 15 sketches, including a handful that aired between 2005 and 2015, Celebrity Jeopardy became a regular favorite for fans of the late-night comedy show, primarily thanks to Will Ferrell's sternly dedicated Alex Trebek and Darrell Hammond's playful and spunky Sean Connery. Together, along with Norm Macdonald's astonishingly vivid takeoff of the late Burt Reynolds, these three impressionists further solidified their legacies in the popular series, while also creating some memorable material for comedy lovers everywhere. To commemorate the collective loss of Trebek and Connery, we're here to talk about our five favorite Celebrity Jeopardy sketches.
5. "Tom Cruise, Adam Sandler, Sean Connery"
As the fifth iteration of this perpetual Saturday Night Live favorite, "Tom Cruise, Adam Sandler, Sean Connery" was the point where the sketch comedy series really nailed down the format for this ongoing segment.
While this one isn't the absolute best in the series, it's nevertheless a highly entertaining and memorable installment, largely thanks to Ben Stiller's commendably good (and pretty spot-on) impersonation of Tom Cruise, Jimmy Fallon's impressively convincing imitation of former cast member Adam Sandler (or, at least, a babbling and largely incoherent version of Sandler), and Darrell Hammond's reliably silly Sean Connery — who, by this point, was no longer trying to do an accurate impression of the Oscar-winning actor but rather a "bastardization" (in his words) in order to earn easy laughs.
While it lays down the traceable groundwork that future Celebrity Jeopardy sketches would continue to follow (to mixed results), "Tom Cruise, Adam Sandler, Sean Connery" is consistently good at capturing the core ingredients that make these sketches a persistent fan favorite: notably, the hyper insanity of these ignorant, aloof, arrogant, and often childish celebrities failing or outright refusing to follow the rules of the syndicated game show, all while Darrell Hammond's frisky Sean Connery continues evermore to poke the bear that is Will Ferrell's disillusioned and always exhausted Alex Trebek.
4. "Nicolas Cage, Calista Flockhart, Sean Connery"
The sixth installment in this recurring parody segment, "Nicolas Cage, Calista Flockhart, Sean Connery" can get overshadowed in Celebrity Jeopardy history since it arrived just before "French Stewart, Burt Reynolds, Sean Connery," but there's plenty to enjoy in this variation of the returning sketch.
For instance, Jimmy Fallon provides another amusingly precise impression (side note: Fallon's best SNL work was found in this sketch series — at least, in my opinion), this time of Nicolas Cage. He captures all the heightened mannerisms and quirks, and even when the voice verges into Keanu Reeves territory (though Tobey Maguire played Keanu to middling results in a separate Celebrity Jeopardy skit), it works wonders overall. Additionally, Darrell Hammond's Sean Connery gets some of his sauciest sex puns.
The biggest and best surprise of this skit, however, is Drew Barrymore's Calista Flockhart. The Charlie's Angels actress portrays the Ally McBeal star like a distrustful shaking chihuahua who was just taken out of a bath, and her scornful eyes and demured facial expressions prove to be a rich delight.
3. "Kathie Lee Gifford, Tom Hanks, Sean Connery"
Following a four-year absence after the familiar SNL bit had grown stale, Celebrity Jeopardy came back in fine form with the freshly-rejuvenated "Kathie Lee Gifford, Tom Hanks, Sean Connery."
While the skit itself doesn't deviate too far from the familiar format, this penultimate addition to this long-running series was elevated by a wonderfully committed performance from Tom Hanks as a much dumber version of himself — the only instance where the actual celebrity played themselves in Celebrity Jeopardy. He's also benefitted by Darrell Hammond's reprisal of Sean Connery, who doesn't skip a beat here, even after a few years' time, and Kristen Wiig's giddy, giggly, very boozy impersonation of daytime talk show host, Kathie Lee Gifford.
Plus, it's apparent that the template is enhanced by new writers who tackle this SNL favorite with invigoration. There's more room for silliness or deviations into lunacy. There's also the fun return of Norm Macdonald's Burt Reynolds, in a cameo, who still insists that people call him "Turd Ferguson." It runs long, but it's frequently funny stuff.
2. "Phil Donahue, Burt Reynolds, Marlon Brando"
While this Celebrity Jeopardy skit isn't discussed as often as the few others found on this list (possibly due to Sean Connery's notable absence), it's quite easily one of the best and, in my opinion, certainly one of the funniest.
The second installment in the long-running SNL sketch series, Norm Macdonald tightens the script and perfects his Burt Reynolds impersonation while providing excellent material for John Goodman's hilariously spaced-out Marlon Brando impression and Darrell Hammond's ace imitation of rambling daytime talk show host, Phil Donahue. Notably, when it comes to Donahue, the real kicker here is that he's the rare Celebrity Jeopardy guest who's smart enough to know most of the answers, but his inability to stop himself from speechifying or moralizing prevents him from scoring any points.
Meanwhile, John Goodman's loopy, mumbling, peanut-munching, altogether discombobulated, and, eventually, half-naked Marlon Brando produces some of the sharpest laughs in Celebrity Jeopardy history. Furthermore, Norm Macdonald's take on a Robert Blake-obsessed, birthday-forgetting Burt Reynolds is the funniest it has ever been ... away from our next skit.
1. "French Stewart, Burt Reynolds, Sean Connery"
If there's one Celebrity Jeopardy skit you know, it's unquestionably this one. Filled with some of the best character work, some of the most biting writing, and some of the most quotable lines, this is certainly the most memorable addition to Celebrity Jeopardy, and it's easily the funniest to boot.
Reuniting Norm Macdonald with the sketch he first conceived (alongside Steve Higgins), while also reunited with Darrell Hammond's perfected imitation of a naughty Sean Connery, this skit features the best elements of every great Celebrity Jeopardy skit, while also including the hysterical addition of Burt Reynolds' oversized cowboy hat and his juvenile insistence on being called "Turd Ferguson." Certainly, Macdonald's return as a writer plays a beneficial role, helping this recurring sketch find its renewed rhythm and regained spunkiness. This skit is also the sole reason why "Suck it, Trebek" ever became a line uttered in polite company.
While people are always quick to remember Burt Reynolds and Sean Connery's moments, one would be remiss if they overlooked Jimmy Fallon's fine work as 3rd Rock from the Sun star French Stewart. His impression of a worldly, dedicated player who's completely off-kilter and woefully incorrect with each answer is hilarious in its own right. While his lines aren't quite as quotable, Fallon makes them equally funny anyhow.
Additionally, while he doesn't get as much appreciation for his excellent performance compared to Darrell Hammond and Norm Macdonald, Will Ferrell plays the best straight man you could hope for in his comically weary take on Alex Trebek — particularly as the comedian never once breaks character (miraculously) and always provides the right amount of exasperation mixed with forlorn persistence to keep the game show moving forward, despite all his best instincts telling him otherwise. While it's easy to champion Hammond's incredible impersonations and Macdonald's blistering, blue-eyed Reynolds, Ferrell is the true key to the longevity and long success of SNL's Celebrity Jeopardy.
I also wanted to highlight some honorable mentions: "Justin Bieber, Tony Bennett, Sean Connery," which aired during SNL 40, is the most recent addition and a fun one, notably for Kate McKinnon's still-great imitation of Bieber and the amusing inclusion of Matthew McConaughey's stunningly accurate Matthew McConaughey; "Minnie Driver, Jeff Goldblum, Sean Connery" is notable for an entertaining, inspired take on Goldblum's stammering persona by David Duchovny (who relishes the part); and "John Travolta, Burt Reynolds, Michael Keaton" is heightened by Darrell Hammond's goofy Travolta and Matthew Perry's enjoyable Keaton.
Additionally, "Robin Williams, Catherine Zeta-Jones, Sean Connery" sees Jimmy Fallon giving an appropriately-manic impression of the late Williams; "Sean Connery, Burt Reynolds, Jerry Lewis" got the ball rolling for this recurring sketch in an enjoyably silly fashion, and "Dave Matthews, Björk, Sean Connery," while tired from a writing standpoint, is elevated by Winona Ryder's totally adorable (and predictably kooky) caricature of the Icelandic singer-songwriter, Jimmy Fallon's squeakily musical portrayal of Matthews, and a last-minute cameo from the real-life Alex Trebek.
Which Celebrity Jeopardy sketch is your favorite? Let us know in the comment section!
Will is an entertainment writer based in Pittsburgh, PA. His writing can also be found in The Playlist, Cut Print Film, We Got This Covered, The Young Folks, Slate and other outlets. He also co-hosts the weekly film/TV podcast Cinemaholics with Jon Negroni and he likes to think he's a professional Garfield enthusiast.
Your Daily Blend of Entertainment News
Thank you for signing up to CinemaBlend. You will receive a verification email shortly.
There was a problem. Please refresh the page and try again.