The 10 Most Popular Saturday Night Live Clips On SNL's YouTube Channel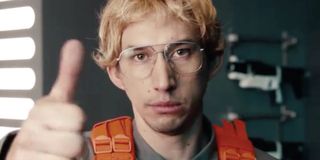 CinemaBlend is partnering with PIA VPN to bring you fresh content to stay in and stream with each day. We're also offering a special 76% discounted rate for a limited time only. You can sign up for the package with PIA here (opens in new tab).
Everyone has a favorite Saturday Night Live bit, from the Jaws parody featuring a "Land Shark", to "Schweddy Balls," or even the Adam Driver Undercover Boss sketch in which he pokes fun at both his Star Wars character and the long-running reality show. Many of these segments you can find on SNL's YouTube channel, which has come in handy in helping protect some iconic sketches from drifting into obscurity.
However, most of the more popular videos on the official Saturday Night Live channel have only come out within the last decade, which is easy to understand for a couple of reasons. For one, a good chunk of the individuals that make up the YouTube generation are too young to remember or appreciate the classics from the days of the Not Ready For Prime Time Players, but on the other hand, these particular sketches are pretty damn funny.
In fact, you may notice a common theme among the top-rated clips that will soon apparent. So, which modern favorites are have proven to be the most popular? The following is a list of the Top 10 most watched Saturday Night Live sketches on the NBC sketch comedy's official YouTube channel.
10. Donald Trump Vs. Hillary Clinton Debate Cold Open (2016) - 28.8 million views
No matter who had your vote, the 2016 Election was a plentiful mine of pure comedy gold, as evident by this cold open depicting the first Presidential Debate from September 26 that year more accurately than one would comfortably admit. Some might argue that, based on how things would up, watching SNL's in-house Donald Trump, Alec Baldwin, and Kate McKinnon as Hillary Clinton spend the entirety of what should be a professional discussion of ethics demonstrating quite the opposite is even funnier now than it was then.
9. New Disney Movie (2015) - 33.9 million views
Sometimes, SNL will come out with a parody advertisement that, while funny, leads to disappointment. Exhibit A: this fake trailer in which host Dwayne Johnson stars as the title character of Bambi, reimagined as a Fast and Furious-style action thriller also starring Vin Diesel (Taran Killam) as Thumper. Just why is this disappointing? Because this is exactly what Disney's live action update of Bambi should be, yet there is no sign of it ever happening.
8. Sean Spicer Press Conference (2017) - 35.3 million views
In February of its 42nd season, fans were pleasantly shocked to see Melissa McCarthy introduced as SNL's resident Sean Spicer. The Oscar-nominee portrayed the then White House press secretary as a fed-up loudmouth ready to wage war on the press by dodging questions with unhelpful visual aids, putting CNN in a "time out," and almost swallowing a whole pack of Ice Breakers Ice Cubes for some reason. Even on an episode when host Kristen Stewart was caught dropping an F-bomb during the monologue, this sketch proved to be the most hilariously outrageous and controversial that night.
7. Close Encounter (2015) - 41 million views
Even longtime Saturday Night Live cast members will be the first to admit that some of the show's funniest moments involve performers breaking character on air, such as this sketch from a December 2014 episode. First-time host Ryan Gosling could not keep himself together while listening to Kate McKinnon's character recall to the NSA her encounter with a UFO, which proves to have been a far less pleasant experience than his or Cecily Strong's tranquil abductions.
6. SNL40: Celebrity Jeopardy (2015) - 41.1 million views
For Saturday Night Live's 40th Anniversary celebration, Will Ferrell starred in a throwback to, arguably, his crowning achievement as a castmember: playing as Alex Trebek hosting Celebrity Jeopardy. What starts off a decidedly normal match between Tony Bennet (Alec Baldwin), Justin Bieber (Kate McKinnon), and returning mischief maker Sean Connery (Darrell Hammond) quickly spins more out of control than ever when Burt "Turd Ferguson" Reynolds (Norm Macdonald), Christoph Waltz (Taran Killam) and Matthew McConaughey (Jim Carrey) show up uninvited.
5. Black Jeopardy With Tom Hanks (2016) - 49.7 million views
Without Will Ferrell's Alex Trebek, the most successful recurring game show sketch as of late is Black Jeopardy, hosted by Kenan Thompson's Darnell Hayes. While the show is predominantly structured to appeal to black culture, the segment's most popular edition sees the program finding a new champion in Doug: a MAGA hat wearing, white elder played by the nearly unrecognizable host, Tom Hanks. That same night, Saturday Night Live debuted the now iconic David S. Pumpkins, which, surprisingly, does not have as many YouTube hits as this politically charged gut buster.
4. Undercover Boss: Starkiller Base (2016) - 50.7 million views
For his first Saturday Night Live hosting gig, Academy Award-nominee Adam Driver took the liberty of shamelessly poking fun at Kylo Ren, his character from the Star Wars franchise, in a sketch framed as an episode of Undercover Boss. The moody First Order commander covertly observes what life is like for his subordinates aboard the Starkiller Base by not-so-convincingly disguising himself as a blonde, timid radar technician.
3. Spider-Man Kiss (2014) - 52.2 million views
The Amazing Spider-Man films were, at least, blessed by a Peter Parker and Gwen Stacy with great romantic chemistry, given that they were played by then real-life lovers Andrew Garfield and Emma Stone. However, this Saturday Night Live sketch imagines that host Garfield and SNL hosting vet Stone (both appearing as themselves) had an unusually difficult time capturing how normal couples kiss on set of the 2014 sequel. Just wait until you see what celebrity comes in to help them finish the scene.
2. Porn Teacher (2015) - 53.4 million views
In this sketch framed as a cheaply produced adult video called Hot for Teacher 8, high school instructor Ms. Dayworth (host Amy Schumer) is about give her "bad boy" student Ricky (Kyle Mooney) some after school "oral exam." However, they find themselves repeatedly interrupted by a student (Aidy Bryant) who just wants help earning a better grade, but does not seem bright enough to pick up on the scandalous activity unfolding right in front of her. In her defense, Schumer's character does not seem to realize she is supposed to be a teacher, either.
1. Harry Potter: Hermione Growth Spurt (2004) - 59.7 million views
In this send-up of the magical box office hits, Harry Potter (Rachel Dratch) and Ron Weasley (Seth Myers) reunite at Hogwarts with Hermione Granger (then 17-year-old Lindsay Lohan in her hosting debut) and cannot help but notice that she has changed quite a bit over the summer. This 2004 sketch based on a long-completed franchise that and starring a long-finished actress has more views than any clip on Saturday Night Live's YouTube page. Why? Maybe for the same reason the previous video is Number Two?
Why do you think these Saturday Night Live clips have such a huge following on YouTube? What's your favorite sketch to rewatch? Let us know in the comments and be sure to check back with more information and updates on the long-running sketch comedy series here on CinemaBlend.
This poll is no longer available.