Sean Connery's Widow Reveals His 'Final Wish'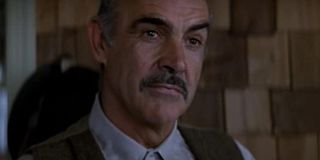 Legendary actor Sean Connery passed away last week at the age of 90. The actor, known for his role in the James Bond franchise and who won an Academy Award for Best Supporting Actor in The Untouchables, left quite a legacy. Now, with his passing, Sean Connery's widow has revealed his final wish.
In his retirement, Sean Connery had been living at his home in the Bahamas, a fitting place for the late James Bond actor. It was there that he reportedly died peacefully in his sleep. According to Metro, Sean Connery's wife of 40-years Micheline Roquebrune said his final wish was to have these ashes divided and scattered in two places. Here's what she said:
Before this, Sean Connery's widow also shared a little bit about the state of his health before his passing. Reportedly, the last few months of his life he had been dealing with dementia, and his health drastically deteriorated. She said he got his wish to "slip away without a fuss."
Sean Connery had gone into retirement after the 2003 movie The League of Extraordinary Gentlemen. While some major actors don't usually retire from the movies, Connery seemed committed to the decision and stayed mostly away from Hollywood. Though he admitted that if there was one movie to pull him back in, it would have been an Indiana Jones film.
It sounds like Harrison Ford would have also loved to have Sean Connery come back for an Indiana Jones film. The Indiana Jones actor paid tribute to Sean Connery recently, recalling how they had fun on set and how it was a true pleasure to drive him around in a "Russian motorcycle."
Harrison Ford isn't the only one, of course, to pay tribute. Stories have been pouring in from those that worked with him and those that admired him. Director Michael Bay, in particular, told a funny story about how The Rock's budget was being cut, and when Sean Connery heard about it, he stepped in, demanding more money and saying Michael Bay was doing a phenomenal job.
Though he's also done phenomenal work himself throughout his career, his role as James Bond may be what he's most remembered for, even though his career is so much more than that. But without a doubt he laid the groundwork for the James Bond franchise moving forward. Now, after so many great accomplishments, the late Scottish actor can hopefully rest in peace with his last wish realized by his family.
Your Daily Blend of Entertainment News