Grey's Anatomy Episode Helped Mom Whose Son Swallowed A Bunch Of Magnets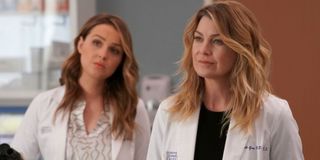 Grey's Anatomy has been on the air for well over a decade now and, over the years, the show has picked up a number of loyal viewers. Since the show dives deep into the medical profession, many fans tend to learn a thing or two about certain aspects of the job. Sometimes these are small details and other times, they're important facts that could save a life. This was certainly the case for one mother, whose love of Grey's actually helped her save her son's life after he ate a large number of magnets.
Last fall, a young Indiana boy, who was 4 years old at the time, shocked his parents when they found that he had swallowed something that was stuck to his throat. His mother, a science teacher, looked into the boy's mouth and was surprised at what she saw – two magnets, one on each side of his uvula.
She soon realized that their son, who has autism, had swallowed a number of magnets while playing with his stepfather (who had stepped away for a moment) and brother. Apparently, the playful child was pretending to eat spaghetti and, with this, they rushed him to the emergency room.
When she recently recalled the incident to Today, the boy's mother, Jessica McNair of Indiana, revealed that Grey's Anatomy was a big help in the situation. Because she had watched the show, she knew that swallowing magnets was an emergency that required immediate attention. She also cited the news as a source of information on the matter.
The couple son found out that their son had actually 25 magnets in his stomach, in addition to the ones on his uvula. Thankfully, after a close call or two, the doctors were able to retrieve the magnets by inserting a long thin tube down the boys throat. By sharing her experience, McNair hopes to let other parents know how dangerous magnets can be when they're around children:
The Grey's Anatomy episode McNair is referring to is the Season 4 episode, "Physical Attraction, Chemical Reaction." In the episode, the hospital admits an 8-year-old boy named Brian who swallows a marble and later eight magnets in an attempt to convince his feuding parents to get a divorce. Luckily, the magnets were removed and the damage they caused was repaired.
Medical professionals can probably debate the merits of the content on Grey's Anatomy, but the way the show aided in saving the young man can't be refuted. Who says watching network TV can't be helpful every now and then?
Your Daily Blend of Entertainment News
Covering superheroes, sci-fi, comedy, and almost anything else in film and TV. I eat more pizza than the Teenage Mutant Ninja Turtles.