ABC's Grey's Anatomy And Station 19 Vs. NBC's One Chicago: Which Network Won The Ratings Battle?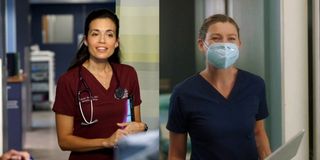 The two major shared universes on NBC and ABC returned to the airwaves this week, with the three shows of One Chicago on Wednesday, November 11 and Station 19/Grey's Anatomy on Thursday, November 12. These are five of the biggest shows on television, and in a rare television event, ABC actually aired two episodes of Grey's Anatomy in one night. All of this begs the question: which network won premiere week in the shared universe ratings? Was it the three dramas set in Chicago, or the first responders and surgeons of Seattle?
Well, the Live+Same day numbers are in for the Chicago Med, Chicago Fire, and Chicago P.D. premieres on Wednesdays as well as the Station 19 and Grey's Anatomy crossover premiere event on Thursday, so now is the time to take a look at how many people tuned in and whether NBC or ABC was the winner when taking all the variables into account. Let's start with Wednesday!
One Chicago (NBC)
All three One Chicago series ended prematurely due to production shutdowns back in April, and all three returned significantly later than usual. Assuming audiences didn't forget about Chicago Med, Chicago Fire, and Chicago P.D. over the long hiatus, the ratings and audience size were likely to be impressive, but not necessarily on par with the previous seasons, especially coming to Wednesdays when The Masked Singer usually dominates.
Chicago Med
According to the Wednesday, November 11 numbers from ShowBuzzDaily, Chicago Med's Season 6 premiere at 8 p.m. ET nearly won the night in ratings when it comes to the key 18-49 age demographic with a 1.2, coming in behind only The Masked Singer with its unbeatable 1.6. As for viewership, Med was on top of the night with 7.8 million people tuning in over The Masked Singer's 6 million at 8 p.m.
Chicago Fire (NBC)
Chicago Fire immediately followed Chicago Med with its Season 9 premiere at 9 p.m. ET, and it performed respectably as well. Fire tied for third among ongoing series in the ratings with a 1.0, coming in behind just Chicago Med and The Masked Singer. With regard to viewership, 7.2 million people tuned in, pushing Fire to the top in the 9 p.m. ET time slot.
Chicago P.D. (NBC)
And that brings us to Chicago P.D., which is arguably the most interesting One Chicago series when it comes to the ratings thanks to its tendency to coming in third behind Med and Fire in Live+Same Day but absolutely crush in delayed viewership. The Season 8 premiere at 10 p.m. ET was no exception to the Live+Same trend, with the 1.0 rating that tied Fire and the 6.4 million that was well below Fire and Med. P.D. did quite easily beat the competition in the time slot in ratings and viewership at 10 p.m., though.
So, how does the shared universe of Station 19 and Grey's Anatomy compare after their new season premieres on Thursday? Let's take a look!
Station 19 And Grey's Anatomy
Station 19 and Grey's Anatomy have been paired in primetime for the past couple of seasons with the spinoff airing ahead of the long-running parent series, to mixed responses from fans. That said, Station 19 Season 4 and Grey's Anatomy Season 17 were debuting with what was hyped as a three-hour crossover event after a long hiatus, so the numbers were bound to impressive. Here's just how impressive the premiere numbers were.
Station 19 (ABC)
According to the numbers for Thursday, November 12 courtesy of ShowBuzzDaily, Station 19 (which actually was able to finish its previous season as intended) opened the three-hour crossover at 8 p.m. with some of the best numbers of the night in the 18-49 age demographic. The 1.2 rating allowed it to easily win the 8 p.m. slot among ongoing series (with Fox's NFL broadcast dominating all the competition for the night), and it came in second in viewership with 6.6 million behind only Young Sheldon, which actually airs in the same 8 p.m. slot.
Grey's Anatomy (ABC)
Grey's Anatomy actually aired two episodes, at 9 p.m. and 10 p.m. ET, allowing the long-running series to end Season 17 premiere night on a killer cliffhanger. The average from the two episodes placed the rating at a 1.3, allowing it to win both of its time slots and beat Station 19. The audience size was less impressive, with just over 5.9 million viewers tuning in. It did win the 9 p.m. and 10 p.m. slots with that 5.9 million, however, so it definitely was a hit for the night.
The Winner: One Chicago
In the grand scheme of things, I had to give premiere week to One Chicago, but it was a close call. Even though Grey's Anatomy actually had the highest ratings of the five series and the highest-rated Chicago series (Med) could only tie Station 19, One Chicago was strongest in viewership on the night against stiffer competition.
Med was up against the juggernaut Masked Singer and actually won in viewership; Fire's audience was nearly twice as large as its closest competition on top of the ratings win over Amazing Race on CBS and I Can See Your Voice on Fox. P.D. with its 1.0 and 6.4 million smashed the second hour of the S.W.A.T. Season 4 premiere with 0.4 and 2.5 million on CBS.
Throw in the fact that ABC actually aired the Country Music Awards for the three hours of Wednesday primetime that attracted a 1.1 rating and 7 million audience, and One Chicago's numbers could well increase next week without the CMAs pulling viewers.
Station 19/Grey's Anatomy may have lost viewers to the NFL game on Fox Thursday, and Fox's scripted numbers generally don't even come close to those on the big three networks. Still, I would bet on One Chicago getting a bigger post-CMA boost over Station 19/Grey's Anatomy getting a bigger post-NFL boost. Thanks to the stiff competition, consistency, impressive numbers despite the CMAs, and NBC going surprisingly light on the promotional material, I give the win to One Chicago.
On the Station 19/Grey's Anatomy front, Station 19 was only up against Young Sheldon and B Positive on CBS and Superstore on NBC in the 8 p.m. hour, making it the only drama offering and coming in behind Young Sheldon in audience size. Grey's Anatomy was up against slightly stiffer competition with the Season 22 premiere of Law & Order: SVU adding another drama option at 9 p.m. ET, and it did easily beat SVU's 0.6 rating and 3 million. ABC also did a lot of hyping the three-part crossover (which actually wasn't much of a crossover), and I expected higher numbers.
So, despite the close call, I'm going to give it to One Chicago. That said, the Grey's Anatomy cliffhanger that was already being hyped in the trailer immediately following the episode may give the series and ABC the boost needs to crush the competition on both networks next week. And hey, I think it's safe to say that they'll both easily beat the Arrowverse when The CW's shared universe returns!
Do you think One Chicago or Station 19/Grey's Anatomy won premiere week? Vote in the poll below to let us know! See NBC's One Chicago block of Med, Fire, and P.D. on Wednesdays starting at 8 p.m. ET, and ABC's Station 19/Grey's Anatomy block on Thursdays starting at 8 p.m. ET. For more of what's on the way before the end of the year, be sure to check out our 2020 fall TV premiere schedule.
This poll is no longer available.
Resident of One Chicago, Bachelor Nation, and Cleveland. Has opinions about crossovers, Star Wars, and superheroes. Will not time travel.
Your Daily Blend of Entertainment News
Thank you for signing up to CinemaBlend. You will receive a verification email shortly.
There was a problem. Please refresh the page and try again.