Supernatural Finale: Creator Eric Kripke Apparently Had Another Ending Idea That Fans Would Have 'Hated'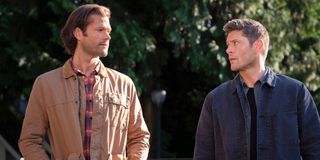 Last week saw Supernatural fans have to confront something that they've known has been coming for quite some time: the series finale. After 15 seasons, the last of which was broken up by several months, so that the series' final episodes were seriously delayed, Sam and Dean Winchester, their friends, and assorted enemies have finally carried on for the last time. And guess what? The finale was majorly divisive. But, whatever your thoughts on that last episode, we know now that series creator Eric Kripke had something in mind for the finale that he believes fans would have "hated."
While Sam, Dean, their (mostly dead) buddies, and a whole assortment of Big Bads managed to keep the very dangerous monster / angel / God-hunting party going for a full 15 years, Eric Kripke took his leave of Supernatural after the Season 5 finale. But, even though he gave up the day to day duties involved in running the show, that doesn't mean that he hasn't been mulling over how it could have ended. Now, he's telling us that his idea for the series finale was actually probably way worse than what we got. He recent told Entertainment Weekly:
Uhhhhhh...Man, I simultaneously want to know exactly what Eric Kripke was planning for Supernatural's series finale while also being totally terrified of what he had in mind. Am I the only one? I can't be the only one!
Kripke noted during his interview that with the final episode he worked on, "Swan Song," he used up roughly eighty percent of the ideas he had for the series finale, thinking that the show might have another season or two where it would go on without him. These ideas included the man we thought to be only a prophet (Chuck Shurley) suddenly disappearing into thin air, Castiel and Bobby dying and being resurrected, Lucifer possessing Sam and a lot of ideas that we'd be able to see the echos of over he next 10 seasons.
Now, considering how many people were unhappy with how Supernatural did end, what the hell could Kripke have had in mind? As it is (SPOILERS AHEAD FOR THE FINALE) our favorite duo did, in fact die, but with Dean biting the dust during a rather routine seeming vamp hunt and Sam being able to finally live a sort of normal life. We then saw Sam die of old age, and be happily reunited with his brother and all of the other good people in heaven. (END SPOILERS)
If that ending, with both of the brothers finding a sort of peace, as promised, couldn't manage to make all of the fans happy, what kind of horror movie ending would have made everyone "hate" the finale? Evil wins and everyone in the world is turned into a demon?
Well, at least we don't currently have to mull over Eric Kripke's ending for Supernatural. Something tells me that it may have sent fans the world over into therapy. If you'd like to relive Kripke's years of the show, almost all of the series is streaming on Netflix. For more to watch, be sure to check out our guide to fall TV!
Your Daily Blend of Entertainment News
Yennefer's apprentice, Gilmore Girl; will Vulcan nerve pinch pretty much anyone if prompted with cheese...Yes, even Jamie Fraser.