One Thing Supernatural Had To Cut From Its Series Finale Due To COVID-19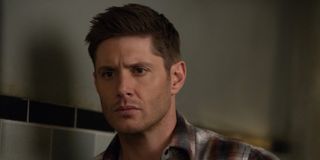 After 15 seasons, Jensen Ackles and Jared Padalecki are saying their final goodbyes to Supernatural. The actors recently wrapped on filming the series, which was very emotional, though Ackles says it was also one of his favorite days of the last 15 seasons on the show. However, not everything that was originally planned for the series finale made it in, and Ackles recently revealed the one thing that got cut due to COVID-19 restrictions.
The global pandemic has changed the way TV shows and movies go about filming. Casts and crews have had to quarantine, get tested for COVID, social distance, and adhere to a plethora of other safety measures. Despite the pandemic, the plans for Supernatural's series finale have remained the same for the most part. However, not everything made it in. Here's what Jensen Ackles told Glamour about the one idea that had to be dropped:
Jensen Ackles doesn't reveal which characters were going to show up in the series finale's montage, but I have to admit that the idea sounds pretty cool. I agree that it would have been a nice "tip of the hat" to the fans who have been with the show since the beginning. I personally would have loved to have seen Lisa Braeden back on the series, but it doesn't sound like it was meant to be.
So many beloved guest characters have come and gone on Supernatural, and they've made quite an impact on Sam and Dean. While it sucks that COVID-19 stopped these familiar faces from returning to the show, I'm so very glad that the rest of the series finale story remained relatively unchanged.
Now that Jensen Ackles has wrapped filming on Supernatural, he was finally able to take home Sam and Dean's beloved 1967 Chevy Impala. Ackles says he's wanted the car — lovingly called "Baby" on the show — since the second episode of Season 1 and had tried putting it in his contract for years. Finally, Ackles was able to procure the car, and it's now sitting in his garage. What a way to wrap 15 seasons!
Supernatural's final Season 15 episodes are currently airing on Thursdays at 8:00 p.m. ET on The CW. For more on what to watch, be sure to check out our 2020 fall TV guide for updated premiere times and dates.
Your Daily Blend of Entertainment News
Your Daily Blend of Entertainment News
Thank you for signing up to CinemaBlend. You will receive a verification email shortly.
There was a problem. Please refresh the page and try again.